Capitals finally get past Penguins, advance to Conference Final
It took four tries, but the Washington Capitals finally beat the Pittsburgh Penguins in a playoff series in the Sidney Crosby-Alex Ovechkin era. The Capitals beat the Penguins 2-1 in overtime in Game 6 of their second-round series to advance to the Eastern Conference Final.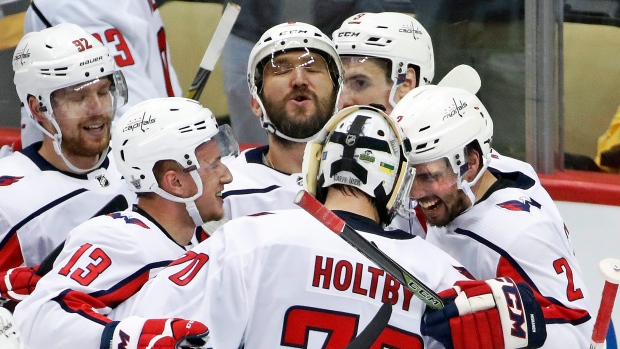 PITTSBURGH — Evgeny Kuznetsov's breakaway goal 5:27 into overtime gave the Washington Capitals a 2-1 win over the Pittsburgh Penguins in Game 6 on Monday night, and a berth in the Eastern Conference finals for the first time in 20 years.
Kuznetsov took a lead pass from Alexander Ovechkin and tucked the puck by Matt Murray to end Pittsburgh's two-year reign as Stanley Cup champions and propel the Capitals into the NHL's final four for just the third time in franchise history.
Braden Holtby stopped 21 shots for the Capitals, who will face Tampa Bay in the Eastern Conference finals. Alex Chiasson scored his first playoff goal in four years during a taut, tight contest through regulation.
Kris Letang scored for the Penguins and Murray finished with 28 saves but couldn't close his legs fast enough to stop Kuznetsov's forehand flick from in close as Pittsburgh's bid at becoming the first team in 35 years to win three consecutive Cups came to an abrupt end.
The Capitals played without centre Nicklas Backstrom, who was scratched due to a right hand injury suffered in the third period of Washington's Game 5 victory. Forward Tom Wilson also sat for a third straight game while serving a suspension for an illegal hit on Pittsburgh's Zach Aston-Reese in Game 2.
Washington spent the series saying its forgettable playoff history littered with squandered leads and blown opportunities — particularly against the Penguins — is not a factor. That this time is different. That this team is different. Twice the Capitals rallied in the third period to stun Pittsburgh, including a four-goal outburst in Game 5 that pushed them to the brink of their first Eastern Conference finals appearance in 20 years.
That last step, however, has always been tricky. Four times previously during the Ovechkin Era the Capitals won three games in the second round only to come up short in Game 7.
The Penguins, by contrast, have been impossible to finish off since head coach Mike Sullivan took over in December 2015. Pittsburgh came in 4-0 in elimination games under Sullivan, including a 2-0 victory in Game 7 in Washington last spring on its way to a second straight title.
The stakes led to an unusually slow start for both before the Capitals broke through 2:13 into the second when Walker held off Pittsburgh's Derick Brassard behind the Pittsburgh net and fed Chiasson in the right circle. Chiasson's shot slipped under Murray's left arm for his second career playoff goal and first in more than four years when he played for Dallas.
The deficit, however, hardly appeared to stoke the Penguins. Instead they continued to plod along, staying only one goal behind thanks in large part to the play of Murray. He stuffed Jakub Vrana on a breakaway to keep Pittsburgh's hole from getting any larger and at about the game's midway point, Sullivan had seen enough. He reshuffled the lines — putting Patric Hornqvist alongside Sidney Crosby and Evgeni Malkin alongside Phil Kessel — and the energy shifted immediately.
The score soon followed.
Crosby won a faceoff in the offensive zone and fed it to Letang, whose shot from the point Washington's Chandler Stephenson and slipped by Holtby 11:52 into the second to tie it and set the stage for more drama in a series and a rivalry that continues to one-up itself spring after spring.
NOTES: Washington forward Andre Burakovsky missed his 10th straight game with an upper-body injury. ... Crosby's assist pushed his career playoff total to 185, tied with Hall of Famer Steve Yzerman for 10th most all-time. ... Walker's assist was the first ever in the playoffs by an Australian.
___
More AP NHL: https://apnews.com/tag/NHLhockey