Capitals show Canucks fans there is a path to the Promised Land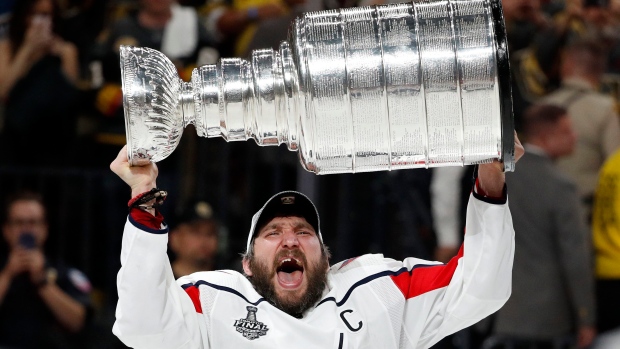 VANCOUVER—As Alex Ovechkin and the Washington Capitals paraded the Stanley Cup around T-Mobile Arena Thursday night, emotions bubbled to the surface across the province of British Columbia.
It may be lonely at the top, but it's getting even lonelier at the bottom for NHL franchises that have never won the Cup. With Washington's breakthrough victory, there is one less organization in what my TSN 1040 colleagues Mike Halford and Jason Brough call the "Sad Club."
The Sad Club is defined as NHL franchises that have been in the same market for 40 years or longer (apologies Winnipeg and Minnesota) and never tasted sweet Stanley in their history.
The Capitals were full, pain-sharing members until Thursday. Now there are three: the Buffalo Sabres, the St. Louis Blues, and of course, the Vancouver Canucks.
And those emotions – longing, jealousy, envy – are most acute with Canucks fans, who have been within one win of putting themselves in Ovechkin's skates twice in the last quarter century. Instead, narrow losses in 1994 and 2011 were marked by riots after Game 7, not mass expressions of civic pride like we witnessed in downtown D.C. last night.
Undoubtedly, there were Canucks fans for whom this Cup final presented a quandary. Either another Sunbelt franchise with Johnny-come-lately fans would win. Or, the Capitals would quench a drought just three years longer than Vancouver's, leaving the Sad Club and less company for the miserable.
But for those Canucks fans who could separate last night's proceedings from their own team's history, there was another emotion.
Joy.
The realization that no matter how cursed a franchise might be – and the Capitals give no quarter to the Canucks in that regard – that there is a path to the Promised Land, and not necessarily with the team everyone expected to get there.
It won't happen for the Canucks' Ovie-equivalents. Try as they might have, it's too late for Trevor Linden, Markus Naslund and the Sedin twins.
But perhaps the lesson of Ovechkin and persistence will come through for current Canucks like Bo Horvat and Brock Boeser. And for the sake of their fans, when they have fewer grey hairs than old Alex.
Matthew Sekeres is a host on TSN 1040's Sekeres and Price.