Caps' Smith-Pelly on waivers; SJS claim Haley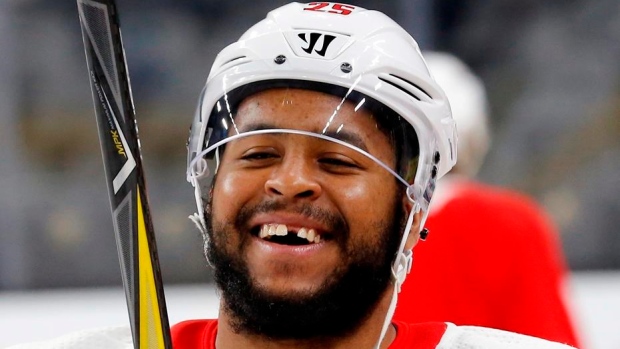 Washington Capitals forward Devante Smith-Pelly and Philadelphia Flyers goaltender Mike McKenna were placed on waivers Wednesday, while the San Jose Sharks claimed forward Micheal Haley from the Florida Panthers.
Anaheim Ducks forward Patrick Eaves, Michael Leighton (Canucks), and Thomas McCollum (Predators) are now all eligible to be assigned to the AHL after clearing waivers on Wednesday.
Smith-Pelly is a pending unrestricted free agent and carries a $1 million cap hit. The 26-year-old four goals and eight points in 54 games this season. According to reports, he was benched in the preseason due to conditioning.
He was a key contributor to the Capitals' Stanley Cup championship last year, posting seven goals and one assist in 24 playoff games. The winger has seven goals and 16 points in 75 games last season.
McKenna was one of four goaltenders on the Flyers 23-man roster and had appeared in just one game with the team this season after being claimed off waivers from the Vancouver Canucks.
The 35-year-old has a 1-5-1 record this season in 11 games with the Ottawa Senators and Flyers, posting a 3.99 goals-against average and a .892 save percentage.
Haley, 32, rejoins the Sharks after spending the past one and a half seasons with the Panthers. He has one goal and three points in 24 games this season with a minus-2 rating.
He is also a pending unrestricted free agent and carries an $825,000 cap hit this season. He was with the Sharks from 2014-17, posting a career-best two goals and 12 points in 58 games with the team in 2016-17.
Eaves, 34, was the highest-profile player to clear on Wednesday, he is signed through next season at $3.15 million cap hit. He has not registered a point in seven games with the Ducks this season.