Carroll embraces challenge of guarding LeBron
When the Raptors host the Cleveland Cavaliers on Wednesday night, it will be the primary responsibility of DeMarre Carroll to keep an eye on LeBron James. As TSN's Josh Lewenberg explains, it's moments like this why Carroll was brought to Toronto.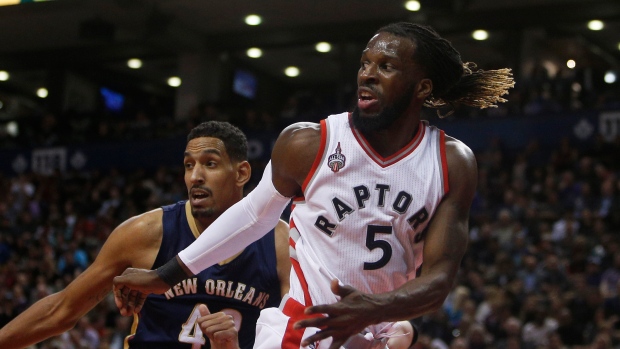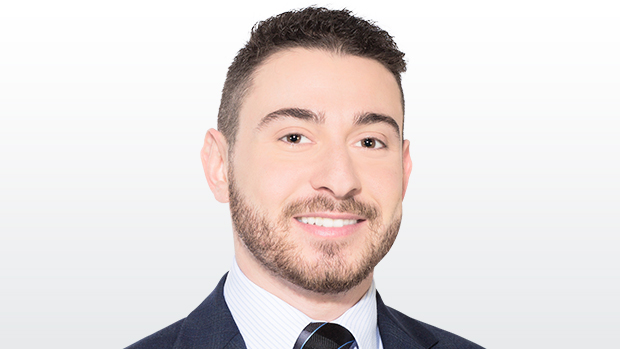 TORONTO - Over the course of four games last spring, three of them on one leg, DeMarre Carroll got a crash course in guarding the NBA's best player.
Led by LeBron James, the Cleveland Cavaliers swept Carroll's Atlanta Hawks in the Eastern Conference Finals, but it wasn't for a lack of effort on his part. Carroll spent most of the series battling James, despite sustaining a serious knee injury in Game 1. Still, the four-time MVP averaged a near triple-double, en route to his fifth straight Finals appearance.
Defending James is a thankless and often futile gig, but somebody's gotta do it. Carroll has always embraced that challenge.
So, did he learn anything new about James in that series?
"No," said Carroll, now a member of the Toronto Raptors. "Best player in the world, can do it [all] on both ends, gets his teammates involved. The key thing is just to make it difficult for him. Get out there, make it difficult for him."
A valuable asset in nearly every facet of the game himself, Carroll's role with his new team is an extensive one. He was brought in for his toughness. He was brought in for his leadership. He was brought in for his three-point shooting, basketball intellect and ability to move without the ball. But most of all, Carroll was brought in to go toe-to-toe with the league's top players. Wednesday's match-up would certainly fit that bill.
Returning to the Air Canada Centre after an up and down five-game road trip, the Raptors get set to host James and the East-leading Cavaliers. With an 11-3 record, the Cavs have picked up right where they left off and it's just business as usual for James, the conference's reigning Player of the Week. They're going to be a tall order for Toronto but, with Carroll on board, the Raptors are better prepared to handle a challenge like this.
"It's great," the 29-year-old forward said following his team's Tuesday afternoon practice session. "It's a great opportunity for me, great opportunity for this team. Just to play the Cleveland Cavaliers, the best team in the East right now so if you can't get ready for this game, you're not a real NBA player.
"I feel like this is an opportunity for us as a team to really show who we are and what we stand for. For myself, it's always a great opportunity to play against one of the best players."
Prior to last year's playoff series loss, Carroll had actually experienced some success against James, as much as anyone can, that is. Over the last two years, Carroll and the Hawks won four of six meetings with James and while his numbers in those contests (24.5 points, 5.7 rebounds, 5.3 assists, 50 per cent shooting) remained on par with his season averages - just a hair lower, in fact - amazingly, his teams (the Cavaliers and Heat) were out-scored by 25 points when he was on the floor.
No, there's no stopping him, even slowing him down seems unlikely but the key to guarding LeBron, according to Carroll, is making him work for everything - something that's obviously easier said than done.
"I think first and foremost you just [try to] take away [his] scoring," said the Raptors' forward. "I think you take him away from scoring, take him away from making those easy dish passes to guys for three-pointers and those types of things. He can do it all, so we just make it difficult for him, always be up on him, being physical. He's not going to have his best game [against us], he's going to score points, but he's not going to have his best game."
Regardless of player personnel, no coach can be fully comfortable matching up against James, a truly unique and unstoppable talent, but Dwane Casey has to feel a whole lot better about his team's chances with Carroll on the roster. Last year, the Raptors brought in James Johnson to play the role of defensive stopper against the league's premier perimeter scorers and while he and DeMar DeRozan did a commendable job on James at times, even winning an early-season meeting in Cleveland, Carroll gives Toronto something it's never had.
"That's what he was brought here for, right?," said teammate Kyle Lowry. "That's what he does. He's an all-defensive team type player, man. He's incredible at the job he does."
"It helps tremendously, that's one reason why we have DeMarre here," Casey admitted before throwing cold water on the idea of a one-on-one showdown, as you might expect. "But again, with him it's still a team defence. It's not a one-on-one game between he and LeBron James. It's a team. Everybody has to do their job in their position to help him out. And he's got to do his job in other situations to help his teammates out. It's a five-on-five game. Their five against our five."
"We're not playing against the LeBron Cavaliers. We're playing against the Cleveland Cavaliers. We've got a whole team to defend."
Through 15 games, the Raptors have been especially difficult to get a read on. They've won some big games and lost some bad ones. This, as Casey acknowledged, should be a great litmus test for them less than a month into the new campaign.
With Jonas Valanciunas, the team's most efficient scorer, out indefinitely rehabbing a broken bone in his non-shooting hand, their offence should continue to be a work in progress over the coming weeks. Carroll is one player who could see an uptick in scoring opportunities. In the first half of Sunday's 91-80 win over the Clippers, he hit all eight of his shots and matched a season-high with 21 points to lead Toronto. Although his priority remains on the defensive end, his offensive game has expanded over the years - adding a three-point shot and mid-range floater, specifically - so, you shouldn't be surprised to see him put points on the board.
"I can score when I want to," he insisted. "it's just trying to get acclimated, understanding the offence. I'm a defensive-minded [player] first. As long as we're doing well on defence, I'm happy. Offence is always going to be secondary. We've got a lot of scorers, we've got a lot of guys who can score the ball, so offence will come and go."
"That's the problem in the NBA, too many people get caught up in offence. I feel like defence is very key, defence is always going to be key. Everybody can score the ball. Everybody was probably the best player on their team in college. So, who's going to lock that guy up? Who's going to make a stand on defence and get stops? I feel like that's what I'm here for, that's what Masai (Ujiri) and Coach Casey brought me here for and if I get an opportunity to score like I did in the Clippers game, I'll do it."