Carroll returns in Raptors win over Pelicans
DeMarre Carroll's return after a three-game absence was welcome news for both the Raptors and the 29-year-old. TSN Raptors reporter Josh Lewenberg explains why the week off felt much longer for Carroll.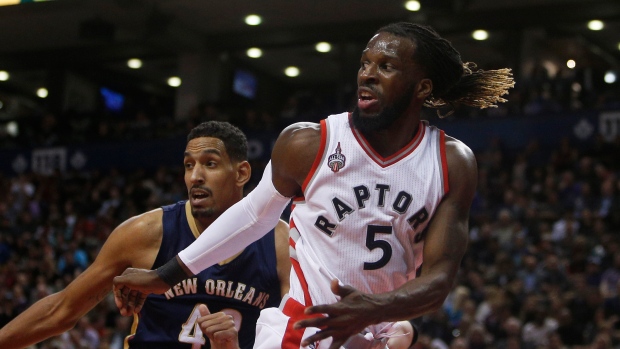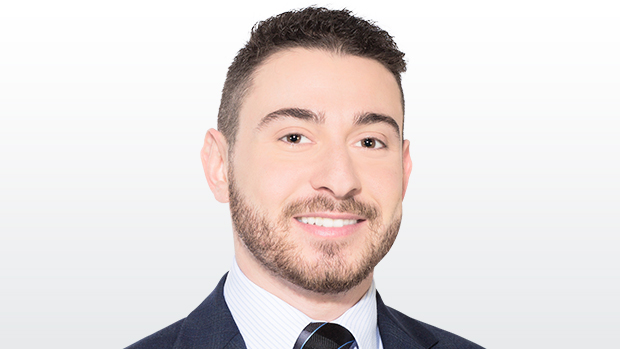 TORONTO - DeMarre Carroll started to feel pain in his right foot earlier this month but, true to character, he kept it to himself and continued to go about his business hoping nobody would notice.
"It was one of those things, man, I didn't say nothing about it because, I'm not going to say nothing about it," the Raptors' starting small forward admitted just before returning from a three-game absence in Friday's 100-81 win over the New Orleans Pelicans.
Carroll has been battling plantar fasciitis, a lingering and painful foot condition. Naturally, he couldn't hide it for long.
"I think they kind of figured it out when I was in the locker room and every time I got dressed I was walking on my tippy toes, I didn't want to put my foot down," he said. "So I think the trainers were like, 'enough is enough, we know you're a tough guy so...'"
So they saved him from himself. As you can imagine, Carroll - a fierce competitor, who prides himself on toughness - was not originally on board with the idea of forced time off. "If it was up to me I still would've been playing," he confirmed.
The season is long, and we're barely two weeks in. Most importantly, he's signed on for four of them, at a $60-million price, so you can't blame Toronto for playing it safe with one of its most valuable assets.
With input from the coaches, training staff and, of course, Carroll's agent, a timeline was put in place - take a week to rest the nagging injury, sit out three games and, if all goes according to plan, rejoin the lineup on Friday, in time for the Raptors' upcoming Western Conference road trip.
To his own admission, Carroll was a bit rusty early on. Playing with padding in his shoe, he missed seven of his nine first-half shots and, after struggling from beyond the arc before his time off, he let out a sigh of relief when he finally knocked down a three-pointer in the second quarter. But despite his shooting slump, it was his work on the other end of the floor that really irked him. Defence is his bread and butter and his man, Pelicans guard Eric Gordon, went off for 20 points in the game's first 24 minutes.
With the score tied, Carroll addressed his teammates in the locker room at halftime and took responsibility for Toronto's poor performance.
"I'mma be hard on myself, I think it was DeMarre Carroll," he said, asked what the biggest difference was between the first and second half, when Toronto outscored the Pelicans 60-41 on the way to a decisive victory. "It starts with me on the defensive end and I think I didn't have my timing, catching my wind."
Carroll looked more like his old self in the second half and so did his team. DeMar DeRozan, who had 15 points and 11 assists, was making plays. Kyle Lowry and Jonas Valanciunas both had 20-point nights. And there was Carroll, doing the dirty work as usual, moving without the ball, getting guys open. Even when he's not at his best, the Raptors are better off having him on the floor.
"He's hands down our best defensive player on the team," Patrick Patterson said of Carroll, who played 33 minutes in his return, scoring 11 points and grabbing five boards. "So just his ferociousness, his tenacity on the ball, off the ball, his hands, his close outs, just overall his basketball IQ on that side of the ball helps us out tremendously. And offensively he's one of the best cutters in the league, so creating opportunities for other teammates, his ability to drive and attack and shoot the ball and space the floor. So whether or not he's 100 per cent, his presence out there is always important."
Seeing him in the locker room before a game grinning ear to ear is hardly unusual - few are as passionate about their job as Carroll - but the smile seemed a little bigger on Friday. The 29-year-old couldn't have been happier to be back. He didn't travel with the team to Philadelphia earlier this week, though they had little trouble knocking off the defenceless 76ers by 16 without him. The two games prior, he had watched his club fall to the Heat and Knicks. Instead of guarding the likes of Dwyane Wade and Carmelo Anthony, one of the things he was brought in to do, he was a helpless spectator.
He's spent the remainder of his time, well, doing nothing. The only known remedy for plantar fasciitis is extended periods of rest so, per doctor's orders, he was under couch arrest. A seven-day vacation, laying around with his feet up while his wife walks the dogs and rakes the leaves - sounds great to most people but, for Carroll, it was torture. He'd prefer to be battling with his teammates, diving for loose balls and shutting down the opposition's best player.
"It's just the competitor in me," he said. "I don't take this game for granted. It could be here one day, it could be gone the next and I've been through a lot so I understand that. So anytime I can play, I'mma play. It don't matter if I'm hurt or not, I'mma play."
Although Carroll is feeling much better, he's far from out of the woods. The Raptors' forward has been seeking out advice from others who have dealt with the same injury, namely assistant coach Jerry Stackhouse, and knows it's something that comes and goes.
"It's a very, very unique pain, sharp pain," Carroll described. "Anytime I tried to shoot a jumper - pain. When I jump - pain. So it was one of those things where it was just - pain. Some times I could see the ball, it could be like three-feet away from me and I can't run and get it because of the pain."
If it's up to him, plantar fasciitis has cost Carroll his last game but the injury is something the Raptors will be keeping a close eye on moving forward. He's far too important.

ON THE ROAD AGAIN
The Raptors were glad to be back at the Air Canada Centre, even though their homecoming will be short-lived.
Coming off Wednesday's road win in Philadelphia and the four-game road trip that preceded it, Friday's contest was only the second time they had played on home court in 12 days and their last for almost two weeks. Given the early-season schedule they've drawn, their 7-3 record happens to be a pleasant surprise. The NBA has not done them any favours to begin the campaign.
It's been 46 days since training camp opened in late September. Toronto has spent almost half of them on the road.
"It's difficult," Casey acknowledged earlier this week. "You're in and you're out, repack your bags and you're right back out again, then we're back home again, then we're back [on the road]. But it's the NBA, we have to go with what the schedule makers give us and there's no excuses from that standpoint."
Things figure to get even more challenging before the schedule eases up next month. The Raptors will practice at home Saturday afternoon, then hop on a plane and embark on a daunting five-game West Coast swing that will see them visit the Sacramento Kings, defending champion Golden State Warriors, improved Utah Jazz, and ending with a stop in L.A. to face the Lakers and Clippers. They won't play consecutive games in Toronto until early December - no NBA team has to wait that long to host two straight home contests.
"Every time you go on the road it's definitely tough, especially that Western Conference," said DeRozan. "It's tough but we try to stay together. We wish we would've won every game on the [last] road trip but we didn't. It's just a chance for us to bounce back and be better."
After an impressive start to last week's trip, winning in Dallas and Oklahoma City on consecutive nights, the Raptors hit a wall in Florida, dropping games to the Magic and Heat. Although Toronto has had some recent success away from home - they have more road wins than any Eastern Conference team over the last two seasons - historically, they haven't fared well out West. Expectations for the bulk of November should be tempered; the goal is to tread water until Carroll and Ross get healthy and the schedule begins to turn in their favour.
"The NBA is like that and we all know that we always have this time of the year where we travel a lot," Luis Scola said. "For us, having to be the very first month of the season and also coincidentally we just also had a road-heavy pre-season, so we've been on the road a lot. And that's okay. At the end of this long road trip we have right in front of us we're going to be home for a little bit. So it gets better."