Carroll: Wilson 'needed to do better'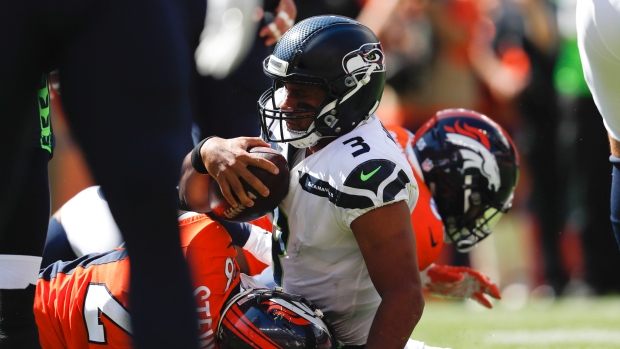 The Seattle Seahawks opened their 2018 campaign with a 27-24 loss to the Denver Broncos on Sunday and in order to keep from falling into an 0-2 hole, head coach Pete Carroll says the team needs more from quarterback Russell Wilson.
"It always goes back to the QB, everyone is going to focus on that," Carroll told ESPN Radio 710 Seattle's Brock and Salk Show. "Russ needed to do better than he did yesterday, but we needed to help him a lot."
While Wilson, 29, threw for 298 yards on 19-for-33 passing and three touchdowns, he was battered by the vaunted Broncos' pass rush. Wilson was sacked six times with three of them coming from Von Miller. Those sacks came with 53 lost yards.
Though Carroll wants improvement from Wilson, there was blame to go around for the breakdown of the offensive line.
"He got rushed," Carroll said. "He got hammered...It's going to be hard for him. He was in the midst of some of those and he bailed a couple times and got in trouble. We didn't protect him as well as we need to throughout."
But Carroll disputed the suggestion that putting the onus elsewhere from Wilson himself was making excuses for his quarterback.
"I'm not trying to cover for him at all," Carroll said. "He can play way better. He could have got us out of some issues early by getting rid of the football a couple times, but things got taken away and he got resourceful like he's going to do."
The Seahawks - without wide receiver Doug Baldwin (MCL) - stay on the road for Week 2, visiting the Chicago Bears for Monday Night Football.