Casey, DeRozan respond to Carroll's off-season criticism of Raps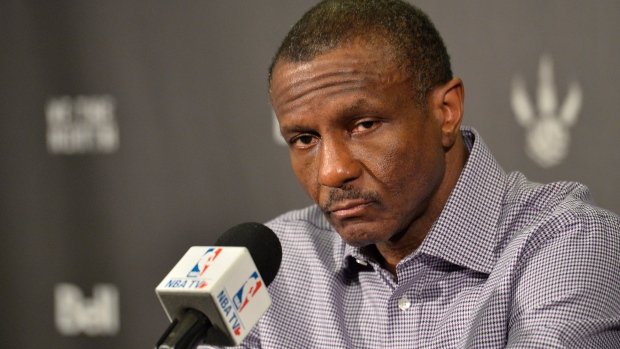 Toronto Raptors head coach Dwane Casey and star player DeMar DeRozan responded to criticizing off-season remarks about their team from ex-Raptor, now Brooklyn Net, DeMarre Carroll, on Friday ahead of Carroll's first trip back to Toronto since he was traded to the New York City borough last July.
Casey says he thought the comments Carroll made in an interview with the Toronto Sun last July in wake of the Raptors trading the forward to the Nets, came out negative even if Carroll didn't intend them to be.
"He can be critical all he wants but that's his opinion," Casey said. "... Unfortunately they came out negatively. I don't know if he meant them in a negative way or not... Our guys like playing here... and if he didn't want to be a part of that, that's his prerogative."
Here's what Carroll had to say in the interview about his time in Toronto:
"But once adversity hits and stuff starts going wrong, guys are going to go back to ISO basketball, that's how it is. You've got to trust it. It's one of those things you've got to build, you've just got to trust each other. This year, I feel like a lot of guys didn't trust each other and a lot of guys, they didn't feel like other guys could produce or (be) given the opportunity, so there was a lot of lack of trust on our team, so that's what hindered us from going (as far as they wanted to go)."
DeRozan, who's two of his three career All-Star nominations came during Carroll's tenure in Toronto, did not take issue with what his ex-teammate had to say:
"When you know a guy, you're with a guy every single day, you know his intentions, you know his heart then you understand there's no malicious intent behind something like that"
Unfortunately, fans will have to wait until the Nets and Raptors Jan. 8 matchup in Brooklyn to see Carroll actually play against his former team, as the Nets have chosen to rest him during Friday's game.