CF Montreal falls to Revolution in second-straight loss
A nightmare 20 minutes was too much for CF Montreal to overcome as they fell 4-1 to the league-leading New England Revolution on Wednesday.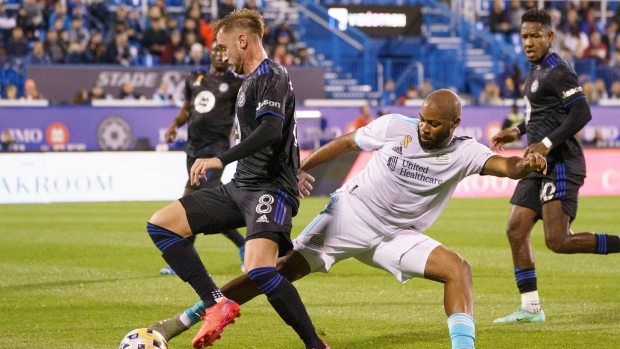 MONTREAL — A nightmare 20 minutes was too much for CF Montreal to overcome as they fell 4-1 to the league-leading New England Revolution on Wednesday.
DeJuan Jones, Adam Buksa, Gustavo Bou had goals for New England (20-4-5), which also got an own goal from Rudy Camacho.
Joaquin Torres scored for Montreal (10-10-7) as the home side lost its second straight game.
Montreal did not shy away from pressing high early, despite going up against the team with the best record in Major League Soccer.
"We came into the game with the right intentions and mindset, and it only took a turn when we conceded that first goal," said head coach Wilfried Nancy. "We lacked a bit of personality but we didn't come into he game today feverish or off our game."
At the seven-minute mark, a cross from Montreal's Mathieu Choinière gave Romell Quioto a free shot in the box but he put it wide.
Montreal would live to regret the miss as only three minutes later, Jones opened the scoring by putting away the rebound from a Carles Gil shot.
Sensing a change in momentum, New England continued to press and look for a second.
That second would come 17 minutes in as Bou played a ball into the towering Buksa who made no mistake.
Things would go from bad to worse for the home side as another cross from Bou was deflected by Rudy Camacho into his own net right before the half-hour mark.
"We know that New England have a very dangerous offensive trio and they made us pay for not being focused the entire time. We still have some work to do on the defensive end," said Montreal defender Zorhan Bassong. "Both teams managed to create quality chances, it's just that they ended up converting theirs."
The own goal appeared to wake Montreal up as Torres replied immediately with a shot from outside the box, giving the team its first signs of life since the 10-minute mark.
In the second half, Montreal looked to continue the progressive play seen at the end of the first, bringing on Zachary Brault-Guillard for Bassong. The latter struggled and all three New England goals came from his left wing.
The substitution bore fruit almost immediately with Brault-Guillard's pace causing problems for the Revolution defence. In the 65th minute his low cross was missed by both Quioto and Djordje Mihailovic who could have had easy tap-ins.
"Not being able to take advantage of the chances we had in the second half is definitely frustrating," said captain Samuel Piette. "If you look at the game as a whole I don't think the game was as much a catastrophe as the score line may show."
New England made two defensive substitutions late to shut the door.
The game was the put to bed when Bou carefully slotted the ball into the bottom right corner in the 86th minute.
"If we didn't finish, it's because we didn't do the right move. There were a lot of balls that came across the net but we didn't occupy the right spaces," said Nancy. "There were positive aspects. Even if we didn't get the result we wanted, what I like is that the guys didn't let us and we played our style."
Montreal will stay home and host Atlanta United Saturday in a must-win playoff race showdown while New England receives the Chicago Fire after the international break on Oct. 16.
This report by The Canadian Press was first published Sept. 29, 2021.