CFL Fantasy: Ranking the top 4 at QB, RB and WR this week
Derek Taylor and Chris Schultz rank the top four quarterbacks, running backs and wide receivers to target this week in CFL Fantasy.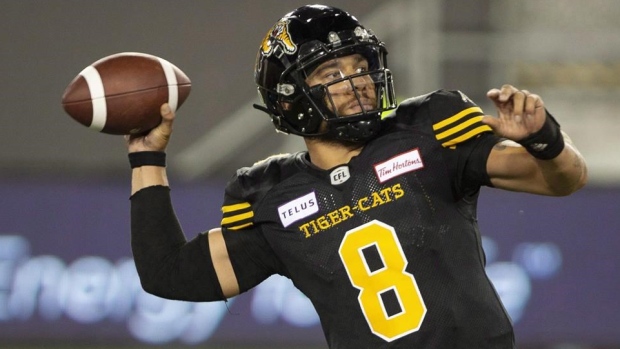 With the Lions paying a visit to Hamilton to take on the Tiger-Cats and the Blue Bombers clashing with the Roughriders at Mosaic this weekend in the division semis, Derek Taylor and Chris Schultz rank the top four quarterbacks, running backs and wide receivers to target this week in CFL Fantasy.
---
Quarterbacks:
DT: 1. Jeremiah Masoli 2. Matt Nichols 3. Travis Lulay 4. Zach Collaros
CS: 1. Jeremiah Masoli 2. Matt Nichols 3. Zach Collaros 4. Travis Lulay
Taylor: There's really only one quarterback that we really want and it's Jeremiah Masoli against the BC Lions. He's at home and Masoli can run for touchdowns. We both have Matt Nichols at No. 2 but we flip-flopped three (Travis Lulay) and four (Zach Collaros). I am a 'never Collaros' fantasy guy because they do not throw for touchdowns in Saskatchewan.
Schultz: For me it's not so much about Travis Lulay but more about the defensive intensity of the two teams that are at home. I think Hamilton on defence will come out and play an outstanding brand of football and I think the same with Saskatchewan. Travis Lulay has not had an outstanding passing game since Week 6 against the Ottawa Redblacks. In that game he threw for 325 yards, two touchdowns and no interceptions. He has thrown two interceptions in each of his last three games.
Taylor: To me, it's only Masoli. When I see that list I think he's the only guy I would actually expect to throw for multiple touchdowns and the fact that he could run for one and he's going to do his own sneaks? If you can afford him, to me Jeremiah Masoli is the No. 1 quarterback far and away.
Running backs:
DT: 1. Alex Green 2. Tyrell Sutton 3. Andrew Harris 4. Tre Mason
CS: 1. Cameron Marshall 2. Alex Green 3. Andrew Harris 4. Tyrell Sutton
Taylor: I have Mason at No. 4 and you have Marshall No. 1. To me, that says don't use Tre Mason as your running back.
Schultz: Cam Marshall is the hottest running back going into the CFL playoffs. He has 34 carries for over 200 yards (a 7.0 yards per carry average) and I think that's very significant because if Saskatchewan is going to win this playoff game, they've got to have some semblance of balance. I'm not sure if their quarterback Zach Collaros is going to have a 300-yard passing game. Alex Green is my next one because you know he's going to get the opportunities. Andrew Harris has not necessarily played well against the Roughriders defence and that makes him boom or bust. And then I don't look forward to Tyrell Sutton against the Hamilton defence. So my No. 1 guy? Cameron Marshall.
Taylor: It feels bad to have Andrew Harris – the league's leading rusher – down that far on our lists. He's a great receiver out of the backfield and he was dynamite in that first game on Labour Day, but since then it has gone completely dry for him. Saskatchewan must know what you and I know – that this offence runs through Harris and they'll focus on stopping him.
Schultz: If Harris has success, then I think the Winnipeg Blue Bombers are going to win the game and move on to play Calgary. But I'm not 100 per cent sure that he's going to have success because there's such a definite line when the running game of Winnipeg is not successful, it affects the quarterback. When it affects the quarterback, it takes its toll on the receivers. So the establishment of Harris is the priority. I think Paul LaPolice as the offensive coordinator has to do a lot of misdirection and the No. 1 thing he has to be cognizant of? Willie Jefferson on one side, Charleston Hughes on the other side. He has to come up with a plan to limit their pass rush ability off of the edges.
Taylor: If Harris is kept in more that means fewer opportunities for him, so neither of us expect Harris to have a big game in Saskatchewan.
Wide receivers:
DT: 1. Luke Tasker 2. Bryan Burnham 3. Darvin Adams 4. Jordan Williams-Lambert
CS: 1. Luke Tasker 2. Darvin Adams 3. Jordan Williams-Lambert 4. Bryan Burnham
Taylor: It could get very interesting with the wide receiver group as well. I would want to put DeVier Posey on this list, but Posey runs most of his out of the boundary wide receiver spot and that's a no-fly-zone against Hamilton. You have Burnham at No. 4, tell me why he's so low on your list?
Schultz: I don't know if Burnham is going to be able to have big plays against the defence of the Tiger-Cats. I have a lot of confidence in Hamilton's linebackers and secondary. And remember, in the game against Montreal, it seemed like nobody of Hamilton's starters played much in terms of reps on defence. They're going to have amazingly fresh legs and I think they'll be able to shut down the passing game and rushing attack of the BC Lions. Tasker I think is obvious, he's going to game a good game. Adams I do like, I think he's one of the top receivers in terms of big-play capability. And Williams-Lambert, as a rookie he's had an outstanding season so why can't he keep that going this weekend? But the bottom line is Tasker – if Tasker has a 10 catch game for 150 yards, then Hamilton wins this game because you've got to make sure that Jeremiah Masoli stays confident throughout the game and I think he will.
Taylor: I'm not sure I'd trust anyone else on the Riders. Maybe Kyran Moore, but when we saw Moore play against Winnipeg, we saw a guy who kind of got concerned when he had to go across the middle into Adam Bighill and Taylor Loffler country. When we were putting this list together I thought that the Riders aren't a great fantasy option because they don't throw for big yardage totals, but Williams-Lambert is a different beast.