Chelsea downs Arsenal in feisty derby
Chelsea grabbed a morale-boosting 2-0 victory in a fiery London derby against Arsenal on Saturday when two visiting players were sent off at Stamford Bridge and Diego Costa stayed on the field despite his inflammatory actions.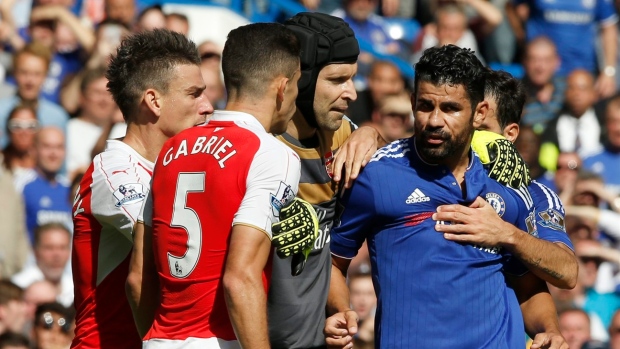 LONDON - After an uncharacteristically feeble start by Chelsea to its Premier League title defence, the return of Diego Costa's fiery temperament was just what Jose Mourinho needed to rouse his under-performers against Arsenal.
Job done. Even if Costa's aggressive and confrontational tactics do little to endear Chelsea to the neutrals.
There was no goal from last season's top scorer in Saturday's 2-0 victory over Arsenal but the hot-headed striker's contribution seemed even more significant. Costa managed to escape being dismissed for lashing out at Laurent Koscielny before appearing to incite Gabriel Paulista into being sent off for a retaliatory kick on him right in front of the referee.
"(Costa) played like he has to play," Chelsea manager Jose Mourinho told reporters, suggesting his striker's style enhances the league's appeal.
"That's why you have full stadiums and you sell to televisions around the world for millions and millions, because the game has to be played like that. ... Fantastic, Diego."
Arsenal manager Arsene Wenger said it was a "disgrace" Costa only received a yellow card.
"He can do what he wants and stays on," said Wenger, who did not excuse Gabriel's action. "I think it is unacceptable behaviour ... he will do the same next week and the week after and he always gets away with it. It's always provocation."
Arsenal was a man down just before half time and Chelsea made a flying start to the second half. Kurt Zouma headed in the opener after dislodging captain John Terrry — a mainstay in Mourinho's side — from the starting lineup in central defence.
Arsenal's second red card was far from contentious and did not involve Costa. It was a reckless, but not malicious, sliding tackle on Cesc Fabregas by Santi Cazorla that earned the Arsenal midfielder a second yellow card in the 79th minute.
Arsenal had to cope with nine men and Eden Hazard completed Chelsea's derby triumph in stoppage time with a shot that deflected off Calum Chambers.
"To win derbies you need emotional control," Mourinho said. "Without emotional control, forget it, you don't win."
This was the day everything went Mourinho's way following a spluttering start to the league campaign that had seen Chelsea lose three out of the five games before Saturday. It ended with Chelsea 13th but now only eight points adrift of Manchester City after the leaders' perfect start to the season ended with a 2-1 loss to West Ham.
For Chelsea, not only did Hazard claim his first goal of a season, having struggled to match the player-of-the-year exploits of 2014-15 until now, but Fabregas claimed his first assist after setting up more goals than anyone else in the league last year.
Significantly for Mourinho, it maintained his unbeaten record against Wenger in competitive games after losing the Community Shield last month.
"I've played against Arsenal 15 times — only once he didn't moan and on that day we lost the game, we lost the cup," Mourinho said.
The enmity between Wenger and Mourinho remains as fierce as ever, with the Arsenal manager looking reluctant to shake his counterpart's hand before kickoff and not making eye contact. After the game, Wenger headed straight down the tunnel without a handshake.
The atmosphere, though, was surprisingly temperate early in the derby, with Arsenal goalkeeper Petr Cech given a warm welcome on his return to the club where he spent 11 years until May.
But the mood abruptly soured after Costa's mean streak exploded in the closing minutes of the first half when a snarling Costa grappled with Koscielny.
While jostling for position in the area, Costa put both hands in Koscielny's face before following through with his swinging left arm.
The rancour reignited moments later. As the ball was floated into the penalty area, Koscielny slightly caught Costa. The striker was furious, slamming his body into Koscielny and sending his opponent to the turf.
Gabriel then stepped in between the two, exchanging pushes with Costa, and referee Mike Dean opted to give yellow cards to both. The two players kept exchanging words as they walked up the field, and Gabriel finally kicked his leg back and caught Costa on the shin, drawing the red card.
"Diego Costa getting away with a yellow is disgusting," Wenger said. "He hits (Koscielny) in the chest, he hits him twice in the face. It's just not acceptable. But he gets away with it because he plays well with the naivety of the referee."
___
Rob Harris can be followed at www.twitter.com/RobHarris and www.facebook.com/RobHarrisReports