Chiarelli: 'Happy to have' Eberle on Oilers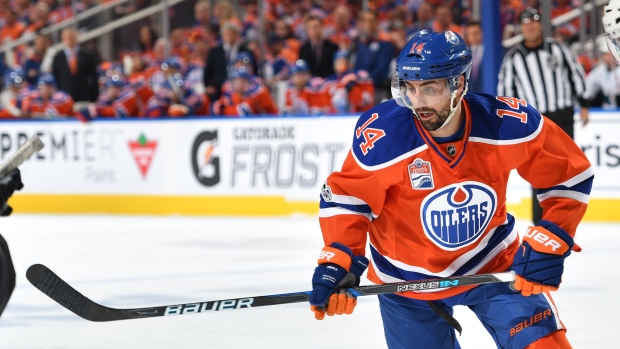 Recording just two assists in 13 playoff games did nothing to cool the trade speculation revolving around Edmonton Oilers winger Jordan Eberle.
Eberle, 27, scored 20 goals and posted 51 points in the regular season, but with a cap hit of $6 million for two more seasons, many have wondered if he'll follow the path of Taylor Hall and be moved out of Edmonton.
Oilers general manager Peter Chiarelli admitted on Tuesday that the success of the Oilers will mean eventually moving a contract to free up cap space for extensions. He stopped short, however, of saying that player would be Eberle, who he believes has been unfairly portrayed in the media.
"The way we are going to have to spend our money in the future will probably mean us moving a player," Chiarelli told TSN Hockey Insider Pierre LeBrun. "When that future is, I don't know. Basically, we've got a year to play with, in my mind.
"As it applies to Jordan, I think outside of two players he probably had the most positive touches of the puck on our team. I really don't feel the need to defend him, he didn't have a great playoffs – he didn't have a good playoffs – but he did a lot of things that we expected of him. He just didn't have the offence that we expected him to have in the playoffs. What he does, he creates space with his touches and I thought he played well.
"In his defence, it was the first time he's been in the playoffs and if you look back to a player like (Pavel) Datsyuk look at Datsyuk's first year in the playoffs. This is a big step for them, it's a different level of competition. He saw what he had to do without the puck, and you know what, he didn't score and he's expected to score. I don't feel the need to defend him, I think he's been unfairly characterized but (that's) a byproduct of having success and where the expectations are and unfortunately he falls in that category. (He's) a very good offensive player and happy to have him on our team."
To Chiarelli's point, Datsyuk recorded only three goals and six points in 21 games during his first playoff run in 2002, though he was also only 22 years old.
Eberle's 20 goals in the regular season were his lowest mark in a non-lockout shortened season since his rookie year in 2010-11. As Chiarelli noted, Eberle and the names of other Oilers have appeared in the rumour mill as the team prepares spend money on younger players. Atop that list are Leon Draisaitl, a restricted free agent this summer, and captain Connor McDavid who will enter the final season of his rookie deal in July.
"Well we're going to sign them," Chiarelli said of the duo. "Those are priorities, at our season-ending press conference I said we have to take care of these guys first and I told the players who need contracts beyond that 'you're going to have to wait and let me figure out where these guys fit in' and they understood, or at least they told me they understood. We're going to have to sign them and I'm not going to get in to negotiations despite saying that I can tell you we're in negotiations."
McDavid, 20, led the league with 100 points this season and was named a Hart Trophy finalist. Draisaitl, 21, posted 29 goals and 77 points in the regular season before adding six goals and 16 points in 13 playoff games. Chiarelli did not rule out signing either player to the maximum eight-year contract.
One of the players waiting for McDavid and Draisaitl to sign is pending unrestricted free agent Kris Russell. Russell, 30, signed a one-year deal with the Oilers in October and finished third on the team in average time on ice.
"What I told Kris is that we want him back," Chiarelli said. "But, here's our obstacles, I have to get through these two first so I put him in the group with some other free agents both restricted and unrestricted. I would like to have him back so when we can do that, I'm not sure. He knows how strongly we feel about him."
Chiarelli spoke to LeBrun ahead of the scouting combine in Buffalo and said he expects to keep his first-round selection, but didn't rule out moving down into the second round, where the Oilers currently don't have a selection.
As for the upcoming Vegas expansion draft, Chiarelli said he's spoken to Golden Knights general manager George McPhee but doesn't expect to make any trades to protect players beyond his allotted amount.
The Oilers' 2016-17 point total of 103 was their highest mark since the 1986-87 season and earned them their first trip to the postseason since 2006.