Chiarelli takes charge in Edmonton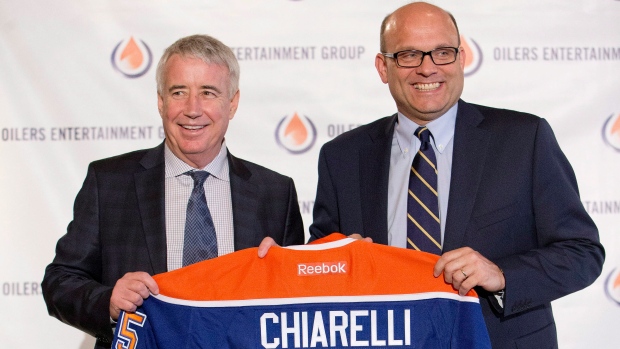 EDMONTON - The Edmonton Oilers made sweeping front-office changes Friday after another disappointing NHL season.
Peter Chiarelli was named president of hockey operations and general manager while Patrick LaForge stepped down as president and chief operating officer. In addition, Kevin Lowe will transition out of hockey operations but remain vice-chair of Oilers Entertainment Group while Craig MacTavish will move from GM to a role to be determined.
The shakeup came just days after Bob Nicholson was appointed chief executive officer of OEG and given authority over all aspects of business and hockey operations. The Oilers finished 28th in the 30-team league this season, but won the recent draft lottery and are expected to select junior phenom Connor McDavid with the first overall pick.
Chiarelli, who was let go as GM of the Boston Bruins earlier this month, will report to Nicholson and be responsible for all aspects of hockey operations.
"We are delighted to bring a person of Peter's considerable hockey knowledge and experience to the Edmonton Oilers," Nicholson said in a release. "Peter has had success at all levels of the game and we look forward to his leadership."
Chiarelli was hired as the Ottawa Senators' director of legal relations in 2000 and was promoted to assistant GM in 2005. He moved to Boston the following year and spent eight seasons as the Bruins' GM.
"I am honoured to join such a great organization with a long history of success," Chiarelli said. "There is a strong, young core here with good complementary players. I hope to bring it to the next level with a measured approach. (Team owner) Daryl Katz and Bob Nicholson have a great vision here for the team and Rogers Place. I am very excited to be a part of it."
Chiarelli guided the Bruins to a Stanley Cup victory in 2011 but he was let go after the team missed the playoffs. He also served as a member of the management group for Hockey Canada's national men's team at the 2013 world championship and 2014 Winter Olympics.
Lowe, a former star blue-liner with the Oilers, spent eight seasons as GM before moving into the president of hockey operations role in 2008.
"I support Bob in the changes he has implemented and I am very excited about the bright future for the Edmonton Oilers, the City of Edmonton and Oilers fans everywhere," said Lowe. "It has been an honour to represent the Oilers both on and off the ice, and I look forward to my new role in the organization."
LaForge, meanwhile, joined the organization in 2000 and was responsible for growing the sports and entertainment portfolio of OEG.
MacTavish's future with the team was unclear. Nicholson would only say that Chiarelli will likely speak with MacTavish in the coming days.
The Oilers have not made the playoffs since reaching the Stanley Cup final in 2006, but McDavid could instantly make them into a post-season contender. With their three previous top picks in five years, Edmonton selected Taylor Hall (2010), Nail Yakupov (2011) and Ryan Nugent-Hopkins (2012).
Nicholson has also brought on a trio of senior executives to help grow OEG business. Stew MacDonald will be responsible for marketing and revenue, Darryl Boessenkool will be responsible for finance and OEG transition business, and Bob Black will continue as executive vice-president of the Edmonton Arena Corporation and will also be heading up new business for OEG.