Chris Kreider, master of redirecting pucks
The New York Rangers winger known for his speed tops the list of players who are finding the back of the net by tipping shots, Travis Yost writes.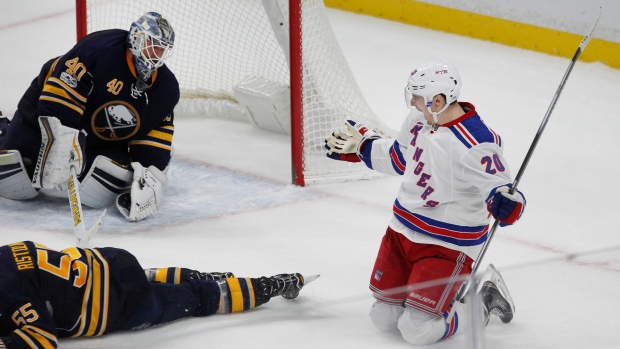 Who is the National Hockey League's best at redirecting pucks on net?
It's a fascinating question, and an increasingly important one in a low-scoring NHL. Goalies are too good in the modern era for a million different reasons, and have become virtual brick walls when it comes to challenging pucks from their natural set position.
There remain, however, two tried-and-true ways of beating even the Carey Prices and Henrik Lundqvists of the world. One is off the counterattack or rush. Another is on a tip or redirection of a puck directed at the net. These are very different plays, but they accomplish one similar thing – they force a goaltender to enter a recovery mode, one where they're frequently shifting laterally while simultaneously resetting their line of sight.
Tipping shots isn't the easiest task, but it sure can be effective. Scoring rates on tip drills vastly exceed those on slap, snap, backhand, wrist, and even wraparound attempts. And it's not particularly close.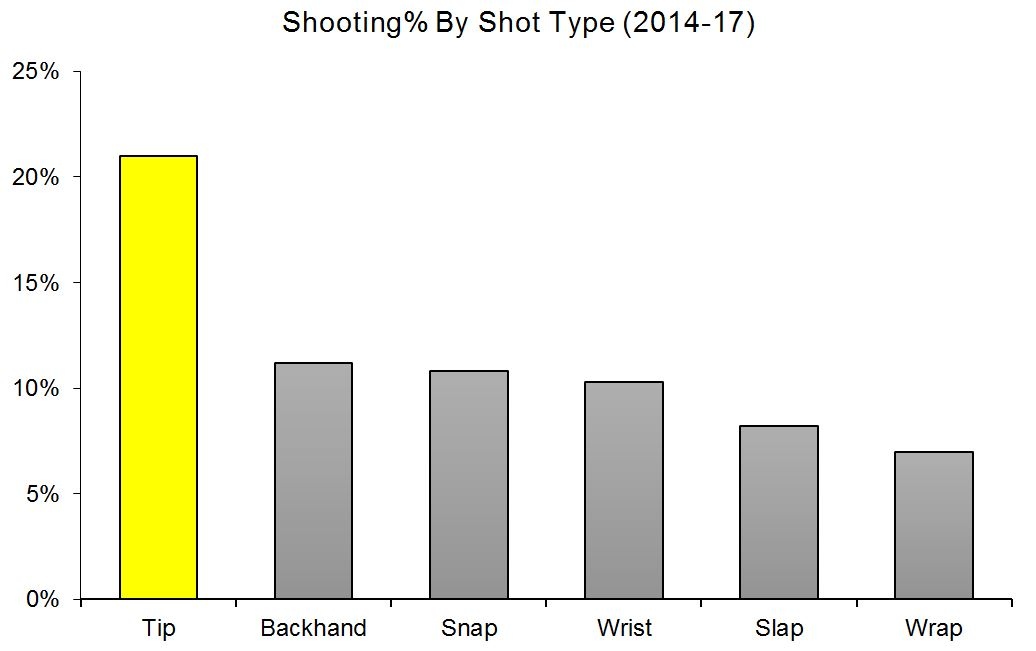 Basically if you are getting a shot on target from a tip, there's about a one in five chance that's going to find the back of the net. That's incredibly high and, over 7,000 shots of data, a pretty reliable and meaningful data point. The key here, of course, is being able to generate these with some degree of frequency. (Whereas tipped shots have made up about 11 per cent of all goals scored, wrist shots have made up something closer to 51 per cent – wrist shots being substantially easier to generate in volume.)
Knowing these are pretty high percentage shots if you can get them raises another question: Who is the NHL's best at tipping or redirecting shots? A few names come to mind as immediate guesses – Wayne Simmonds and the great Sidney Crosby have mastered the art of creating meaningful traffic in front of goalies, and should rank near the top of our list. But who else?
The list below shows the NHL's leaderboard by sheer goals generated off of tip plays as well as the percentage of total goals scored by the player that came off of tips. All data from 2014 through 2017: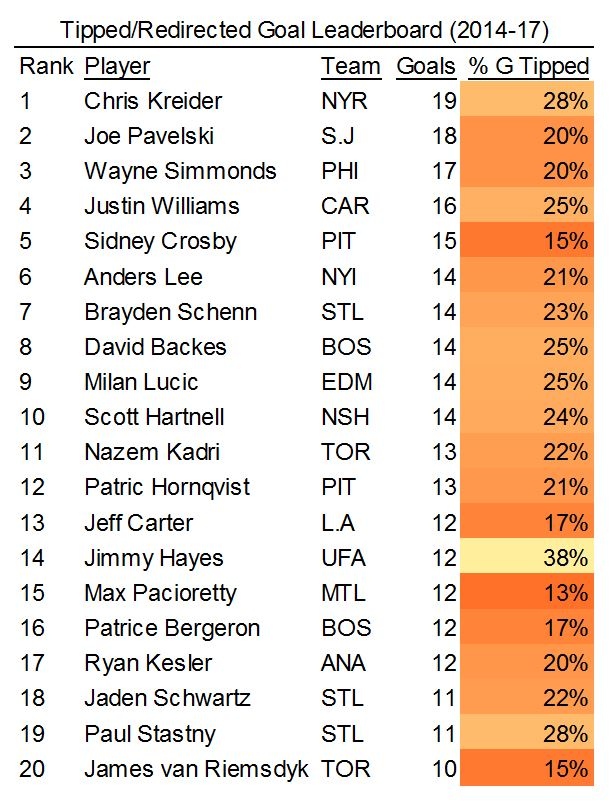 It's interesting to me that Kreider – a player known for his lightning-quick skating ability – is the clubhouse leader in goal scoring by this measure. More than anything, I think this takes another hack at the notion that Kreider is a one-dimensional player. He has been a tremendously productive goal-scorer for quite some time and, evidently, can do it from a variety of ways.
I'd also be remiss to not point out that four teams have multiple players inside of the top-20. The Blues had a pair in Paul Stastny and Jaden Schwartz, and then added another interior weapon this summer in Brayden Schenn. The Penguins, Bruins, and Leafs also had a pair of names listed. (As an aside, I'm really intrigued by the Nazem Kadri/James van Riemsdyk combination here – Kadri has always been a gifted, quick-hands player who can annoy goalies, but van Riemsdyk usually likes to stickhandle in these areas. Either way, both have been great.)
There is one other curious data point here, and that's the percentage of goals scored by Jimmy Hayes on tip plays. Hayes is an NHL talent, but he's coming off of a rough season last year with Boston. If you looked at his historical numbers – among other things, the fact that he has been about a 15-goals per year player, which isn't nothing – you might suspect he won't be out of work long. But I do wonder if Hayes' goal-scoring is a bit illusory here.
You might look at Hayes and say, "Hey, he's shot nearly 11 per cent in his career. He's worth a flyer!" And you might be right. But something to keep in mind: On any shot that Hayes generated that wasn't a tip, his shooting percentage was substantially lower – about 6.5 per cent. That's ghastly and, unless a player is a defensive stalwart, is an indicator of a player on his way out of the league.
Something to keep in mind as we await his next deal.