Sinclair focuses on Women's World Cup preparation, not scoring record
Canadian women's soccer team captain Christine Sinclair is getting closer to tying the all-time goals record set by American Abby Wambach, but her full attention these days is on the team and June's FIFA Women's World Cup, not the looming personal milestone.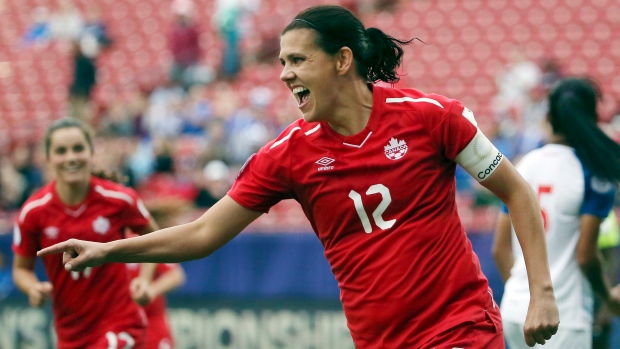 Although Christine Sinclair and the Canadian women's national soccer team are in full preparation mode for next month's FIFA Women's World Cup, there is some other pressing business for Canada's captain.
Sinclair currently has 180 international goals, four back of tying American Abby Wambach for the all-time scoring record. Or five back, if you ask Sinclair.
"We're going for five, we're not going for four," she said with a smile.
Despite the looming personal milestone, Sinclair is keeping her attention on the team and June's major tournament.
"I think it's something I thought about more last year and earlier this year," she said about the record. "It's not my focus now. It's all about prepping for the World Cup and helping this team reach its goals. And if the record happens to break, it happens. If it doesn't, we'll do it later."
Sinclair may be trying to keep a singular focus, but her teammates aren't letting her forget about her goal total.
"We probably annoy her with how excited we are," said midfielder Desiree Scott. "She's quite humble and doesn't really want to talk about it, but we are beyond excited for her. Every time she doesn't take a shot or passes the ball, we're like, 'Why'd you do that?' We're excited for her. We're not wanting to add any pressure, but we know she can do it, and any way we can help in assisting that, we're going to do it."
And when Sinclair finally breaks the record?
"I think it'll just be a moment of relief, not going to lie," she said. "Just proud of what I've been able to accomplish, the longevity of my career, and being able to adapt with the game. Of course you think of all your teammates and friends and family and coaches that helped you every single step of the way. Without any of them, it wouldn't be possible." She paused. "Everyone that I've ever met," she laughed.
Sinclair played against Wambach for many years, but she hasn't spoken to the American legend about the goal-scoring record ("I don't have her phone number or anything like that."). The Canadian has nothing but respect for one of the all-time greats.
"I was lucky that I never really had to defend her. Just a – and I mean this in the nicest way – a beast. Obviously I think of her, and I think of a clutch performer, scored some massive goals for the Americans in big tournaments. She was, at times, I felt like the player on their team that refused to let them lose," she said.
Sinclair and the national team are in Toronto preparing for a friendly against Mexico on Saturday at BMO Field (1 p.m. ET on TSN2), Canada's final home game before the squad heads to Europe.
Next month's World Cup in France will be Sinclair's fifth trip to the major tournament. Four years ago, Canada, the host nation, was knocked out by England in the quarter-finals. The captain admits that this time feels a lot different.
"I know for me, this one feels like a breath of fresh air," she said. "I don't think anything compares to the pressure of performing in a home World Cup, and the expectations that come with that. So this one, it's like…" She exhaled deeply. "We can actually breathe and prepare the way we want to, isolated from the world, isolated from you guys [the media]. We're just able to get down to business every day."
Canada's roster has also greatly changed since 2015. It now boasts a blend of veterans like Sinclair and Scott, along with a healthy injection of young up-and-coming players.
"I think you're seeing some of the best young talent in the world in Canada," said Sinclair. "I think they're only scratching the surface with what they're capable of. I don't think they know what they're capable of yet. When I'm done playing, I can't wait to just sit back and watch where they take this team. They're an exciting group. Some of the things they do on the field, I'm just, "Well done."
But Sinclair also admits she's not about to be outdone by her younger teammates.
"The competitive person in me sees them doing something, I'm like, 'OK, I'm going to do it better.' It's just how I am," she said.
"The squad has come a long way over the years, especially since the last World Cup," added Scott. "Our young vets aren't really young anymore. They're starting in our eleven, they're really solid for us on the pitch, and they're really just leading the team as well. So it's great to see just the formation and the chemistry that we've built over the years, and I think we're dangerous as a team. It's not just that Canadian gritty, physical team. We are that, but we've added so much more in our attack. We're dangerous going forward from front to back now, and it's an exciting team."
As two of the longest-serving veterans on the team, Sinclair and Scott have strived to create a friendly atmosphere for teenagers like Jordyn Huitema and Julia Grosso.
"We've built on that connection, and making sure there isn't that [age] gap and that feeling of young versus old" said Scott. "I think we've really meshed that over the last few years … I think it's just that common goal that motivates us, and how can we keep pushing each other those little one per cents to be better so that as a team we can accomplish big things."
"I hope that our environment is one where everyone feels welcome, and has a voice, and has a place," said Sinclair. "I think as vets, I think we're pretty nice, laidback and welcoming. We just try to create a welcoming environment. Those young players are stressed enough when they come in. You shouldn't add to their stress and anxiety."
In particular, Sinclair, a native of Burnaby, B.C., has formed a special bond with fellow British Columbian Huitema. The 18-year-old has drawn comparisons with the Canadian legend since she debuted with the senior team at the age of 15.
"I've definitely tried to take her under my wing," said Sinclair. "Obviously we play the exact same position, both from B.C. – [I] spend as much time with her as possible. What impresses me the most about her – I actually just think how much she's improved over the last two years. When she first came into the team, I remember she just seemed so awkward, even just striking the ball. She hadn't fully grown into her six-foot frame yet. For me, just seeing her progression camp to camp – you're seeing a different soccer player, a well-rounded soccer player, not just an athlete."
Both Sinclair and Scott have seen Canada, ranked fifth in the world, evolve over the years, and both truly believe the team is poised to make a run at this World Cup.
"We're right there," said Sinclair. "For instance, beating England in England earlier this year really gave us confidence that we can literally beat anyone. Now it's just a matter of doing it in a big tournament."
"For me, I just think that as the success of this team continues, I think we've added that inner pressure within the team to want to perform, to want to succeed," said Scott. "I think over time, we've said we want to win a World Cup, we want to get as high as we possibly can, and I think this World Cup we truly believe we can get there."
Time for women's pro league in Canada
Despite Canada's progression over her career, Sinclair passionately feels the country is lacking a key element: a domestic women's professional league.
"It needs to happen, sooner than later. Being a top five country in the world, I think we're the only one in maybe the top 15 that doesn't have a professional league. To me, it just doesn't make sense that we couldn't have one or two teams in the NWSL [National Women's Soccer League] from Canada. You look on the men's side, MLS, and now the new professional league [Canadian Premier League] – they have both. We have players forced to leave Canada to go find a place to play, which doesn't sit well with me."
Sinclair has her sights firmly fixed on the future, even when asked if she has a personal favourite of the 180 goals she has scored in her career.
"Hopefully one that's going to happen this summer," she said.
"That sounds lovely," added Scott. "I'm all for that. Let's make those memories."​