Coach Kingsbury moving on after three-year run with Team Homan
Coach Adam Kingsbury is leaving Team Rachel Homan after a three-year run with the Ottawa-based rink.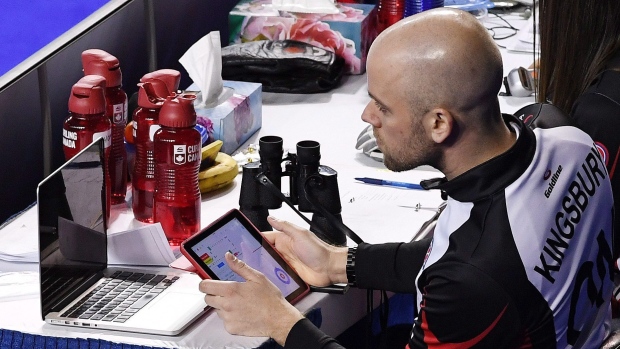 Coach Adam Kingsbury is leaving Team Rachel Homan after a three-year run with the Ottawa-based rink.
Kingsbury, who spent two seasons as head coach after one year in a background role, helped guide the team to its third Scotties Tournament of Hearts title and first world championship last year. Homan also won the Olympic Trials in her hometown last December before settling for a sixth-place finish at the Pyeongchang Games.
"They're family, there's no other way to describe it," Kingsbury said Monday from Ottawa. "When you go through something like what I got a front-row seat to, to see everything from the highs in Beijing, to the Trials, to the gut-wrenching heartache of the Olympics, it's hard to explain the bond that forms."
The decision will allow Kingsbury, a young father, to spend more time at home. He hadn't planned to continue with the Homan rink beyond the quadrennial and reached out to the team members in recent weeks to confirm his plans.
"It was a great run with Adam, capturing a Scotties and world title along with several Grand Slams and of course, our Olympic experience," said team third Emma Miskew. "We learned a lot about ourselves thanks to his input. As a team we wish him nothing but the best in his future with the game."
Unlike previous coaches Earle Morris, Marcel Rocque and Richard Hart, Kingsbury has never curled at an elite level. A PhD candidate in clinical psychology, Kingsbury specialized in helping Team Homan with its mental preparation.
Homan, Miskew, second Joanne Courtney and lead Lisa Weagle hold the No. 13 position on the World Curling Tour's women's rankings list. They closed the Grand Slam season last April by winning the Champions Cup title in Calgary.
"We accomplished some pretty cool things," Kingsbury said. "That team was pretty dominant. I got to witness some pretty amazing displays."
Kingsbury said he's exploring some potential opportunities in the sport and is planning to help with the national wheelchair curling program in the near future.
His departure from Team Homan was first reported on the "2 Girls and a Game" curling podcast.
There was no immediate word on his replacement.
"We are spending the off-season to relax but also train and re-group for next season," Miskew said. "One of those tasks includes exploring the role of coach and the best fit for us."
———
Follow @GregoryStrongCP on Twitter.