Collaros leads first team practice offence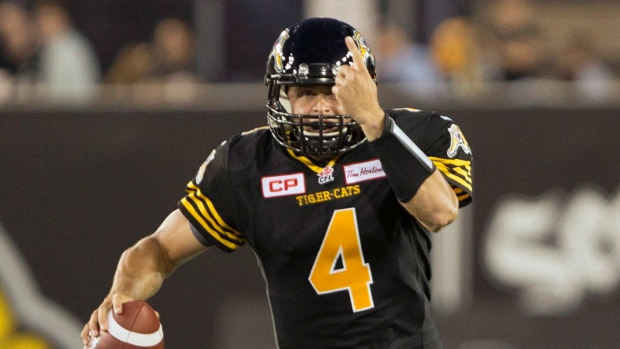 It looks like Hamilton Tiger-Cats quarterback Zach Collaros is close to returning.
Collaros led the first team offence at practice on Monday as the Ticats prepare for the BC Lions on Saturday.
The 27-year-old hasn't played since Sept. 19 last season when he tore his ACL in his right knee, knocking him out for the rest of the year and the first six games of this season. Collaros was on pace to win the CFL's Most Outstanding Player award at the time of the injury as the Tiger-Cats were favourites to make a third consecutive Grey Cup.
His surgery was delayed until late October because there was too much swelling in his knee.
Jeremiah Masoli has filled in behind centre this season and has thrown for 1867 yards with eight touchdowns and eight interceptions.
Hamilton has a record of 3-3 and sit third in the East Division.