Petersen spurns Sabres, will sign with Kings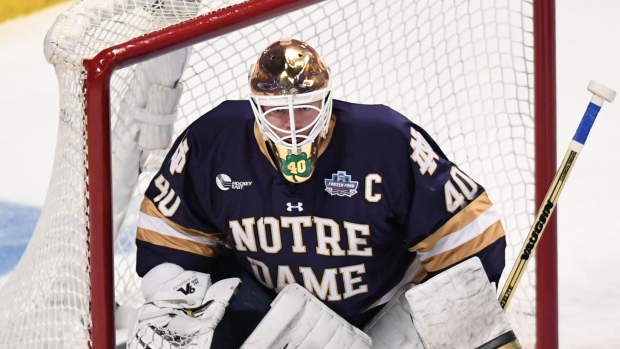 It appears college goalie prospect Cal Petersen will sign with the Los Angeles Kings when he becomes an unrestricted free agent on July 1.
TSN Hockey Insider Bob McKenzie confirmed the report from Fox Sports' Jon Rosen Wednesday afternoon.
Petersen, 22, was selected in the fifth round of the 2013 NHL Entry Draft by the Buffalo Sabres, but told the team he would not be signing with the team last week.
"I don't believe he'll be signing with the Buffalo Sabres," general manager Jason Botterill told the Buffalo News. "I've spoken to Cal. At this time, I think he's going to probably move to free agency, and we'll go from there."
The American has played the last three years with Notre Dame in the NCAA. He posted a 23-12-5 record with a 2.22 goals-against average and a .926 save percentage in 2016-17.
Petersen has yet to play in a NHL game.