Conners, Hadwin stay patient in tough opening round
To borrow a phrase from a pretty good English writer back in the day, Corey Conners first round at the PGA Championship was about the best of times and the worst of times. Bob Weeks updates how the Canadians fared in their first round at the major.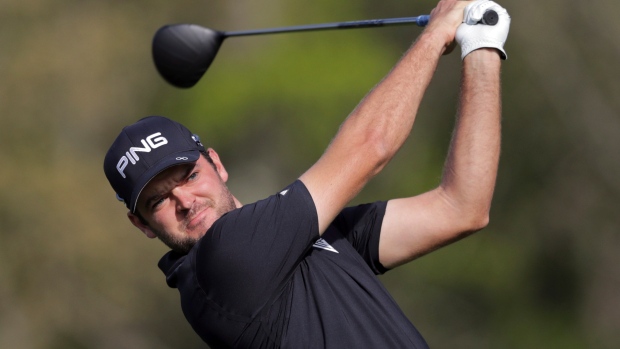 FARMINGDALE, N.J. – To borrow a phrase from a pretty good English writer back in the day, Corey Conners first round at the PGA Championship was about the best of times and the worst of times.
The Listowel, Ont., product had a remarkably consistent round of two-over par 72 at Bethpage Black that left him tied for 51st, but how he arrived at that score was more than a little unusual.
The best? Conners was great at the start of each hole. In fact, he led the field in Strokes Gained: Off The Tee. He was also tied for first in fairways hit, missing just a single one, his first of the day.
By most pre-tournament prognostications, keeping the ball in the short grass was the key to contending and Conners followed that advice to near perfection.
He was also tied for second in Greens In Regulation, hitting 15 of 18.
But from that point on, he struggled, using 36 putts to get his ball in the hole 18 times.
"I hit a lot of really good putts early in the round and in the middle of the round but I didn't get the putts to fall," he stated. "I was kind of walking a few in but they just hit the edge. I'm not really disappointed with how I rolled it, but just disappointed that they didn't go in."
Conners ended up 138th in Strokes Gained: Putting. He one-putted the opening hole and then added a three-putt on the fifth. After that, it was a regular two-putt on the other 16.
The 27-year-old is known for his accuracy off the tee and into the greens. He is not necessarily a poster boy for putting prowess. Mere mortals might become frustrated at playing so well into the greens and not getting anything out of it. But he said this week, on this brute of a layout, it's different.
"I think you can normally but out here the golf course is so challenging," said Conners. "You always want the putts to fall but I wasn't too disappointed out there. I really played a solid round of golf and if I keep doing what I did today, the birdie putts will fall."
Conners only blemish on his card came on the fifth hole where his second shot ended in a tough lie in a greenside bunker. He blasted it out to about 50 feet and used three putts to get the ball into the hole.
He also faced nine putts that were in excess of 25 feet. That, in part, shows the respect he was affording the Bethpage Black course, which took its toll on much of the field in the opening round.
"Some of the holes, like No. 12, I had a four-iron in from 220 [yards] in," Conners said. "It's hard to get too cute with that."
His score matched that of the other Canadian in the field, Adam Hadwin.
He arrived at his final tally in a much different fashion, making four bogeys against a pair of birdies.
Hadwin's round was a bit more scrambled as he landed in just five of the 14 fairways and only found the nine greens in regulation. The fairway number was somewhat misleading as he ended up in the first cut several times and found good lies in the rough on all but two occasions.
That allowed him to keep his round on the rails.
"[This course] just wears on you," stated Hadwin. "It's so hard to stay patient when you get behind the eight ball and you do miss some fairways and you do make some bogeys. It's easy for us to start getting aggressive and to start trying to do too much. And when you do that out here you start making doubles pretty quickly."
Hadwin's day started very early as he was in the second tee time. That meant a 3:50 a.m. wake-up call for his 6:56 start.
"Nap," laughed Hadwin when asked what he was planning for his afternoon. "Big nap.