Conners joins pal Hughes on the PGA Tour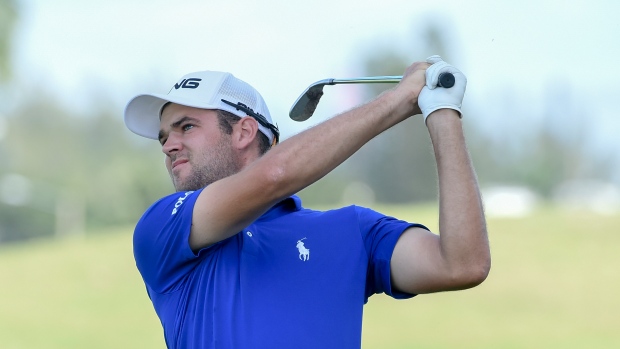 Corey Conners is off to the PGA Tour and Mackenzie Hughes, one of his closest friends, couldn't be happier.
Conners, of Listowel, Ont., finished tied for 11th at the DAP Championship on the Web.Com Tour. That event is the third of the four-tournament Web.Com Tour Finals, a series that gives out PGA Tour cards to the top 25 finishers. Conners is a lock to earn one of those and will advance to the PGA Tour for the 2017-18 season.
As he was playing the final round on Sunday, knowing what was at stake, he had to reel in his mind from starting to think about next year rather than his next shot.
"The thought popped into my head and I was like all right, just take some deep breaths and focus on what I've been working on this week," said Conners. "Yeah, that was pretty helpful and allowed me to kind of keep in the zone, I guess."
Conners had a brilliant amateur career that included playing for Kent State University, winning the Ontario Amateur and finishing runner-up at the 2014 U.S. Amateur. That earned him a spot in the 2015 Masters where he missed the cut.
He'll join his good friend and former college teammate Mackenzie Hughes on the PGA Tour, a prospect that Conners was relishing.
"It would be awesome if it happens," said Conners, who still wasn't ready to accept the fact he was a lock for next year even though the PGA Tour sent out a press release stating that he was. "Yeah, really good friends with Mac. I'm sure he's following along today and cheering me on. Yeah, exciting proposition."
Hughes, who enjoyed a stellar rookie campaign on the PGA Tour, was thrilled for his pal, who he's competed against since he was 13.
"It was so awesome to see that," Hughes stated. "I know he was dealing with lots of thoughts as he got closer to securing his card, but he handled it well.
"It's really exciting to have one of your really good friends with you on tour."
Hughes and Conners played against each other in junior and amateur tournaments through Ontario as they were growing up. They spent time together while at Kent State, travelling to tournaments and teeing it up for the Golden Flashes in NCAA competition.
But it was when they played with the Maple Leaf on their golf bags that they bonded.
"I think we really got closer through all our time training with the national teams," said Hughes.
The 25-year-old Conners joins Ben Silverman of Thornhill, Ont., in advancing from the Web.Com Tour and there are possibly more to come. Adam Svensson is close to a lock to make it through while Roger Sloan sits in 27th spot heading into this week's final stage.
If all four make it to the PGA Tour, it would mean eight Canadians with privileges on the game's top circuit, a record for this country.
What remains to be seen is just what kind of status each graduate will get. The higher up the final standings, the more events each will get into early in the year. Several times during the season, the graduates are re-ordered based on their performance. That means it's vital to get off to a fast start.
Hughes knows that well, winning on the PGA Tour in just his fifth start of this past season.
On the flip side were Brad Fritsch and David Hearn, who lost their status this year although Hearn, who is playing this week's final Web.com finals event, will likely get a dozen or so starts based on his finish on this year's FedEx Cup list.