Conners ready for challenges of PGA Tour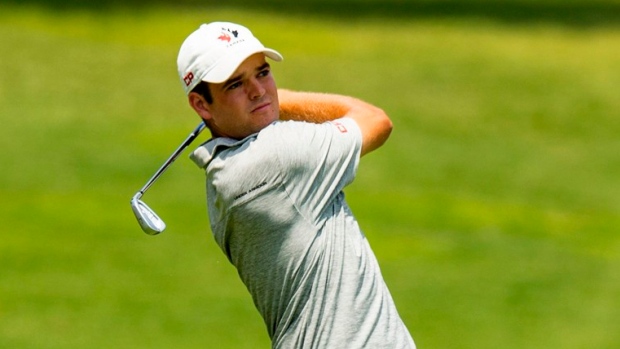 There's a good chance that as you read this, Corey Conners is stretched out on a couch, feet up, watching Netflix and perhaps enjoying a cold beverage. His golf clubs might be in the garage, gathering a little bit of dust.
That's because Conners recently wrapped up a long and successful season that saw him play in 28 tournaments in five different countries, including a stretch of 17 events over a 20-week period. He's certainly earned a break after accomplishing his goal of making it to the PGA Tour.
"It feels awesome having played in a lot of different climates, different countries and lots of different golf courses," said Conners, who hails from Listowel, Ont. "It feels awesome to have been able to get through that and know that my game can stack up basically anywhere."
Along with Ben Silverman, Conners is one of two Canadian rookies on the PGA Tour this season, but his path to the top tier in golf was anything but an easy one.
An outstanding amateur golfer, Conners graduated from Kent State where he studied actuary math. In 2014, he finished runner-up in the U.S. Amateur, earning a berth in the 2015 Masters where he played two rounds alongside his idol, Mike Weir.
Two years ago Conners turned pro and combined full seasons on both the Mackenzie Tour-PGA Tour Canada and PGA Tour Latinoamerica, which saw him tee it up in places such as Guatemala, Honduras and the Dominican Republic.
The 25-year-old played well enough to earn limited status on the Web.Com Tour where a strong early season performance led to full privileges there. He parlayed that into a spot in the season-ending Web.com Tour finals where he ended up in 41st spot, securing his place on the PGA Tour for the 2017-18 season. Needless to say, the road traveled has had a lasting impact on the young man.
"I had a lot of great learning experiences in the previous year on the Mackenzie Tour and PGA Tour Latinoamerica," said Conners. "That's all helped kind of shape me as a golfer and a person. I know how to handle different situations now and really excited about the future."
Conners didn't have long to celebrate his advancement. The week after getting a PGA Tour card, he was playing his first event, the Safeway Championship in Napa, California.
He made the cut in that tournament and the other four on the tour's Fall swing, with his best finish a tie for 30th. It wasn't always easy, mind you. At the OHL Classic at Mayakoba in Mexico, Conners birdied four of his last six holes to make the cut on the number.
"I really had to grind through a few weeks when I didn't quite have my best stuff," he admitted. "I would have liked to have done a little bit better but it feels awesome to know that I grinded it out."
In those five weeks, Conners earned more than he did in his entire Web.Com Tour season, an indication that he's clearly made it to the big time. And those performances will do more than allow for some nice Christmas presents under the tree for his family. It also improved his position in the priority ranking, the list that determines entry into events.
At various points during the year, the Web.Com Tour rankings are shuffled based on recent performance. Conners moved up to 24th spot from 41st, meaning he'll gain entry into more starts when the tour resumes play in January. He has yet to work out his schedule but moving up makes planning a little easier.
"I should have a pretty good idea," he said of what events he'll get in. "The tour does a good job of letting you know what happened in the previous years as to which guys got in to events. By improving my status in the Web category, that will hopefully mean a couple more starts."
For the time being, however, Conners will kick back and enjoy the brief off-season of the PGA Tour. He knows that time away from the game at this point may serve him well going forward, especially after what he's been through.
"It was a really long year," admitted Conners. "It's not that glamourous travelling every week and being at the golf course for long hours and working really hard every single day. It does take its toll on the body and the physical and mental recharge over this break will be really nice."
Conners added he does have some parts of his game he wants to work on and he'll do that prior to the re-start of the PGA Tour in Hawaii. For now, however, he's allowing himself to enjoy his success and get ready for the coming season.