Connolly scores late, Capitals beat Rangers
Brett Connolly scored the tiebreaking goal with 6:24 left in the third period, and the Washington Capitals beat the New York Rangers 5-3 Saturday for their season-high fifth straight win.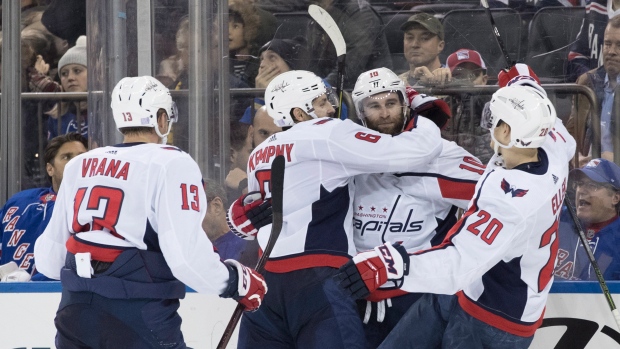 NEW YORK — Brett Connolly was calling for the puck as he skated up the left side. He quickly put the Washington Capitals ahead when he got a cross-ice pass from John Carlson and helped the Capitals keep their winning streak going.
Connolly scored the tiebreaking goal on a one-timer from the left circle with 6:24 left in the third period, and the Capitals beat the New York Rangers 5-3 Saturday for their season-high fifth straight win.
"A little bit of open ice," Connolly said of his fourth goal of the season. "(Carlson) saw me over there, I was calling for it. ... I got a good piece of it and it went right where I wanted it."
Alex Ovechkin, Nic Dowd, Jakub Vrana and Tom Wilson also scored for defending Stanley Cup champion Washington, and Carlson had three assists. Pheonix Copley, starting in place of Braden Holtby, stopped 27 shots.
"Good team win, we're playing really well as of late," Connolly said. "We're starting to get that feeling again through our room ... like we had toward the end of last year."
The Capitals, who have rallied after giving up the first goal in four of their wins during their streak, trailed 1-0 after one period and by two midway through the second before scoring three straight to take the lead heading to the third.
"We're always believing we're in games," Connolly said. "We're finding ways to win."
Ryan Strome had tied the score 3-3 on a wraparound at 5:30 of the final period — his first goal with the Rangers since being acquired from Edmonton on Nov. 16.
Connolly, who also had an assist, then gave Washington the lead back, and Wilson added an empty-netter with 1:08 left for his fourth. He has nine points in seven games since returning from a season-opening suspension that sidelined him for 16 games.
Jimmy Vesey, Brady Skjei and Ryan Strome scored for the Rangers, who lost their second straight, ending a seven-game winning streak on home ice. Kevin Hayes had two assists and Alexandar Georgiev finished with 23 saves.
Trailing 1-0, the Capitals came out with increased intensity in the second period and scored three goals while outshooting the Rangers 15-9.
"You can't take a period off against anyone, let alone the defending Stanley Cup champions," Rangers coach David Quinn said. "If you're going to have a chance to beat them, you're going to have to stay on them for 60 minutes. You can have lapses where you don't play well, but they can't be 20-minute lapses."
Just 31 seconds after Skjei doubled the Rangers' lead, Dowd tipped Carlson's shot for his second to pull the Capitals back within one midway through the second.
Vrana then tied it with his sixth as he beat Georgiev with a backhander with 3:33 left.
Ovechkin put the Capitals ahead, tipping Carlson's pass from the right side with 30 seconds left. It was Ovechkin's 17th goal, tying him for the league lead with Boston's David Pastrnak and Buffalo's Jeff Skinner.
"(Dowd's) goal is huge," Wilson said. "We know when we're not playing the way we want to. We know when it has to turn around. ... They've been playing some good hockey at home, so it was big for us to be able to do that."
Near the midpoint of the second, Skjei scored on a rebound of Brendan Smith's shot that came off the end boards and right to him on the outside edge of the left circle at 9:39 to make it 2-0 on the Rangers' first shot on goal of the period.
Vesey gave New York a 1-0 lead less than 15 seconds after coming out of the penalty box near the midpoint of the first. Hayes brought the puck up the left side on a 2-on-1 rush, cut toward the net and dropped the puck back to Jesper Fast, who tapped it to the right, and a trailing Vesey put it under a sprawled Copley's left pad for his eighth at 9:12.
NOTES: Ovechkin's goal was his 624th, pulling one behind Jarome Iginla and Joe Sakic for 15th place on the NHL's career list. Ovechkin now has 33 goals and 51 points in 54 career games against the Rangers. ... The Capitals have outscored opponents 35-23 in the second period. ... Capitals also won the first meeting 4-3 in OT at home on Oct. 17. The teams play two more times, Feb. 24 at Washington, and March 3 back at Madison Square Garden. ... LW Timothy Gettinger made his NHL debut one day after being called up from Hartford of the AHL. He was sent back down after the game. ... Strome now has four goals and 14 points in 19 games against the Capitals.
UP NEXT
Capitals: At the New York Islanders on Monday night.
Rangers: Host Ottawa on Monday night to cap a stretch of five of six at home.
___
Follow Vin A. Cherwoo at https://twitter.com/VinCherwooAP
___
More NHL hockey: https://apnews.com/NHL and https://twitter.com/AP_Sports