Cooper unconcerned about Campbell, scoring on Leafs
Jack Campbell has a .924 save percentage in the series and has only allowed three goals at even strength, but Tampa Bay Lightning head coach Jon Cooper isn't worried about the Toronto Maple Leafs goalie as the two teams prepare for Game 4 of the series Monday night.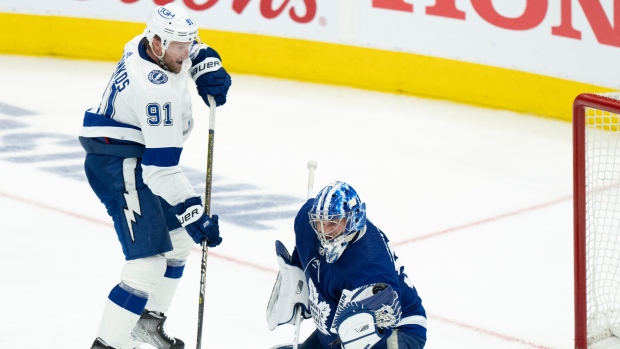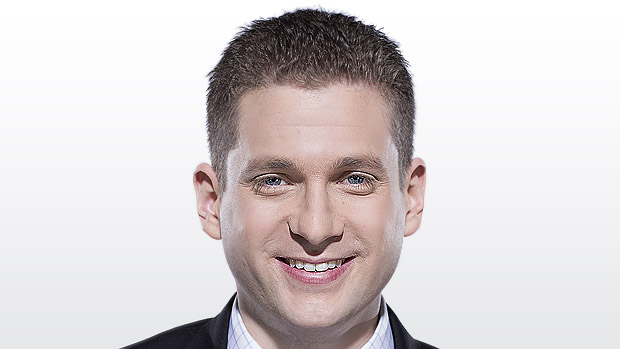 The Maple Leafs and Lightning practised at the TGH Ice Plex in Brandon, Fla. on Saturday.
---
Jack Campbell has a .924 save percentage in the series and has only allowed three goals at even strength, but Jon Cooper isn't worried about the Leafs goalie.
"We've scored seven goals on him in the last two games so if he's going to sit here and have a 3.50 goals-against average in every two-game set, we're going to take that," the Lightning coach said. "Has he made some saves? Sure he has. Have we beat him? We have ... Goal scoring against these guys, that's not a worry to me."
Sheldon Keefe brushed off the comment.
"I'm sure it's just his way of being confident and showing belief in his team," the Leafs coach responded. "I think if I was in his position I would say a similar thing."
Andrei Vasilevskiy has an .890 save percentage in the series, but Cooper still thinks his team has an edge between the pipes.
"I believe we got the best goalie in the world in our net," said Cooper. "It's 3-1 last night and the leading goal scorer in the league [Auston Matthews] goes down on a breakaway, [Vasilevskiy] stops that and then stops the rebound and gives us a chance to come back in the game, which we almost did. That's a big-time goalie there."
Keefe acknowledged the stop on Matthews as being a key moment that sparked the Lightning push, but he also pointed out that Campbell is holding his own against the reigning Conn Smythe Trophy winner.
"Goalies are battling back and forth, it's been great to see Jack stand in there," Keefe said. "He's confident. He believes in himself. Even times when it looks like he's beat he's finding ways to keep the puck out. He's tracking it really well."
Campbell denied a Steven Stamkos one-timer with Tampa on the power play late in the third period.
"I thought it went in," said Leafs winger William Nylander with a smile. "It happened so fast and the fact he was able to get there was incredible. I was cheering on the bench."
A few minutes earlier, Campbell got his toe on a shot from a net-crashing Nick Paul.
"It's a good save," Paul said. "I had a little hole there and could have put it in, but that's the way the game goes sometimes."
"He's made that move a few times," Campbell noted. "He's a good power forward. He takes it to the net hard and just fortunate I got to the post before the puck."
Campbell set the tone for the night by stopping Brayden Point on a point blank chance during the game's opening shift.
"Good forecheck by our guys," Point recalled, "puck kind of slid to me and I threw one on net. He makes a good save. He's played great. He's made a lot of good saves."
"Just kind of popped out to him," Campbell said of the play. "He's got a really good shot so tried to take some ice and it hit me so we'll take it."
Campbell, 30, is looking to win his first Stanley Cup playoff series and revealed that it's a personal goal to outplay Vasilevskiy.
"Vasi has proven how good he is over the course of his NHL career so it's a fun challenge," Campbell said. "I'd be lying if I said I don't want to do my best to beat him."
---
Campbell's big saves are a product of his big mouth.
"He's talkative," Matthews revealed. "He chats out there. He has a lot of fun out there and I think that's the most important part for him. When he's playing really well, he's having a lot of fun out there."
"I'm not sure when it dates back to," Campbell said of his chatty nature. "I think it helps everybody. For me, it makes me be in the moment."
"He likes to be involved," said defenceman Morgan Rielly. "He likes to know what's going on. During TV timeouts, he's talking to guys about plays and situations and things. That's just how he rolls."
Nylander hasn't played with another goalie who talks as much as Campbell.
"Like, 'Oh, you're looking great,'" Nylander said when pressed for an example of an in-game interaction. "Stuff like that and just being positive to the guys, which is fun to hear."
"Usually just positive reinforcement that they're doing good stuff," Campbell said.
Communication is crucial, especially in these pressure-packed playoff games.
"Things are pretty chaotic," Keefe observed. "It's 60 minutes of noise ... The play closes so fast and what you think might be there maybe isn't so any help you can get from any of your teammates is helpful and, in a lot of cases, the goaltender sees the whole game."
---
During the third period of Game 3, winger Alex Kerfoot was moved to the left side of the line with Matthews and Mitch Marner and he will remain in that spot to start Game 4. Kerfoot also played on the top line in Game 1.
Michael Bunting was bumped to the fourth line. He has played two games since returning from an undisclosed injury.
"In terms of the injury I think he's fine," said Keefe. "I don't think there's any issues there. It's coming back from an injury and then you're coming in and playing in the playoffs for the first time and especially when you're going to play on that [top] line it's not easy. It's not easy minutes. I thought that line had a hard time last night. I thought it got better once we made the change so we'll look to start that way tomorrow. But, Bunts is an important player for us. Obviously, scored a big goal in Game 2 and I think he'll continue to get better the more reps he gets."
On Friday night, Toronto's top line struggled to find open ice in a match-up against Tampa's shutdown line, which features Point, Alex Killorn and Anthony Cirelli.
"They play quick," Matthews said. "Sometimes the game is kind of going to go that way where you're maybe chasing it a little bit or there's just not too much going on at both ends. We stayed patient. In the third, we came alive and created some opportunities, created some momentum for our team. I think [it's about] not getting frustrated and staying with it [and] having the confidence we'll continue to come and come. Especially against a good line like them, they're going to make it difficult and challenging so it's just staying with it and believing in each other."
The Killorn-Point-Cirelli line has the Matthews assignment and they're humming along at 13-0 in shot attempts, 10-0 in scoring chances and 5-0 in high-danger chances through 40 minutes, per @NatStatTrick.

— Chris Johnston (@reporterchris) May 7, 2022
Tampa owned the territorial advantage against the Matthews line, but couldn't translate that into a goal against.
"That's just one game," said Point. "They still got their looks in the third. Just try and limit their time and space, I guess. That line is incredible ... We worked hard last game. We got our looks, but still a lot to improve. You want to chip in. You want to be able to produce. Hopefully a similar effort [on Sunday] and clean up some details and hopefully it's a better result."
---
William Nylander reunited with John Tavares on Toronto's second line in Game 3 and spent most of his five-on-five minutes against Nikita Kucherov.
"You just want to keep them off the board as good as you can," Nylander said of his mindset, "and if you're able you get one, I mean, that's great too. As long as your team's winning it doesn't matter what's going on out there for you individually."
Nylander led the Leafs with eight points in seven games during last year's playoffs, but so far this year has failed to hit the scoresheet in three games.
What can Nylander and Tavares, who's been held to one power-play point in the series, do to generate more?
"Are you saying we need to?" Nylander said with a laugh. "We started good last game. We had a few chances, but then a lot of power plays [in the game] and then through the second half of the game we were just trying to not get scored on. Obviously, we got scored on there in the third period and it was a battle to not give up any more dangerous chances ... We've been trying to focus on defence."
Nylander is second on the team in five-on-five shots in the series with seven.
---
Lines at Saturday's Leafs practice:
Kerfoot - Matthews - Marner
Nylander - Tavares - Kase
Mikheyev - Kampf - Engvall
Bunting - Blackwell - Spezza
Simmonds, Clifford, Anderson
Rielly - Lyubushkin
Muzzin - Brodie
Giordano - Holl
Sandin - Liljegren
Lines at Saturday's Lightning practice:
Palat - Stamkos - Nash*
Killorn - Cirelli - Point
Hagel - Paul - Colton
Maroon - Bellemare - Perry
Hedman - Cernak
McDonagh - Bogosian
Sergachev - Foote
Rutta
*Kucherov absent (rest)