Could Russell Martin see a reduced workload this season?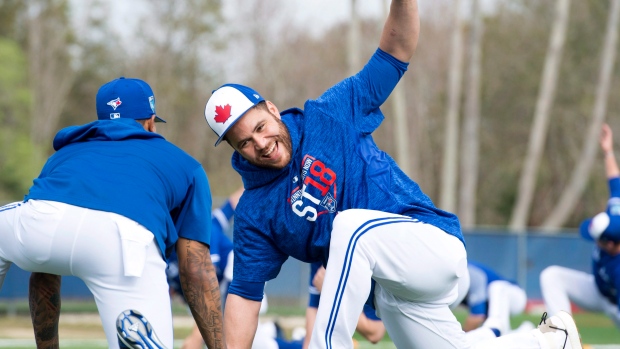 DUNEDIN, Fla. — Ross Atkins' off-season goal was obvious from the start.
Improve the depth of a Toronto Blue Jays' roster that was beset by injuries in 2017.
Middle infielders were a focus, the outfield was addressed, and bullpen depth has been added in the form of a number of veteran arms inked to minor-league deals.
One of the areas left untouched, however, was the depth chart behind catcher Russell Martin.
It says a couple of things.
While it definitely shows a certain level of confidence in the three other catchers on the 40-man roster — 22-year-olds Danny Jansen and Reese McGuire, as well as presumed backup, 27-year-old Luke Maile — it also says the front office believes the 35-year-old Martin is still capable of handling a large workload behind the dish.
He'll have to prove that's the case after playing only 91 games last season.
Martin wasn't left out of the march to the DL last season, missing 42 games thanks to a weak glove shoulder in May and a strained oblique that again sent him to the sidelines in mid-August for a month.
Through all that, Martin slashed .221/.343/.388 to post a 1.8 WAR season, just a shade less than the 1.9 WAR he accumulated in 137 games in 2016.
On the first official day of pitchers and catchers Wednesday, Martin wasn't sure what the plan is for him this season, but he knows it'll be a topic of conversation with manager John Gibbons, himself a former catcher who was taken in the first round of the 1980 draft by the New York Mets.
Gibbons has talked at length about making sure his veteran-laden roster is kept fresh, but that's easy to say in February when a 'W' isn't on the line.
"I don't know," Martin said. "I wish I did.
"We're definitely going to meet with Gibby and some of the coaches and talk about the scheduling of spring training, we'll start with that. As you get closer to the season, depending on how your body feels, that's when you make those types of decisions. Right now, I can't tell you exactly or how it's going to play out."
You can tell Martin has thought about it.
He pointed to his 2014 campaign with the Pittsburgh Pirates, a season that saw him slash .290/.402/.430 to earn his lucrative contract with the Jays.
That deal has this year and next year remaining at a pricey $20 million per season.
"When I look back, my best year of the last five years was in Pittsburgh and, I think, I was catching two-out-of-three games kind of thing. I'd catch two and have a day (off)," Martin said. "I felt like my body felt good all the way through the season. Who knows? We'll see."
That math would land him in the range of 110 games behind the plate, a completely reasonable number at his age.
That leaves around 50 games of slack to pick up.
While Maile's .146/.176/.231 slash line left a lot to be desired, the Jays' record when he started was 21-15.
"You back off only if you have the luxury of backing off," Martin said. "If we have a backup that's healthy and capable, which I believe that we are going to have that, it shouldn't be a problem."
SANCHEZ THROWS
Aaron Sanchez threw off a mound under the watchful eyes of Gibbons and pitching coach Pete Walker on Wednesday morning.
Gibbons liked what he saw but isn't about to proclaim Sanchez is over his blister issues.
"Now he's ramping it up, though," Gibbons said. "He's starting to throw more breaking balls, a little more intensity. That'll be the true test, but he feels really good and that's all I can go off of.
"In the back of our minds, we've got to be conscious of it, but I don't see any limitations and he sure doesn't think there's going to be."
You could hear Martin offering up the odd "nasty" comment on a few of Sanchez's seeds.
"He looked good," Martin said. "Ball was coming out free and easy, a lot of life to it, good movement. But all his pitches, they look the same coming out and that's kind of the key as a pitcher, the art of deception — everything has to look the same. The changeup was coming out nice, the breaking ball was sharp, but the delivery just looked clean and he looked comfortable out there. Definitely good for a first day of work."
Sanchez could be the key to the season and Martin did nothing to dissuade that line of thinking.
"I believe he's one of the best pitchers in the league," Martin said. "If you get a guy like that to stay healthy the whole year, it's definitely going to help us, there's no doubt about that. He's the type of pitcher that can shut down the best of offences.
"We all know the American League East has a ton of hitting, so we're going to need our pitching," Martin added.
MORE ADDITIONS?
It's no secret the Jays are trolling the free-agent market for some starting pitching depth, with Andrew Cashner's name popping up most recently.
There's a number of options still unsigned, but Gibbons isn't sure if anything will come to fruition.
"I know that's what they're trying to do right now," Gibbons said of adding another starter, which would likely land Joe Biagini back in the bullpen if everyone is healthy. "Whether all that happens, I couldn't tell you.
"There's still a lot of guys out there. Who knows if any other moves happen. I sure don't know. But there's some options."
Over the next few weeks, Gibbons will be sifting through bullpen options, too.
Veterans John Axford, Al Alburquerque, Rhiner Cruz, Jake Petricka and left-hander Craig Breslow are all in camp on minor-league deals.
"It's kind of typical," Gibbons said. "Most years you're trying to figure out your bullpen.
"We brought them in to see what they can do. These guys have been around a while. They're older but we'll see what they have left."​