Countdown to NFL Draft: The Top Quarterbacks
Not since 1999, when the NFL draft was kicked off by Tim Couch, Donovan McNabb, and Akili Smith, have three quarterbacks been selected with the first three picks – a rare occurrence likely to be repeated this year. TSN.ca takes a closer look at the top quarterbacks heading into the NFL Draft.
Jonathan Chan and Ben Fisher, TSN.ca Staff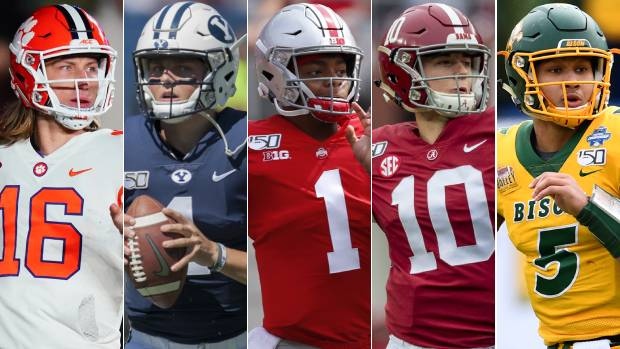 Quarterbacks have been taken first overall in seven of the past 10 National Football League drafts, and three times in the past 10 years the top two picks have been QBs.
But not since 1999, when the draft was kicked off by Tim Couch, Donovan McNabb, and Akili Smith, have three quarterbacks been selected with the first three picks – a rare occurrence likely to be repeated this year.
The Jacksonville Jaguars are a lock to take a quarterback first overall after splitting starts between Gardner Minshew, Mike Glennon, and Jake Luton as they tanked for Clemson star Trevor Lawrence last season.
So too are the New York Jets, who select second overall and recently gave up on 2018 third-overall selection Sam Darnold, shipping him to the Carolina Panthers in exchange for a second-round pick.
Sitting at No. 3 in the draft are the San Francisco 49ers, who used two future first-rounders and a third-rounder to trade up from 12th overall, presumably to take a QB as well.
QBs are always the focal point of draft season as struggling teams hope to find their saviour at the game's most important position. As seen with 1999 NFL Draft, and in a number subsequent drafts, taking a quarterback high in the draft is far from a guarantee, but the potential is always there.
As many as five quarterbacks could end up top-10 picks in this year's draft, with potential landing spots including the Atlanta Falcons at No. 4 and Denver Broncos at No. 9, along with any potential trades and surprise picks.
Joining Lawrence as top prospects at the position this year are BYU's Zach Wilson, Ohio State's Justin Fields, Alabama's Mac Jones, and North Dakota State's Trey Lance.
TSN.ca takes a closer look at the top quarterbacks heading into the NFL Draft:

Trevor Lawrence, Clemson
Draftniks have had Lawrence pencilled in as the top pick in this year's draft ever since he took over for Kelly Bryant as Clemson Tigers starter as a true freshman early in the 2018 season.
With Lawrence under centre, the Tigers finished the 2018 regular season undefeated. They then rolled past Pittsburgh 42-10 in the ACC Championship game, crushed Notre Dame 30-3 in the Cotton Bowl, and handed the Alabama Crimson Tide their worst – and most embarrassing – loss of the Nick Saban era in the National Championship game, winning 44-16. Lawrence was awarded Offensive Player of the Game.
Lawrence led Clemson to another undefeated season and ACC Championship as a sophomore in 2019 before falling to LSU and last year's first-overall selection Joe Burrow in the National Championship.
Clemson's only regular-season loss last year came with Lawrence watching from the sideline a few days after clearing COVID-19 protocols, but Lawrence and the Tigers did fall to Ohio State in the CFP semifinals. He capped his college football career finishing second in Heisman voting despite the missed time due to COVID-19.
Lawrence held an early pro day in February this year ahead of planned shoulder surgery, and by all accounts was impressive.
The 21-year-old is arguably the cleanest quarterback prospect since Andrew Luck in 2012 and there's no debate as to where he'll land in the draft.
Even his future head coach, Urban Meyer, who was still tied to the Ohio State program as assistant athletic director during fellow top prospect Justin Fields' time there, appeared to have no interest in adding fake intrigue to the top of the draft.
"I'd have to say that's the direction we're going," Meyer told NBC Sports' Peter King when asked about Lawrence last month. "I'll leave that up to the owner when we make that decision official. But I'm certainly not stepping out of line that that's certainly the direction we're headed."
Let's just hope the Jaguars don't take up their whole 15 minutes on the clock before the inevitable, so we can get to the real excitement of the draft.

Zach Wilson, BYU
Wilson was an NFL Draft afterthought after his sophomore year at BYU, as he threw just 11 touchdowns and nine interceptions in nine games. His mediocre 2019 season was weighed down by a fractured thumb and shoulder surgery the previous off-season.
Fully healthy in 2020, Wilson saw his draft stock rise more than any other player in college football and finds himself as one of the most talked about quarterback prospects in the draft.
The Draper, Utah native racked up 3,692 passing yards and tossed 33 touchdowns to just three interceptions. He was named Offensive MVP of the 2020 Boca Raton Bowl, throwing for 425 yards and three touchdowns in a 49-23 win over UCF.
Wilson finished the season third in the nation in passing yards, touchdowns, and second in completion percentage, behind Alabama's Jones.
He continued to impress scouts at his pro day with his athleticism and release, even drawing comparisons to Green Bay Packers' quarterback Aaron Rodgers.
"He's an easy thrower on the move, you can tell he's a natural athlete," one NFC executive told Sports Illustrated's Albert Breer following Wilson's pro day. "The arm strength is excellent; the accuracy was good."
"Some of the ability to throw from different angles, and with a release that quick is similar to [Patrick Mahomes and Aaron Rodgers]," an AFC executive told Breer. "Rodgers is probably more appropriate. Remember, people weren't super [excited] with Rodgers' arm either, which seems crazy now.
So, is he as talented as those guys, as an athlete? Maybe. Is he gonna be a great generational quarterback? I don't know."
At this point in the draft process, it seems automatic that Wilson will be taken in the top-three and most mock drafts have the New York Jets taking him with the No. 2 pick.
If the Jets opt to go with another quarterback, the San Francisco 49ers will likely draft Wilson at No. 3.

Justin Fields, Ohio State
Fields was long seen as the No. 2 prospect in this draft class behind Lawrence. The Kennesaw, Ga. native finished third in Heisman Trophy voting and was named Big Ten Offensive Player of the Year in 2019, his first year at Ohio State. He finished third in the nation with 41 touchdown passes and threw only three interceptions. He also rushed for 484 yards and 10 touchdowns in 2019.
Fields' mobility is part of what made him a highly regarded prospect, as he can escape pressure and pick up first downs with his legs.
His 2020 season did not compare well, statistically, to some of the other top quarterback prospects as the Buckeyes played just eight games but Fields still led the team to a second-straight undefeated regular season and Big Ten Championship.
Ohio State made it to the National Championship game after beating Lawrence's Clemson Tigers 49-28 in the semis. Fields played through a rib injury and passed for 385 yards and six touchdowns.
The 22-year-old continued to impress scouts at his pro day, running a 4.43, 40-yard dash, an extremely impressive time for the 6 -foot-3, 227-pound QB. His time was the second fastest mark from a first-round quarterback since Robert Griffin III ran a 4.41 at the 2012 NFL Combine.
Fields held a second pro day Wednesday in front of the Jets (No. 2), 49ers (No. 3), Atlanta Falcons (No. 4), Denver Broncos (No. 9), and New England Patriots (No. 15).
If Wilson does indeed go to the Jets, Fields will get a serious look from Kyle Shanahan and the 49ers with the third pick. Shanahan has made a career of curating explosive offences and Fields will add another versatile weapon on that side of the ball.
If Fields falls past No. 3, the Falcons would be an intriguing landing spot for the young quarterback. Matt Ryan still has three years left on his contract, but there is a potential out for the Falcons after this season and the team could opt to move on from the 35-year-old and develop Fields alongside star receivers Julio Jones and Calvin Ridley.

Mac Jones, Alabama
Jones is continuing an emerging trend of Crimson Tide starting quarterbacks as strong NFL prospects, following Tua Tagovailoa, the fifth-overall selection in last year's draft, and Jalen Hurts, a second-rounder last year and current Philadelphia Eagles starter. Hurts finished his college career at Oklahoma.
Jones took over under centre at Alabama for an injured Tagovailoa late in the 2019 season, starting the final two regular-season games and the team's Citrus Bowl win over Michigan. Combined with his mop-up duty and one other start for an injured Tagovailoa, earlier in the season, Jones finished his sophomore campaign with 1,503 passing yards, 14 touchdowns, and three interceptions.
Jones had a monster junior season last year, helping Alabama to an undefeated regular season before edging Florida 52-46 in the SEC Championship game and making light work of both Notre Dame (31-14) in the CFP semifinal game and Ohio State (52-24) for the National Championship.
Jones finished the year third in Heisman voting behind only his top target and fellow projected first-rounder DeVonta Smith, and Lawrence. Jones did edge Lawrence for the Davey O'Brien Award as the NCAA's top quarterback of the year.
Jones started mock draft season as a perceived mid-to-late first-rounder. That all changed when the 49ers traded up to third overall and former NFL QB and current NBC Sports analyst Chris Simms tweeted he believed San Francisco made the move with Jones in mind.
The tweet held some weight because Simms is good friends with Shanahan. And despite the 49ers head coach saying he doesn't talk to Simms about the team's plans, buzz has picked up and the possibility of Jones going to the 49ers has become a real consideration.
If Jones does fall past the 49ers however, his status as one of the first round's biggest wild cards resumes. He could still end up a top-10 pick with a couple teams sniffing around quarterbacks still to pick, or fall back to his original projection.
Falling out of the top 10 picks is a dicey situation for QBs however, as teams without clear needs at the position begin filling the draft order.

Trey Lance, North Dakota State
Lance may be the biggest question mark in the draft.
As a redshirt freshman in 2019, the 20-year-old threw for 2,786 yards, 28 touchdowns and no interceptions. He also ran for 1,100 yards and 14 touchdowns. His 287 passing attempts without an interception were an NCAA record. His rushing numbers, both yards and touchdowns, were second in the nation behind now Hurts.
Lance was awarded both the Walter Payton and Jerry Rice awards for most outstanding offensive player and most outstanding freshman, respectively, in the Division I Football Championship Subdivision (FCS).
The Marshall, Minn. native played just one game in 2020 before opting out. He once again flashed massive potential in his only contest, throwing for two touchdowns and scoring two more on the ground.
Lance's build (6-foot-3, 225 pounds) and athleticism make him an intriguing prospect, but his lack of experience and competition level could be a concern at the NFL level. Over his short college career at North Dakota State, Lance played just 17 games at the FCS level, against a much lower level of competition than the other quarterbacks in his class.
"[Lance] does have elite first-round traits too," Simms said on Pro Football Talk. "The No. 1 thing is, I'd be scared with just [a] lack of play. It's [a] lack of throws and lack of playing that would just scare me."
Despite what could be a steep learning curve at the NFL level, Lance's physical tools have coaches enamoured with his potential.
"This kid is whole other-level special. He has all the physical tools. He finds ways to make plays," one NFL coach told Bruce Feldman, of The Athletic, following Lance's pro day. "You never saw just bad throws; most of them were where his guys are getting it right in stride."
Where Lance goes has been a hot topic of discussion. With three of the top-five quarterbacks expected to be picked at the top of the draft, it is likely Lance will be selected within the top 10.
The Denver Broncos have been looking to upgrade on Drew Lock and could select a quarterback at No. 9.
One dark horse landing spot for Lance would be the New England Patriots. Coach and general manager Bill Belichick has not been shy about upgrading the roster this offseason, spending more than $268 million dollars following the team's 7-9 finish in 2020.
The Patriots have attended pro days for both Fields and Lance, both mobile signal callers that could learn from incumbent QB Cam Newton.
If Lance falls past the Detroit Lions at No. 7, don't be surprised if a team makes a deal with the Carolina Panthers to move up to No. 8 to bet on Lance's potential.