Countdown to TradeCentre: Ferland on the market
Follow the latest trade rumours and speculation leading up to the Feb. 25 trade deadline with TSN.ca's Countdown to TradeCentre. Friday's roundup includes whether the Devils are ready to set the sellers market, possible suitors for Sergei Bobrovsky, and updates on three players drawing interest on the trade block.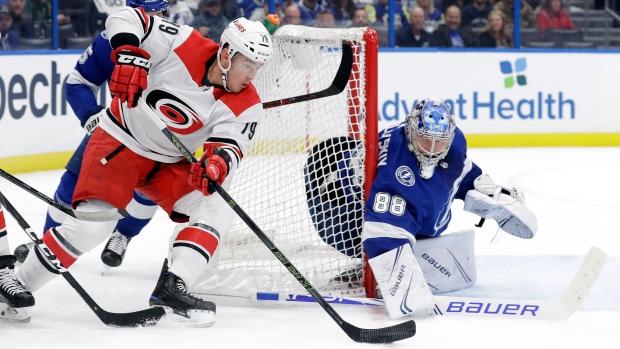 The National Hockey League's Trade Deadline is 3 p.m. ET on Monday, Feb. 25, and teams will be making decisions on whether to buy or sell and decide which players can make the biggest difference and hold the greatest value. Check out the latest trade rumours and speculation from around the NHL beat.
---

On the Market
Teams looking to add a physical presence who can score can add Carolina Hurricanes winger Micheal Ferland to their watch list, as TSN Hockey Insider Pierre LeBrun reports the pending unrestricted free agent is available.
Ferland has 12 goals and 20 points this season and is tied for the team lead in hits with 108 through 36 games. LeBrun reports that there hasn't been any development on contract negotiations between the two sides, increasing the likelihood he'll be moved by Feb. 25.
"Micheal Ferland is on the trade market," LeBrun said Thursday on Insider Trading. "It doesn't necessarily mean that he'll get dealt but he is an unrestricted free agent on July 1 - remember he was part of that deal with Calgary. He's a difference-maker. The thing is, I don't think the Hurricanes feel they can lose him for nothing on July 1. They either have to get him signed, or they will deal him. They have started talking to teams. Both sides, in terms of Ferland's agent and the team, have not talked in over a month."
The Hurricanes sit seven points back of the final wild card spot in the Eastern Conference with a 20-18-5 record this season.

---

Devils In Play?
TSN Hockey Insider Darren Dreger speculated ahead of Thursday's game that the New Jersey Devils were trending towards becoming sellers in the near future. Dreger told TSN Radio 1290 in Winnipeg that with so many teams in position to sell, some teams may look to set the market early.
"It's possible," Dreger said. "But If I look at the Eastern Conference, I mean there are teams that we haven't heard from yet. I'm getting the sense the New Jersey Devils are real close to moving out some pieces.
"Now, we're not talking about the big boys like (Taylor) Hall or (Kyle) Palmieri or anything like that. New Jersey is a team (where) Ray Shero is a veteran, experienced general manager. Maybe he wants to dip into the market, or take advantage of someone else who wants to dip into the market early.
"Because the ask on good players - specifically defencemen - is always the same this time of year. If you're talking about a top-four defenceman, you're talking about a first-round draft pick, you're talking about a good prospect and then you're talking about an NHL roster player.
"That doesn't seem to change until somebody dives into the market until someone either overpays or underpays, and then I think people have to kind of embrace reality after that."
The Devils reached the postseason last spring, led by Hall's Hart Trophy-winning campaign, but are 16-20-7 this season with Thursday's loss to the Toronto Maple Leafs and now sit 13 points back of the final wild card spot in the Eastern Conference.
The Devils have six pending unrestricted free agents in Marcus Johansson, Brian Boyle, Ben Lovejoy, Keith Kinkaid, Egor Yakovlev and Drew Stafford. Chris Ryan of NJ.com wrote Wednesday that he belives Johansson (six goals, 15 points in 31 games) carries the most value of the group, while adding he doesn't believe the Devils will part with Boyle. Ryan adds that the emergence of Mackenzie Blackwood could allow the Devils to move Kinkaid.
No Devils were listed on the most recent TSN Hockey Trade Bait list.
---

What About Bob?
All eyes are currently on Sergei Bobrovsky in Columbus after the Blue Jackets released a statement Thursday announcing he would be scratched from their game against the Nashville Predators over an unspecified incident.
Bobrovsky's future in Columbus has been murky dating back to last summer when declined to enter into extension talks with the team. Aaron Portzline of The Athletic reports the Blue Jackets had planned to hold to the pending unrestricted free agent for their playoff run, but the most recent event may have led them to look at their options.
While the Russian netminder owns a full no-trade clause in his contract, Portzline points to the Philadelphia Flyers, Florida Panthers, St. Louis Blues, Ottawa Senators and New York Islanders as teams believed to be interested to potential landing spots next summer when he becomes a free agent.
TSN Hockey Insider Pierre LeBrun added that the decision to stay or go ahead of the deadline could rest in the goaltender's hands.
"It really depends on what happens next," LeBrun explained on Insider Trading of Bobrovsky's future in Columbus. "There's a meeting Friday between Bobrovsky and the Blue Jackets organization and I think that's going to be key in how this plays out over the next few days. But beyond that, Sergei Bobrovsky controls his own fate in many ways. He has a full no-trade, a full no-move, he decides if he wants to get dealt before next month's deadline or if he wants to play out the year and head into free agency. Now, Jarmo Kekalainen, the general manager in Columbus, told me today that this is not about a rift between head coach John Tortorella and Bobrovsky. He wants to be very clear about that. Having said that, I think it's because of some of the comments made last year after the playoffs his goalie didn't sign an extension. So we'll see where this goes."
Bobrovsky is 18-13-1 this season with a goals-against average of 2.86 and a .906 save percentage. He has a 5-14 career playoff record with an .891 save percentage and a 3.49 GAA.
The Blue Jackets won Thursday's game 4-3 in overtime over the Nashville Predators with backup Joonas Korpisalo in goal.
---

Selling To Buy?
The Philadelphia Flyers have been expected to be a seller ahead of the deadline, but TSN Hockey Insider Bob McKenzie said Thursday that while players may be on the way out, others could be on the way in.
The Flyers sit last in the Eastern Conference this season and are likely to part with pending UFA Wayne Simmonds ahead of the deadline. McKenzie notes, however, that new general manager Chuck Fletcher could look to turn his returns from selling into long-term additions for the Flyers.
"The Philadelphia Flyers will be a team to keep an eye on between now and the trade deadline," McKenzie said on Insider Trading. "New general manager Chuck Fletcher has a lengthy - and I mean lengthy - list of things he wants to do. He needs to find himself a goaltender who can buy some time for Carter Hart to develop. He needs to get himself a top-four defenceman to help mentor his young defence. And he also needs to get himself either a top-two or top-three line cente to try and take some of the load off the existing forwards. Those are not easy things to do.
"Now, will he trade veterans between now and the deadline? Absolutely. Wayne Simmonds is more likely than not to be traded. It's not 100 per cent, but more likely than not. And while Fletcher could get draft picks and prospects coming back in for a guy like Simmonds or another veteran player, he's also planning on using draft picks and prospects and younger players to try and go out and achieve those things (the goalie, the defenceman and the centre)."
Earlier this week, TSN Hockey Insider Darren Dreger listed the Toronto Maple Leafs, Winnipeg Jets, and Calgary Flames among the teams that could be interested in Simmonds.
---
Open Ears
Like the Flyers, the St. Louis Blues have been trending towards seller status throughout the season and TSN Hockey Insider Pierre LeBrun reports the team is keeping its ears open on most of its roster.
LeBrun noted that 27-year-old Brayden Schenn is among the Blues currently drawing interest and pointed to the Boston Bruins as a team to watch. Schenn, who is signed through next season at a $5.125 million cap hit, may be back on the trade block this summer if he's not moved by the deadline.
"Former Flyer Brayden Schenn is drawing interest around the league," LeBrun said on Insider Trading. "That's not surprising because as we've told you, the St. Louis Blues are in full listening mode. They're unhappy with how their season has gone and general manager Doug Armstrong has not put a lot of untouchables on his roster. Obviously all the kids are untouchable but he is listening on a lot of his core guys. Schenn is one of them.
"Now Armstrong doesn't have to make that kind of move before the Feb. 25 deadline, these are some moves that can be done in the summer. But teams, notably a team like the Boston Bruins, are keeping an eye on a guy like Schenn."
Schenn has nine goals and 24 points in 38 games this season with the Blues. He was listed at No. 12 on the most recent TSN Hockey Trade Bait list, while teammate Colton Parayko came in at No. 1.