Countdown to TradeCentre: Difference between JT situation and Stamkos
Check out some updated trade rumours and speculation from around the NHL beat, which includes the latest on John Tavares on some prominent NHL blueliners that include Oliver Ekman-Larsson and Jack Johnson.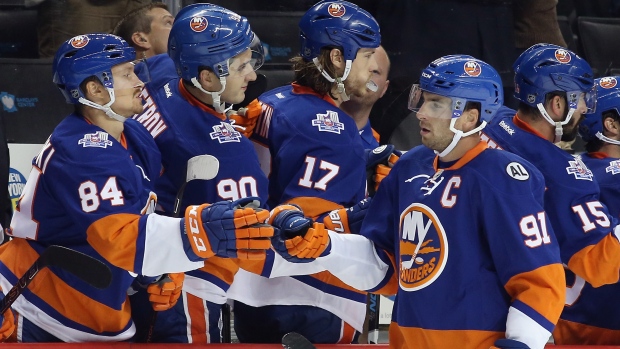 The National Hockey League's Trade Deadline is on Monday, Feb. 26 and teams will be making decisions on whether to buy or sell and decide which players can make the biggest difference and hold the greatest value. Check out the latest trade rumours and speculation from around the NHL beat.
Why Tavares is not in a 'Stamkos scenario'
TSN Hockey Insider Bob McKenzie told TSN Radio 690 Montreal on Monday that 'technically, there's nothing new' on soon-to-be UFA John Tavares and as long as he's not signed, 'feel free to speculate.'
"Now, there's a big part of me that thinks, 'I'm going to put the brakes on talking about John Tavares trade destinations and trade scenarios between now and the deadline or free agent scenarios when he goes to July 1,' because I don't know he'll get to July 1," McKenzie told TSN Radio 690's Conor McKenna. "I don't know that he won't, either."
But while many are comparing this season-long speculation to that of Steven Stamkos from two seasons ago, McKenzie does cite an notable difference at this point.
"To my knowledge, there's been no negotiation in the sense of a hard (contract) proposal - a 'Hey JT, here's eight years and here's $12 million - is that going to do it for ya?'" he explained. "They haven't even got to a point where I think that the Tavares camp is entertaining a financial offer. And people are comparing this to the Steven Stamkos situation. If you remember, he got an offer from the Tampa Bay Lightning in, I believe early to mid-December of the last year of his contract and at the time we all perceived it to be a really low ball offer...that really fueled the talk of 'this guy's going to free agency, this is a legitimate thing that could happen.'
"That hasn't happened yet with Tavares and that could cut both ways. There's no low ball offer here to say 'Tavares is going to free agency' - there's just no offer at all, and the reason there's no offer as far as I can tell is because I don't think the Tavares camp has invited one.
"Is that ominous? There's a part of me that says 'yeah.' But there's another huge part of me that says 'no' - it's just the way John Tavares is going to do business and he's going to let more time play out here. Is it conceivable that at some point during this season or at the end of this season, John Tavares decides to get down to hard negotiations and entertain that? Yeah, there's a good part of me that thinks that's possible. But there's also another part of me that says he wants to see where this season's going to go. He wants to see where the Islanders are by the time the season ends - whether the needle is pointing up or pointing down in terms of where this team is trending - and just more information is good information. There's another big part of me that says, 'nothing is going to happen until the end of the regular season anyways,' and playoffs - if there are any - for the Islanders, and then John Tavares is going to decide what he's going to do."
---
Decision Time
Bruce Garrioch of the Ottawa Sun believes the Arizona Coyotes will have to decide if it's worth shopping defenceman Oliver Ekman-Larsson now in order to allow a team to get two playoff runs during his current contract.
Garrioch lists the Toronto Maple Leafs, New Jersey Devils and Philadelphia Flyers as team's who have shown interest in Ekman-Larsson, though the ask from the Coyotes remains "extremely high." According to Garrioch, Chayka is looking for two high-end roster players and a first-round pick in return for his star defenceman.
Through 45 games this season, Ekman-Larrson, 26, has seven goals and 20, he's on pace to top his 2016-17 totals, but once again fall short of the 20-goal mark which he topped in back-to-back seasons from 2014-2016.
Logging an average of 24:33 per game on the last-place club has left Ekman-Larsson with a career-worst minus-40 rating, last in the NHL.
---
Decision Made
While Chayka is believed to be weighing his options with Ekman-Larsson, Garrioch reports he's already made up his mind on Niklas Hjalmarsson and is shopping the veteran defenceman.
Brought in during the summer in a trade with the Chicago Blackhawks, Hjalmarsson has four assists in 19 games with the Coyotes. The 30-year-old is signed through next season at a $4.1 million cap hit.
Hjalmarsson's contract includes a 10-team no-trade list and Garrioch reports there's a strong belief the Swede would prefer to not play in a Canadian city.
---
Johnson Watch
Columbus Blue Jackets defenceman Jack Johnson has requested a trade, according to The Athletic, and has now become one of the bigger names to watch in the lead up to trade deadline day.
Johnson, 31, is hoping to a sign a long-term contract with his new team if he's traded since talks have stalled with Columbus.
TSN Hockey Insider Pierre LeBrun believes the Blue Jackets could be seeking a rental forward in their return for Johnson. LeBrun notes the Blue Jackets, who sit second in the Metropolitan Division, are looking to win now and therefore a draft pick return makes little sense.
Blue Jackets general manager Jarmo Kekalainen told George Richards of the Columbus Dispatch that Johnson would only be traded if the return made sense for the team.
"It's the same with him as anyone else on our team: We'll make a trade if and when we have something that makes sense for the Blue Jackets," Kekalainen said.
Johnson has two goals and seven points in 46 games this season while averaging 19:24 of ice time per game, the lowest mark of his career.