Countdown to TradeCentre: Do Leafs need to make a change?
Follow the latest trade rumours and speculation leading up to the Feb. 25 trade deadline with TSN.ca's Countdown to TradeCentre. Monday's roundup includes whether the slumping Maple Leafs are feeling the pressure for a change, Chicago Blachawks on the trade block and deadline plans for the Arizona Coyotes.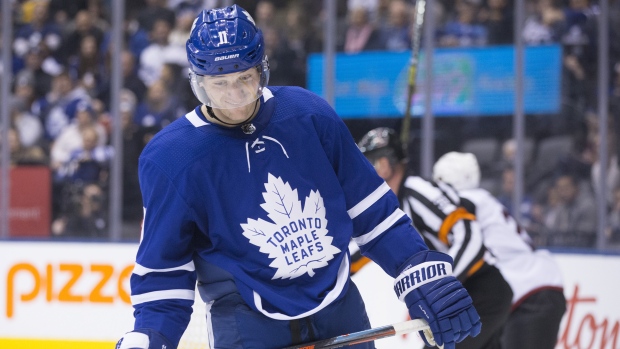 The National Hockey League's Trade Deadline is 3 p.m. ET on Monday, Feb. 25, and teams will be making decisions on whether to buy or sell and decide which players can make the biggest difference and hold the greatest value. Check out the latest trade rumours and speculation from around the NHL beat.
---

Feeling the Pressure?
With the Toronto Maple Leafs coming off their second straight loss Sunday night, TSN Hockey Insider Darren Dreger was asked Monday whether the sense of urgency for general manager Kyle Dubas to make a move has gone up when compared to December, when the Leafs were comfortably in second in the division.
"I don't think it's much higher," Dreger told TSN Radio 1050 Toronto. "Let's not forget Dubas, even though his inexperience tells us that he should be trigger happy, he's a very patient general manager. I think he proved that through the William Nylander stalemate, obviously.
"It has to be the right fit in terms of the player that's coming your way, but (also) the right fit in terms of the assets you're willing to move out. Now, in saying that, maybe to some degree, maybe that's what the Maple Leafs are waiting for - the players are expecting. This market has talked about this right-shot defenceman that they so desperately need and they're going to get at some point, maybe the players are like 'Alright, when's it happening?' It's going to happen sooner than later because everybody keeps talking about it.
"Again, the ask for top defence is through the roof right now. And that's probably not going to change anytime (soon). It may not change at all through the trade deadline if more players don't enter the market. I'm looking at the St. Louis Blues, and much has been made of the possibility of (Alex) Pietrangelo or Colton Parayko, and now the philosophy in St. Louis has shifted a little bit based on their play where there's talk that they may want to add, not subtract. They're five points back of a playoff spot, so they're not out of it yet, so maybe the market is shrinking on Dubas and the Toronto Maple Leafs at this point."
TSN Hockey Insider Bob McKenzie said last week the Maple Leafs' first-round pick could be in play ahead of the trade deadline and he added that Andreas Johnsson or Kasperi Kapanen could also be moved as part of a deal.
The Leafs have lost seven of their past 10 games and have a one-point lead on the both the Boston Bruins and Montreal Canadiens for second in the Atlantic Division.
---
On the Block
The Chicago Blackhawks are shaping up to be sellers at the trade deadline and according to Scott Powers of The Athletic, they have mentioned that forwards Marcus Kruger, Chris Kunitz and Andreas Martinsen are available for trade.
Powers adds that it remains to be seen if any of the three will draw interest, though he believes Kruger is the most likely to.
Of the three, Kruger leads the group in scoring with four goals and seven points in 43 games this season. Martinsen has one goal and four points in 24 games and Kunitz has one goal and three points in 28 games. Kruger, who carries a $2.78 million cap hit in the final year of his deal, has a seven-team no-trade list, while Kunitz, also a pending unrestricted free agent, carries a $1 million cap hit and has a full no-move clause.
Martinsen is playing the AHL after clearing waivers last week. He has a $650,000 cap hit and will be a free agent in July.

---

Available in Arizona?
It remains unclear what direction the Arizona Coyotes, who sit four points back of the final wild-card spot in the Western Conference after Sunday's win over the Toronto Maple Leafs, will take at the trade deadline.
Coyotes general manager John Chayka told The Arizona Republic he's simply looking to improve his team both short-term and long-term, while adding he doesn't feel the need to wait until Feb. 25 to make deals.
"I don't think we're really looking to be a deadline team in the sense that we need to make moves at the deadline," Chayka said last week. "Obviously you can't make those type of moves after that, but we're trying to improve our group in both the short term and the long term then we're going to do that. We're always having discussions and I'm not going to delay those discussions just because there's a deadline in place.
"If we can do something now that improves our group in both ways, I'd definitely be looking to do that."
Richard Morin of The Republic lists Richard Panik, Alex Goligoski, Niklas Hjalmarsson, Jordan Weal and Jordan Oesterle as players who could be moved over the next month. Panik, Weal and Oesterle are all pending unrestricted free agents, while Goligoski and Hjalmarsson are both signed through 2020-21.
Goligoski, 33, carries a $5.475 million cap hit and owns a full no-move clause and Hjalmarsson, 31, is signed carries a $4.1 million cap hit this season and $5 million hit in the next two years. Still, Morin believes either defenceman could draw interest from a contender looking to add a veteran presence to their blueline.
Panik, 27, is the Coyotes fifth-leading scorer this season with nine goals and 18 points in 45 games. Morin considers the Boston Bruins, Colorado Avalanche, Nashville Predators and Minnesota Wild as likely suitors who could take on his $2.8 million cap hit.
---