Countdown to TradeCentre: Flames, Canucks, Pens all eyeing Ferland?
Follow the latest trade rumours and speculation leading up to the Feb. 25 trade deadline with TSN.ca's Countdown to TradeCentre. Wednesday's roundup includes the strong trade market for Micheal Ferland, other trade options for the Hurricanes and the latest on Matt Duchene and Mark Stone in Ottawa.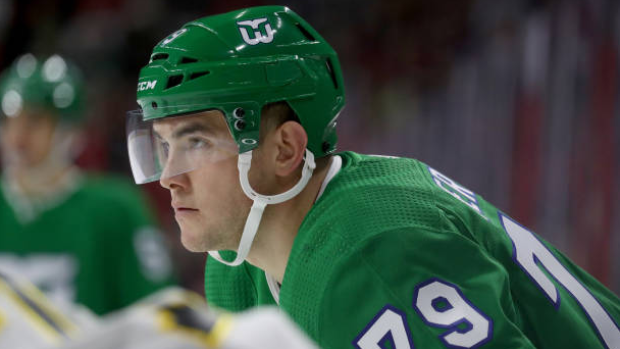 The National Hockey League's Trade Deadline is 3pm et on Monday, Feb. 25, and teams will be making decisions on whether to buy or sell and decide which players can make the biggest difference and hold the greatest value. Check out the latest trade rumours and speculation from around the NHL beat.
---

Strong Market
Carolina Hurricanes forward Micheal Ferland is No. 3 on the TSN Trade Bait Board and it appears general manager Don Wadell will have no shortage of suitors for the 26-year-old if he decides to move him ahead of the trade deadline.
Ferland, a pending unrestricted free agent, has 13 goals and 25 assists in 41 games this season and TSN Hockey Insider Darren Dreger suggested Tuesday that Ferland could wind up back in Western Canada after being traded last summer.
"I can tell you the market for Micheal Ferland, it is high, it is strong," Dreger told TSN Radio 1040 Vancouver. "I'll tell you this: I think Jim Benning and the Vancouver Canucks would love to get their hands on Micheal Ferland, either through trade or as a free agent because of what he brings. He can be a top-six player, and he is as tough as nails.
"I would put Vancouver on that list. I'd put Calgary, believe it or not, with interest to get Ferland back, on that list. Winnipeg, Pittsburgh. From a trade perspective, there's a strong market for that guy. If he gets to unrestricted free agency, there'll be 15 or more teams that'll try and sign him."
Ferland was traded by the Flames to the Hurricanes along with Dougie Hamilton and Adam Fox in June for Noah Hanifin and Elias Lindholm.
TSN Hockey Insider Pierre LeBrun also mentioned the Penguins' interest on Tuesday, speculating that Derick Brassard could be moved to Carolina in a trade - and then flipped again.
"Yes, throw in the Pittsburgh Penguins. And why not? We know that Jim Rutherford, the GM of the Penguins, is always very active at this time of year and our understanding is that the Penguins have inquired about Micheal Ferland," LeBrun said on Insider Trading. "Boy, you might look very good playing on Sidney Crosby's wing and of course they're not the only team. I think the Calgary Flames will inquire if they haven't already as to what it would take to perhaps start that conversation of re-acquiring Micheal Ferland. Name the contender, they have Ferland and guys like Wayne Simmonds on their radar.
"Now here's something interesting about the Pittsburgh Penguins. They're always right near the cap. If they were to go further in these talks with Carolina, somebody else would have to move. What if it's Derick Brassard? A player we've talked about also being on the trade market. It would help the math work. Carolina now would want a first-round pick in there. Brassard is a UFA, would Carolina then turn around and flip him closer to the trade deadline? There are a lot of moving parts, a lot of conjecture here, but some interesting conversations being had right now."
Ferland carries a $1.75 million cap hit this season, though Sara Civian of The Athletic reported earlier this month the winger was looking for a "significant raise" on his next contract, which could be in the ballpark of Tom Wilson's $5.17 million cap hit.

---

Hurricane Watch?
Ferland is not the only the player in Carolina drawing trade interest, and TSN Hockey Insider Darren Dreger said Tuesday the Hurricanes could be a team to watch ahead of the trade deadline, specifically when it comes to their defencemen.
"The potential of the Carolina Hurricanes being a big player on deadline day is there, there's no question about that. Maybe beforehand," Dreger told TSN Radio 1040 Vancouver. "You look at some of the defence that we've speculated on - Brett Pesce, Justin Faulk, Dougie Hamilton, of course. Jacob Slavin seems to be the only defenceman that Don Waddell doesn't really want to consider in terms of trade."
Waddell has been open about his pursuit of scoring help in Carolina and TSN Hockey Insider Pierre LeBrun wrote Tuesday in The Athletic that they could move Hamilton or Pesce for a "top-six forward with offensive skill."
Hamilton, who has seven goals and 17 points in 49 games this season, is listed at No. 7 on the TSN Trade Bait Board, while Pesce, with three goals and 11 points in 40 games, is ranked 21st. Faulk is the final Hurricane on the list coming at No. 28 with three goals and 17 points in 49 games.
The Hurricanes, who are 6-3-1 in their past 10 games, sit six points back of the Pittsburgh Penguins for the final wild card spot in the Eastern Conference.

---

Still Talking
TSN Hockey Insider Darren Dreger said Tuesday that there is a bit of progress being made with Matt Duchene on an eight-year extension, though the clock is ticking for the Ottawa Senators.
"To some degree yes," Dreger said on Insider Trading. "But we know that Pat Brisson represents Matt Duchene and Pierre Dorion of the Ottawa Senators are planning on talking again this week. They met last week in Los Angeles, they talked about general parameters, they talked about an eight-year maximum extension, they talked about ballpark money, anywhere from just over $8 million annual average salary to north of $9 million.
"The most important part of this back and forth between Ottawa and the Duchene camp is the timing. Obviously Ottawa needs to know by, I would say maybe the 10th of February, the latest the 15th, to give both sides ample opportunity to explore what the next move might be, and clearly that would be trade."
Bruce Garrioch of The Ottawa Sun adds that contract talks between the Senators and pending free agents Mark Stone and Duchene are expected to continue over the phone this week.
Garrioch wrote that "the belief in league circles" is Stone will stay in Ottawa since the two sides were close to a long-term extension before signing a one-year deal to avoid arbitration last summer. He also notes the team is equally committed to keeping Duchene.
Stone and Duchene are first and second respectively in scoring for the Senators this season. Stone has 22 goals and 50 points through 50 games, while Duchene has 20 goals and 47 points in 41 games.
---