Waddell: Hurricanes looking for offence, haven't spoken to Nylander's agent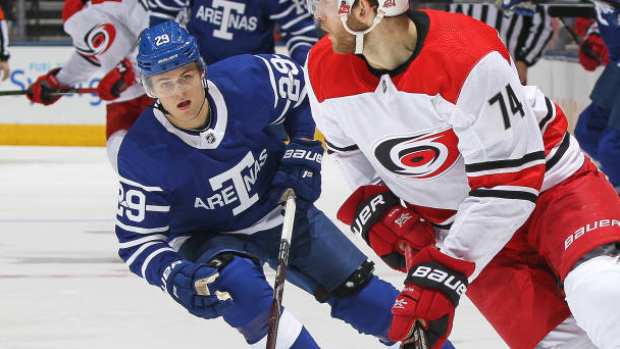 Carolina Hurricanes general manager Don Waddell confirmed Thursday that he is interested in acquiring William Nylander, but said he believes the Toronto Maple Leafs still hope to re-sign the restricted free agent.
"I think the Toronto Maple Leafs are trying to sign the player, which, if I was the team, I would be doing the same thing because he's a very good player and it's hard to make those trades," Waddell told First Up on TSN Radio 1050 Toronto. "I've been in those spots before, trading Dany Heatley, Marian Hossa, Ilya Kovalchuk... They're never easy to make a trade and feel like you got full value. So as a team trying to keep your good players, that's your first priority."
Waddell said the Hurricanes are among the teams that have reached out to Leafs general manager Kyle Dubas regarding Nylander, though he said part of the talks have simply focused on gaining insight for their own RFA negotiations.
"Well I think probably multiple teams in the league have talked to Kyle just to see what's going on," Waddell said. "We've talked over a period of time because we have young players that we're also trying to sign here. So we've had many discussions throughout the summer time and as the season's gone along here about their player versus what we're trying to do with some of our young players getting signed also."
The Hurricanes traded away two restricted free agents in Noah Hanifin and Elias Lindholm this summer when contract talks went cold. Waddell said last month the team had opened negotiations with pending RFA Sebastian Aho.
The Hurricanes have been linked to Nylander throughout the past month and could make sense as a trade partner for the Maple Leafs due to their surplus of defencemen.
"It is by far our deepest position on our hockey team with us adding [Dougie] Hamilton to the mix and [Calvin] de Haan as a free agent this year, so we feel very comfortable with the seven guys that we have back on the blueline, for sure," Waddell said.
The Hurricanes (8-7-3) are currently ranked 26th in the NHL in scoring with an average of 2.67 goals per game. Waddell said it's fair to link him to Nylander since he's looking into any options that would allow him to boost the team's offence.
"It's reasonable in this effect, that we know we don't score goals," Waddell said bluntly. "We've been in every hockey game this year. We've only had one game where we lost 3-0 where we didn't score. We've been talking to multiple teams about offensive players for that reason. So yes, as I'm sitting here in my chair today, any offensive player that might be available, we have to explore to every possibility to see if that would be a good fit for us and for the other team. "
Waddell said he has not spoken to Nylander's agent, Lewis Gross, about a contract, but said the Hurricanes would need to have a contract in place to trade for the winger.
"We haven't even got down that far, but if I was fast-forwarding and there was something that made some sense, then we'd have to reach out," Waddell said. "It wouldn't do us any good to trade for any player in this situation without knowing that we could sign the player also.
"My thinking is that until you even get to a point where you think you can potentially have a trade, I think you're putting the cart in front of the horse. I'd rather be in a position where if I knew something was going to happen down the road, then you pick up the phone and find out if there's a deal to be made. Being in this spot multiple times myself, I don't want to create any illusion or conflict between the Toronto Maple Leafs and Nylander trying to get signed. I think it's unfair for me to get into that mix, unless of course something was moving forward as far as a acquiring a player."
Nylander, who is set to miss his 19th game of the season on Thursday, has until Dec. 1 to sign a contract in order to play this season.