Countdown to TradeCentre: Sharp a fit for Sharks?
The NHL's March 1 Trade Deadline is fast approaching and teams are making decisions on whether to buy, sell, and decide which players can make the biggest difference and hold the greatest value. Check out today's trade rumours and speculation from around the NHL beat.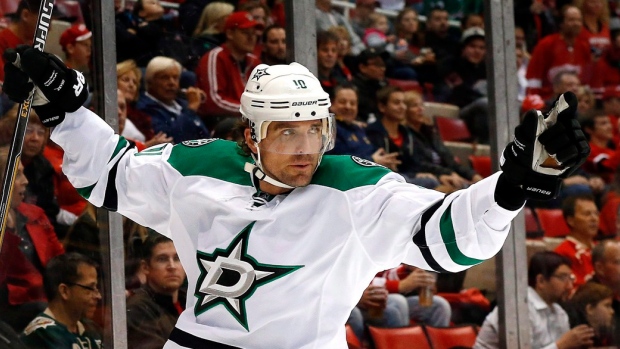 The NHL's March 1 Trade Deadline is fast approaching and teams are making decisions on whether to buy, sell, and decide which players can make the biggest difference and hold the greatest value. Check out today's trade rumours and speculation from around the NHL beat.
--
Complete the Line?
The San Jose Sharks sit first in the Pacific Division with two games remaining before the trade deadline, but Kevin Kurz of CSN Bay Area believes there's a hole in the team's current lineup.
Kurz argues the Sharks should work to acquire a scoring winger to complete a line with Joe Thornton and Joe Pavelski. According to Kurz, head coach Pete DeBoer has tried seven different wingers with the duo this season without finding a permanent fit.
Kevin Labanc currently owns the left wing spot on the line, but Kurz believes there are plenty of options available ahead of March 1, and thinks Patrick Sharp could be the best fit of the group.
Whether the Sharks add or stand pat at the deadline, DeBoer says he remains confident the team can contend.
"For us, it's not whether a piece comes in or whether we don't bring any pieces in, I think we're confident in our group," DeBoer said, per CSN Bay Area. "It's about us… playing to our identity for as long a stretch as is possible, because that's what wins in the playoffs. Whether we don't do anything or whether a piece comes in here, I don't think that mindset changes."
--
Expect a Quiet One?
Nashville Predators general manager David Poile is no stranger to making big moves.
In the past 14 months, Poile has completed two blockbuster trades, sending Seth Jones to the Columbus Blue Jackets for Ryan Johansen last January and acquiring P.K. Subban in exchange for Predators captain Shea Weber last summer.
However, with the days running out before the NHL's trade deadline, Poile says he expects a quiet day on March 1.
Poile said Wednesday on "Jared and the GM" on ESPN Nashville that too many teams remain in the playoff conversation and therefore few sellers exist on the market.
"I think where we are right now is everything is just sort of frozen," Poile said, per the Nashville Tennessean.
"The calls that I've made in the last seven or eight days, everybody's (saying), 'I don't know if I'm going to make the playoffs, but if we get hot, maybe we could make the playoffs.' For example, we play Tuesday, Thursday, Saturday and Sunday. You tell me what our record is in those four games, and I'll tell you a little bit more whether I'm interested in trading or want to trade, need to trade.
"I don't really see anything happening in the next four or five days just because everything is so close. I've said this in past years and I've been wrong, but I don't see a lot of activity. If the standings stay approximately what they are today, who is a seller?"
In an ideal world, Poile said he'd like to add a top-six forward who could add "some pizazz" to the Predators lineup. However, the general manager said he would not make a move that involved dealing one of the team's top-four defencemen.
"Mostly what a team sees in a return from us in terms of value is probably one of our top four defensemen," Poile said. "That doesn't work right now. We're very comfortable. We've traded out defensemen, whether it's Seth Jones last year or Weber for Subban. I'm less than excited to get into that.
"You never say never because a deal might not just be a (one-for-one trade). It might be a two-for-two or a three-for-three. Who knows? But right now, I would be trying to trade a forward for a forward or a draft pick for a forward, that type of thing."
--
Stay or Go
Ben Bishop has put together five straight wins and the Tampa Bay Lightning now, with points in seven straight games, sit four points out of the second wild-card spot.
Joe Smith of the Tampa Bay Times wonders whether the time is now to trade the goaltender, since his value could be at its highest of the season.
The Lightning will play one potential suitor on Thursday night, the Calgary Flames, who came close to acquiring Bishop at the 2016 draft. However, there is speculation the Flames could be done buying after the addition of defenceman Michael Stone.
As Smith points out, the Dallas Stars, another potential trade partner for the Lightning, have all but fallen out of the playoff race and aren't likely to add a pending free agent.
The Lightning risk losing Bishop for nothing in free agency should he remain on the team past March 1, but general manager Steve Yzerman isn't interested trading him at a discount.
"If I'm going to move people, I'm not just giving people away here," Yzerman said Tuesday.
Lightning head coach Jon Cooper said he hopes to make a run for the playoffs with his current roster.
"I don't want to lose any of our guys at the trade deadline," Cooper said, according to the Times. "We're in a different position now than we've been since I've been here. I don't believe in the whole buyers and sellers. It's how are we going to make the playoffs? We've got an unreal management team that's looking beyond this year.
"This team has stayed together three straight years, we've had the same group and had a lot of success with that group. We've got this group in the room and we're going to roll with them."
The Lightning could receive a post-trade deadline boost to their lineup if Steven Stamkos can return to the lineup. Stamkos recently returned to skating in full pads as he makes his way back from meniscus surgery.
--
Still Believe
Mark Streit has seen his name show up in plenty of rumours as one of three Philadelphia Flyers defencemen set to hit the open market on July 1.
Streit said Wednesday he still believes the Flyers can make the playoffs and is hoping general manager Ron Hextall will allow the team's current group to make a run for the postseason.
"I believe 100 per cent we're capable of making the playoffs," Streit told the Philadelphia Courier-Post. "In saying that, it's out of our control. It's up to Hexy. We have such a great group. I know it's going to be a huge challenge, but I think we're up to the task."
The Flyers own a 3-6-1 record in their past 10 games and sit three points of the second wild-card spot with two games remaining before March 1.