Countdown to TradeCentre: Will the 'Hawks ask Keith to waive his no-movement clause?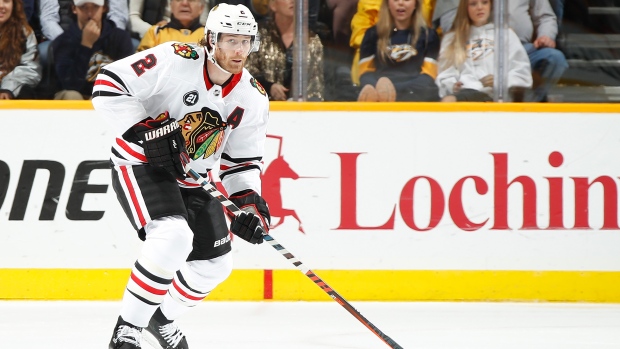 The National Hockey League's Trade Deadline is 3 p.m. ET on Monday, Feb. 25, and teams will be making decisions on whether to buy or sell and decide which players can make the biggest difference and hold the greatest value. Check out the latest trade rumours and speculation from around the NHL beat.
---
Duncan Keith

and his No-Movement Clause

The Chicago Blackhawks sit in last place in the Central Division and will more than likely miss the playoffs for a second consecutive season.

The Blackhawks' current situation leans towards being a seller at the trade deadline and veteran defenceman Duncan Keith could be a player contending teams would be interested in.

However, Keith has a no-movement clause and says the Hawks have not approached him about the possibility of waiving it for a trade.

"I signed my contract, [so] that would be the first thing I would think about," Keith told the Chicago Sun-Times Friday. "I haven't really thought too much about anything. You get reports out there, I don't know where that stuff kind of comes from. I just take one day at a time."

The 35-year-old three-time Stanley Cup champion says he's not ready to speculate on any trade rumours either.

"I'm not going to start getting into all that and create a bunch of stories here about what I would think I would do, speculate on how I would feel," Keith said. "Not getting into that."

Keith is in the ninth year of a 13-year, $72 million contract that comes with annual cap hit of approximately $5.5 million.

The Winnipeg native has two goals and 20 assists over 52 games in 2017-18, his 14th season in the NHL.
---
Staying In New Jersey?
TSN's Frank Seravalli is reporting that there is increased interest in New Jersey Devils veteran forward Brian Boyle. However, the 34-year-old would prefer to stay with the Devils.
Boyle has an eight-team no-trade list where he would not accept a deal, says Seravalli.
The centre has netted 13 goals and six assists over 45 games this season in New Jersey, his second with the team.
---
Is Pittsburgh Done Dealing?
The Pittsburgh Penguins made a fairly substantial trade Friday afternoon by acquiring forwards Nick Bjugstad and Jared McCann from the Florida Panthers for forwards Derick Brassard and Riley Sheahan as well as three draft picks in 2019.
Jason Mackey of the Pittsburgh-Post Gazette writes that the Penguins may not be done yet if general manager Jim Rutherford isn't satisfied with the results on the ice.
"When our team is playing and focused, I like the team that we have right now," Rutherford told the Pittsburgh Post-Gazette. "We have a few weeks here to watch it and for somebody to convince me otherwise what I'm thinking now."
Rutherford went on to say that he is pleased they were able to get a deal of this size done a few weeks before the trade deadline, but knows a lot can still happen before Feb. 25
"I like the fact that we were able to make this move early. We'll watch our team real close. I don't feel any urgency to get back on the phone tomorrow, to go and do something else," explained Rutherford. "But as we know, at this time of the year, there's things that come along that you don't expect. I'm sure that there will be. We'll see where it goes now."
Pittsburgh beat the last-place Ottawa Senators Friday night and hold the second playoff spot in the Metropolitan Division with a 28-17-6 record. Still, Rutherford believes his team has been badly outplayed in a handful of games this season and wants to see that change.
"I don't like our intensity up until this point," Rutherford said Friday while on 93.7 FM The Fan. "We've had nights where we come to play and we can beat anybody. But I believe that we've probably given away five to seven games [where] we just got outworked, and they're games that we should have won."
The Penguins are in Toronto Saturday night to battle the Maple Leafs.
---
Will the Ducks Deal?
Sitting just outside of the Western Conference playoff positions, the Anaheim Ducks are in a position where they can be buyers, sellers or both as they head into the trade deadline.
Elliott Teaford of Orange County Register writes that after the moves the Ducks made in the midst of their 12-game winless streak, there may not be anything else major that the team will do prior to the off season.
He writes that if the team were inclined to deal Corey Perry (33), Ryan Getzlaf (33) or Ryan Kesler (34), they all have no-movement clauses and are signed beyond this season. Perry and Getzlaf both have two years left while Kesler has three seasons remaining on his contract.
According to Teaford, Ducks GM Bob Murray previously said he will try to sign Jakob Silfverberg to an extension before the end of the season.
Silfverberg would be an attractive trade chip if he were to be available before the deadline.