Courtney on teammates: They're like my sisters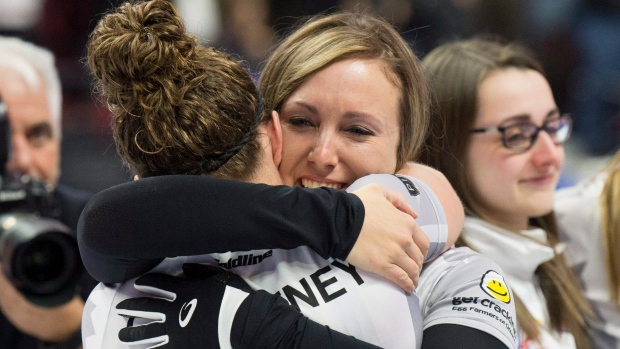 During the climax of O Canada, Joanne Courtney rested her head on teammate Lisa Weagle's shoulder as tears streamed down her face.
The 28-year-old Edmonton native had just helped punch her team's ticket to the biggest event curling has to offer – the Winter Olympics.
Ottawa's Team Rachel Homan took down Chelsea Carey and her undefeated rink from Calgary, 6-5, in the final of the Roar of the Rings Olympic trials Sunday afternoon at the Canadian Tire Centre.
The second knew she was going to be emotional today, no matter what the result turned out to be.
"Yeah, I'm a crier," said Courtney after the game. "So win or loss, I feel a lot of emotions, but that's an unbelievable feeling."
It's evident a lot of those post-game emotions comes from the love and admiration she has for her teammates.
Four years ago, Courtney competed at the 2013 Olympic trials in Winnipeg as a member for Team Val Sweeting. Courtney's crew didn't make the playoffs at those trials and Homan was eliminated in the semis. A few months later, the two sides squared off in the Scotties Tournament of Hearts final in Montreal, a game Team Homan won for their second national title in a row.
Ten days later, Jennifer Jones and her Winnipeg foursome stood atop the podium in Russia as Olympic gold medalists.
Another four-year run was completed, and just like at the end of any Olympic cycle, change was afoot when it came to team rosters.
Homan's second at the time, Alison Kreviazuk, left the team to live in Sweden and her spot needed to be filled. Courtney, who is widely considered as the best sweeper in the game, was Homan's No. 1 choice.
"When I got the phone call at the end of the last quad, it was an opportunity I couldn't pass up," said Courtney.
Courtney got emotional when she spoke about her teammates – skip Homan, third Emma Miskew and lead Weagle – following the win.
"I have so much respect for my teammates. They're unbelievable people. They're fantastic curlers, but beyond that they're like my sisters now," said Courtney. "I feel like I've gotten to be so much better. Even better than I could ever thought I could be. I just can't say enough about them. They're amazing."
Courtney won her first Scotties with Team Homan last year, then went 13-0 in Beijing a few weeks later to become world champions.
Those accomplishments are amazing says Courtney, but the Olympics are in a totally different stratosphere.
"It's what every athlete dreams of. It's so much bigger than just the Scotties. I mean the Scotties is huge and is incredible and the world championships are great, but the Olympics, because they only come around every four years is such an honour and we're so unbelievably happy right now," said Courtney.