Couture replaces Benn on WC roster
Team Canada has made a roster move ahead of the 2016 World Cup as San Jose Sharks forward Logan Couture will replace Dallas Stars captain Jamie Benn. Benn's status for the World Cup was up in the air after having core muscle surgery in mid-July.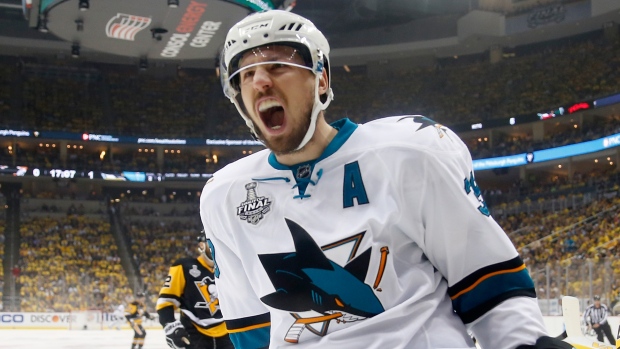 Team Canada won't have Jamie Benn for the World Cup after all.
Hockey Canada announced Tuesday morning that the Dallas Stars forward, who is still recovering from an injury, would be replaced by San Jose Sharks forward Logan Couture on the Canadian squad next month.
The 27-year-old Benn underwent surgery to repair a core muscle injury on July 14. Dallas Stars general manager Jim Nill said in a statement at the time that the surgery would require a six-week recovery after which Benn's availability for the World Cup would be determined.
Evidently, Benn was not ready with Team Canada's training camp set to begin in Ottawa in less than two weeks.
"We want to thank Jamie for his dedication to an extensive rehab program in an attempt to play for Canada," Team Canada general manager Doug Armstrong said in a statement. "Unfortunately, Jamie will not be available and we wish him a speedy recovery."
Benn, the NHL's leading scorer over the past two seasons, is expected to be ready for the start of the NHL regular season.
He last played for Canada at the 2014 Olympics, scoring a pair of goals in six games. A native of Victoria, Benn has since risen into one of the game's premier power forwards and leads all players with 176 points since the start of the 2014-15 season. He was projected to play alongside Dallas teammate Tyler Seguin, at the World Cup, which gets going in Toronto on Sept. 17.
Canada's overwhelming depth makes the loss of Benn less painful.
If not quite on Benn's level, Couture provides head coach Mike Babcock with versatility, speed and skill. The 27-year-old was arguably the Sharks best player during their run to the Stanley Cup final last spring. He led all players with 20 assists and 30 points and can play either wing or centre for Canada.
He's versatile enough to play in any role, be it as a checker who kills penalties or someone who lines up in more of an offensive capacity.
Couture has not played internationally for Canada since 2007. He was thought to be among the final cuts for the Olympic squad in Sochi, Russia.
"He has developed into a top player in the NHL, and his versatility will benefit our group of forwards," Armstrong said. "In making this decision the management group consulted with our coaching staff and determined that Logan was the best fit to help fill the role that Jamie was projected to play on Team Canada."