Covington: 'You may never see me fight again'
Former UFC welterweight interim champion adamant that he won't settle for anything less than a bigger payday and a shot at the undisputed title, Aaron Bronsteter writes.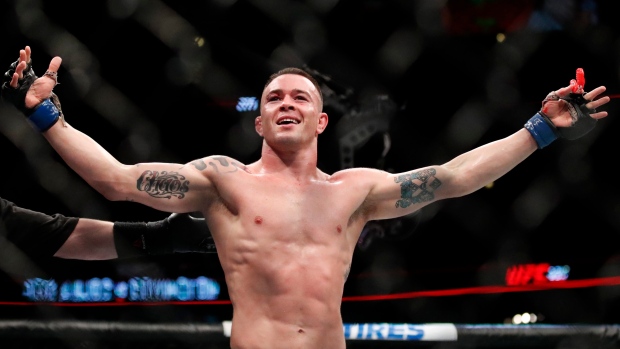 Few athletes in the UFC have been as polarizing as former welterweight interim champion Colby Covington.
After being mostly humble and cordial during interviews early in his career, Covington suddenly developed a brash persona that was outspoken, insulting and pro-Donald Trump in an effort to score bigger-name opponents.
The ploy worked and Covington has been moving up the ladder ever since, eventually earning an interim championship bout against Rafael dos Anjos last June at UFC 225 in Chicago.
Covington, who fights out of Fort Lauderdale, Fla., rose to the occasion with a unanimous decision victory, winning the belt and earning the next shot at undisputed champion Tyron Woodley.
But that title shot never came to fruition. When the UFC needed a main event for UFC 228 a few months later, Covington was unable to compete due to a sinus injury that required surgery.
With Woodley ready to compete, the next title shot was given to Darren Till, an up-and-coming British prospect who had recently scored the biggest win of his career over former two-time title challenger Stephen Thompson.
With a promise of being next in line, Covington was prepared to face Woodley on two subsequent occasions. But the ascendance of Kamaru Usman, another Florida-based fighter who scored back-to-back wins over Covington's two most recent opponents, has once again denied Covington a title shot. Usman is set to challenge Woodley for the title at UFC 235 on March 2 in Las Vegas.
"I'm just moving on with my life. I'm not going to be the nice guy anymore. I'm not going to be the guy that tells lies about the UFC and tries to cover for the UFC like they're so great and everything's fine and dandy," Covington told the TSN MMA Show.
"I've done so many favours for the UFC, flown all over the world, fought for little money against top contenders, fought for entry-level money. I've never complained, always been a company man, never failed a steroid test. Never done anything wrong, literally never."
To say that Covington is displeased with the decision to give Usman the title shot would be an understatement.
"I'm the biggest draw this in this division right now. I'm not fighting for anything less than I deserve and I don't care what they say. I'll stand up for what's right and if that means never fighting again then that means never fighting again," said Covington.
"I've already built a great life for myself. I came from the projects. I came from trailer parks, growing up with one parent, just my mom, having to work four jobs. I don't need anything anymore. I've already made enough money where I'm healthy and I have investments and I have enough going on in my life that I don't need to fight ever again. You may never see me fight again. That's a possibility right now."
UFC president Dana White appears to want to go in another direction when it comes to Covington.
"Colby Covington couldn't fight when we wanted him to fight, so now he wants to be released. No, you're not going to be released. You're going to get another fight, you're probably going to fight out your contract unless we decide not to and that's that," White told TSN in Brooklyn last month.
"This is a business of opportunity. When opportunity knocks, open the door. If you do not, I move on and I start making other plans. Then we'll get back to you and we'll come up with another plan for you. I don't get mad at these guys, whatever, you didn't fight when it was time for you to fight, so somebody else got the fight and we'll see what's next for you. I have nothing against Colby Covington."
Covington has been adamant that he will not take steps backwards and that all he wants is what the UFC promised him - a bigger payday and a shot at the undisputed welterweight title.
"I just want to fight. I want to do what I love. I love to fight, I love competition. I know I'm the best fighter in the world," Covington said. "I train every day and no one's ever taken one round off me. I'm in my prime right now. I want to put on competition. I want to put on entertainment. I want to go please all the fans. Obviously, the No. 1 thing I want to do is fight right now, but I'm not fighting for anything less than I deserve. I'm standing up for what's right and a lot of these fighters tuck their tail between their legs and they're scared to stand up for themselves. They don't want to fight against the UFC because they're afraid to lose their job. I'm not afraid to lose my job. I dare the UFC to give me my release, cut me... I can make money anywhere else. I can go to another organization and make four times the money so I don't need the UFC anymore."
The abrasive Covington had become one of the most despised figures in the UFC due to his antics, which includes spoiling movie endings online, wearing a "Make America Great Again" hat and insulting the entire country of Brazil after defeating their countryman Demian Maia in his hometown of Sao Paulo.
But despite differences in political opinions, fans have started to warm up to Covington given what is perceived to be an unfair situation.
"Every message board, all the comments, everybody hated me. Now they've all turned to my side. It's crazy. They're just real people, they understand my situation. Everybody has that boss that they hate, they don't want to work for, that makes them do things they don't want to, so I think people can relate to my situation and they can understand what I'm going through," said Covington.
"This is literally all politics ­– the politics of the UFC. There's just this corruption going on. So it's cool to see people be sympathetic for me but I don't want sympathy. I didn't ask for sympathy…I'm not that type of fighter."
Covington was blunt when asked for his thoughts on UFC 235, which not only features the title fight between Woodley and Usman but also the promotional debut of undefeated wrestling Olympian Ben Askren, who will face veteran Robbie Lawler.
"I see Woodley starching Usman. I think Usman's inexperienced; he hasn't really fought a good wrestler who can strike, too," predicts Covington. "Ben Askren, he looks like a 36- year-old virgin. He looks like my science teacher. …But all things aside, I think he's going to beat Robbie because Robbie is the oldest man in the sport. He has the most significant strikes to the head in UFC history. Robbie's a cool guy, I like the guy. I hope he retires though because I have a lot of love for that man. He has a family, he needs to think about the longevity of his life and his brain health and he needs to think about getting out of this sport soon."
The best-case scenario for Covington would be for those predictions to come to fruition. Askren has already said that he would not face Woodley due to their long-time friendship and losses for Usman and Lawler would cement Covington as the next in line – that is, if the UFC is willing to overlook the top contender's outspokenness.