Cowboys can clinch playoff spot this week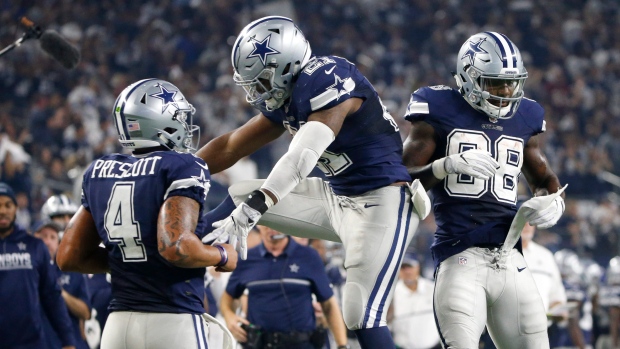 Despite their offence being led by two rookies, the Dallas Cowboys can become the first team to clinch a playoff spot this week.
With a win over the Minnesota Vikings on Thursday, the Cowboys will clinch a postseason berth with a Tampa Bay Buccaneers (San Diego Chargers) or Washington Redskins (at Arizona Cardinals) loss on Sunday.
The Cowboys finished 4-12 last season as starting quarterback Tony Romo missed all but four games due to twice breaking his collarbone.
Romo was again injured in the preseason this year which forced rookie Dak Prescott into the starting role for Week 1.
Prescott has since shined in the role, leading the Cowboys to an NFL-best 10-1 start. He has thrown 18 touchdowns with just two interceptions and his quarterback rating ranks fourth in the NFL, behind only Tom Brady, Matt Ryan and Drew Brees. Due to his success, the Cowboys have elected to bench now-healthy Romo in favour of the rookie.
Prescott's success has been aided by fellow rookie Ezekiel Elliott, who leads the league in rushing yards and rushes of 20-plus yards.
The Cowboys rank third in the NFL in points scored and first in point differential. Their 316 points for through 11 games, is more than they scored in all of 2015 (275).
The Cowboys have reached the playoffs just once in the past six seasons, falling in the Divisional Round to the Green Bay Packers in 2014.