Coyotes get first win, beat Flyers in OT
The struggling Arizona Coyotes finally got their first win of the season, beating the Philadelphia Flyers 4-3 on Alex Goligoski's overtime goal after blowing a two-goal lead in the final minute of regulation Monday night.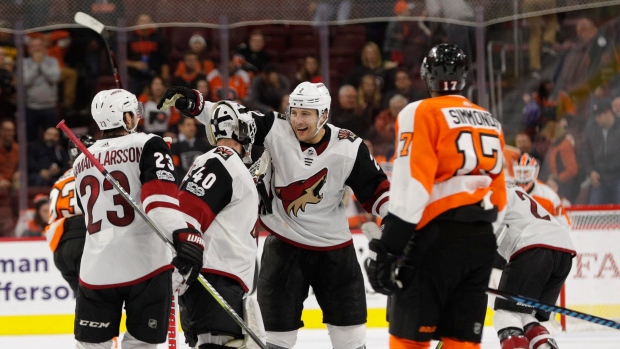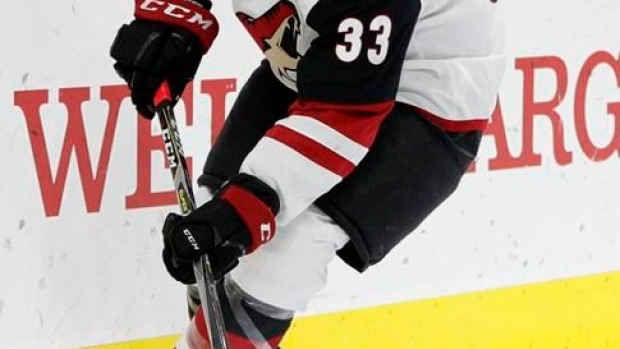 PHILADELPHIA — The struggling Arizona Coyotes finally got their first win of the season — but it sure didn't come easy.
Alex Goligoski scored late in overtime after the Coyotes blew a two-goal lead in the final minute of regulation during a 4-3 victory over the Philadelphia Flyers on Monday night.
Goligoski scored with 14.4 seconds left on the clock in OT and Arizona (1-10-1) avoided setting an NHL record for most consecutive losses to start a season.
"Yeah, it felt like it wasn't going to be easy when it didn't come," Goligoski said. "And it wasn't, but we stuck with it. It's really nice. We don't have to worry about that anymore. We can kind of go about our business."
Jordan Martinook, Christian Dvorak and Brandon Perlini also scored for the Coyotes, who matched the 1943-44 Rangers (0-11) by losing their first 11 games.
"Relief, excitement, happiness; you can go on and on with all the adjectives you want," Martinook said. "Everybody is happy. It's nice to finish a game with a smile on your face, even though we probably want to win games a little easier than that."
Sean Couturier scored twice and Ivan Provorov had three assists for the Flyers.
Arizona was in position to close it out earlier, but Jordan Weal scored on a rebound with 53 seconds left in the third period and Couturier tipped a shot past goalie Scott Wedgewood with 16 seconds left in regulation to tie the game at 3.
Goligoski scored the winner from a sharp angle in the 3-on-3 overtime period after a pass from Clayton Keller. The Coyotes leaped off the bench and swarmed Goligoski to celebrate their first win.
"Now we got that monkey off our back," Martinook said. "Hopefully we can keep going."
Wedgewood made 28 saves in his Arizona debut, and Niklas Hjalmarsson added a pair of assists for the Coyotes. Wedgewood was acquired Saturday from the Devils for a 2018 fifth-round draft pick. Arizona is awaiting the return of starter Antti Raanta, who has been out since Oct. 12 with an upper-body injury.
Arizona coach Rick Tocchet downplayed the team's record in his pregame talk.
"I said, 'You guys are playing hard. Keep doing the right things and good things will happen,'" Tocchet said. "And it did. We just have to keep that mentality."
Weal pulled Philadelphia within a goal by scoring on a rebound before Couturier's equalizer. Provorov batted down the puck just inside the blue line to keep the play in the offensive zone and passed to Claude Giroux, who sent a cross-ice pass to Couturier.
The Coyotes struck first for the ninth time in 12 games when Martinook finished from close range just 2:20 in after a deft pass from Hjalmarsson from the slot. Hjalmarsson faked a slap shot and passed to the weak side, where Martinook went to his knees and lifted the puck over diving Flyers goalie Brian Elliott.
Arizona made it 2-0 just more than 5 1/2 minutes later on Dvorak's first goal of the season. Oliver Ekman-Larsson took the initial shot from the point. The attempt deflected to Dvorak, who shot past Elliott's right pad from a sharp angle.
It was an ugly first period for Philadelphia, which managed just three shots — none by a forward — in the opening 20 minutes.
"We made a great push to tie the game up, but you have to rewind to the start of the game," Flyers coach Dave Hakstol said. "As a group, we were too far below the bar. We weren't quick and hard defending. We didn't start the hockey game where we wanted to be and needed to be."
The Coyotes extended their lead to 3-0 on Perlini's power-play goal 1:24 into the third. Perlini's quick wrist shot from the right circle beat Elliott on the glove side.
Philadelphia got a goal back 40 seconds later on Couturier's power-play tally from the slot.
NOTES: Philadelphia D Shayne Gostisbehere was out of the lineup after sustaining an upper-body injury in the Flyers' 4-2 win over Toronto on Saturday night. Gostisbehere entered Monday leading defencemen with 13 points. The team originally planned to replace him with rookie Sam Morin, but nagging injuries to Morin prompted the Flyers to instead recall Mark Alt from Lehigh Valley of the AHL for his second NHL game. ... The Flyers play at Arizona on Feb. 10 to complete the season series. . Hjalmarsson sustained an upper-body injury in the third period and didn't return. He is day to day, Tocchet said.
UP NEXT
Coyotes: Complete a five-game road trip with the second game of a back-to-back on Tuesday night at Detroit.
Flyers: Play the second of 10 straight games against Western Conference teams Wednesday night at Chicago.
___
More AP NHL coverage: https://www.apnews.com/tag/NHLhockey