Craig's List: Hughes easily tops first draft rankings
The American centre's exceptional combination of skill, imagination and competitiveness sets him apart from the rest of the pack, TSN Director of Scouting Craig Button writes.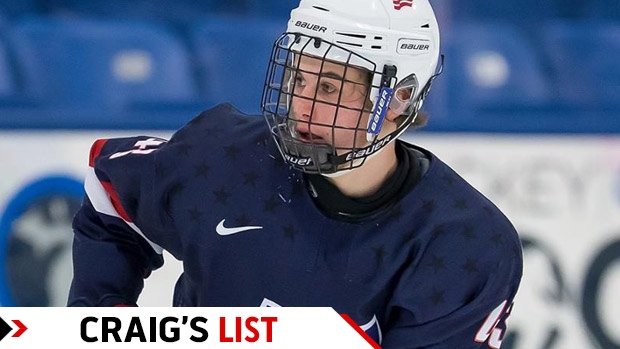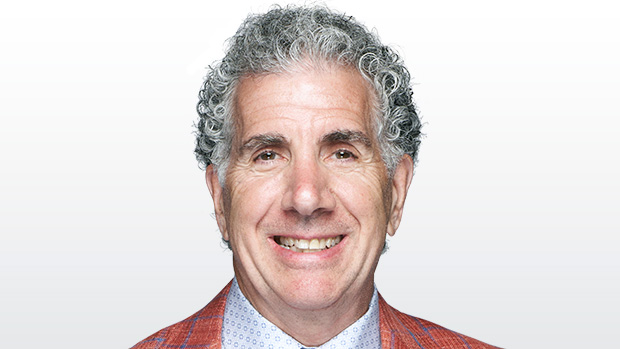 An exceptional combination of skill, imagination and competitiveness is what sets Jack Hughes apart from the rest of the pack.
A 5-foot-9, 157-pound centre with USA Hockey's National Team Development Program, Hughes is the top prospect in the September edition of Craig's List ahead of the 2019 NHL Draft – a draft that could see as many as 12 American-born players taken in the first round.
Hughes is the kind of player who brings excitement every time he comes over the boards. He had 116 points (40 goals, 76 assists) with the USNTDP last season and was very impressive in international play. It's difficult to see how his name isn't the first one called next June in Vancouver.
Whitehorse, Yukon native Dylan Cozens sits at No. 2 on our first list of the season. The 6-foot-3, 181-pound Lethbridge Hurricanes centre is a rare five-tool prospect who had 22 goals and 53 points in 57 games in his first WHL season. Cozens' skating, hands, hockey sense, physicality and engine allow him to impact the game over every square inch of ice.
Swedish defenceman Philip Broberg comes in at No. 3 and is one of two blueliners in the top 10 of our list. The AIK defenceman is an outstanding skater who excels in every area of the game. Combine that with his size (6-foot-2, 199 pounds) and you get the kind of player who can anchor an NHL blueline.
TPS Turku forward Kaapo Kakko (6-foot-2, 194 pounds) is at No. 4 thanks to his high-end skill and a feel for the game that allows him to play in all situations. Kakko can be productive on the wing or at centre – the kind of versatility that is always in high demand at the NHL level.
Russian right wing Vasili Podkolzin rounds out our top five, coming off of an impressive showing at the Hlinka Gretzky Cup where he had eight goals and 11 points. Podkolzin is a difference maker who has the skill and the will to make things positive things happen.
CHL players dominate the rest of our top 10, with Vancouver Giants defenceman Bowen Byram at No. 6, Halifax Mooseheads winger Raphael Lavoie at No. 7, Kootenay Ice centre Peyton Krebs at No. 8, and Saskatoon Blades centre/right wing Kirby Dach at No. 9.
USNTDP right wing Cole Caufield, a skilled offensive dynamo who is just 5-foot-6 and 150 pounds, rounds out the top 10.
The Top 40
| RK | Player | Team | POS | HT | WT | GP | G | P |
| --- | --- | --- | --- | --- | --- | --- | --- | --- |
| 1 | Jack Hughes | USA NTDP (USHL) | C | 5'9 ½ | 157 | 60 | 40 | 116 |
| 2 | Dylan Cozens | Lethbridge (WHL) | C | 6'3 | 181 | 57 | 22 | 53 |
| 3 | Philip Broberg | AIK (SWE-Als) | D | 6'2 ¾ | 199 | 48 | 7 | 20 |
| 4 | Kaapo Kakko | Turku (SM Liiga) | C/RW | 6'2 ¼ | 194 | 38 | 25 | 55 |
| 5 | Vasili Podkolzin | St. Petersburg (MHL) | RW | 6'1 | 183 | 21 | 13 | 30 |
| 6 | Bowen Byram | Vancouver (WHL) | D | 6'1 | 191 | 60 | 6 | 27 |
| 7 | Raphael Lavoie | Halifax (QMJHL) | LW/RW | 6'3 ¼ | 192 | 68 | 30 | 63 |
| 8 | Peyton Krebs | Kootenay (WHL) | C | 5'11 ¼ | 180 | 67 | 17 | 54 |
| 9 | Kirby Dach | Saskatoon (WHL) | C/RW | 6'3 ½ | 199 | 52 | 7 | 46 |
| 10 | Cole Caufield | USA NTDP (USHL) | RW | 5'6 | 150 | 59 | 54 | 80 |
| 11 | Tobias Bjornfot | Djurgardens (SWE J20) | D | 6'0 | 202 | 46 | 10 | 29 |
| 12 | Alex Turcotte | USA NTDP (USHL) | C | 5'10 ½ | 186 | 58 | 18 | 63 |
| 13 | Ryan Suzuki | Barrie (OHL) | C | 6'0 ¼ | 178 | 64 | 14 | 44 |
| 14 | Matthew Boldy | USA NTDP (USHL) | LW | 6'0 ¾ | 175 | 62 | 29 | 76 |
| 15 | Ilya Mironov | Yaroslavl (MHL) | D | 6'3 | 201 | 43 | 10 | 28 |
| 16 | Kaedan Korczak | Kelowna (WHL) | D | 6'2 ¾ | 192 | 67 | 3 | 16 |
| 17 | Cam York | USA NTDP (USHL) | D | 5'10 ¾ | 163 | 59 | 8 | 38 |
| 18 | Spencer Knight | USA NTDP (USHL) | G | 6'2 ½ | 193 | 39 | 2.6 | 0.911 |
| 19 | Samuel Poulin | Sherbrooke (QMJHL) | C/LW | 6'1 ¼ | 206 | 55 | 16 | 45 |
| 20 | Trevor Zegras | USA NTDP (USHL) | C | 5'10 ¾ | 159 | 56 | 20 | 59 |
| 21 | Josh Williams | Medicine Hat (WHL) | RW | 6'1 | 188 | 47 | 11 | 20 |
| 22 | Matthew Robertson | Edmonton (WHL) | D | 6'3 | 201 | 67 | 7 | 24 |
| 23 | Arthur Kaliyev | Hamilton (OHL) | RW | 6'1 ¼ | 190 | 68 | 31 | 48 |
| 24 | Jakob Pelletier | Moncton (QMJHL) | C/LW | 5'9 | 161 | 60 | 23 | 61 |
| 25 | Victor Soderstrom | Brynas (SWE J20) | D | 5'11 | 179 | 48 | 10 | 37 |
| 26 | Alex Vlasic | USA NTDP (USHL) | D | 6'5 | 193 | 61 | 9 | 29 |
| 27 | Elmer Soderblom | Frölunda (SWE J20) | LW | 6'6 ¼ | 219 | 38 | 23 | 42 |
| 28 | Alex Newhook | Victoria (BCHL) | C | 5'10 ¼ | 190 | 45 | 22 | 66 |
| 29 | Nolan Foote | Kelowna (WHL) | LW | 6'3 ¼ | 183 | 50 | 13 | 40 |
| 30 | Martin Hugo Has | Tappara (SM Liiga Jr) | D | 6'4 | 187 | 40 | 7 | 13 |
| 31 | Nikita Okhotyuk | Ottawa (OHL) | D | 6'0 ¾ | 189 | 53 | 5 | 11 |
| 32 | John Beecher | USA NTDP (USHL) | C/LW | 6'2 ¼ | 201 | 60 | 17 | 41 |
| 33 | Michael Vukojevic | Kitchener (OHL) | D | 6'3 | 205 | 24 | 1 | 5 |
| 34 | Daniil Gutik | Yaroslavl (MHL) | LW | 6'3 | 179 | 33 | 11 | 27 |
| 35 | Albin Grewe | Djurgardens (SWE J20) | RW | 5'10 ½ | 187 | 38 | 11 | 32 |
| 36 | Nicholas Robertson | Peterborough (OHL) | LW | 5'8 ¾ | 159 | 62 | 15 | 33 |
| 37 | John Farinacci | Dexter Academy (USHS) | C | 5'11 ¼ | 185 | 27 | 26 | 53 |
| 38 | Anttoni Honka | JYP (SM Liiga) | D | 5'9 ¼ | 169 | 48 | 6 | 26 |
| 39 | Nils Hoglander | Rogle (SHL) | LW | 5'8 | 183 | 22 | 14 | 22 |
| 40 | Simon Holmstrom | HV71 (SWE J20) | RW | 6'0 | 183 | 36 | 12 | 38 |
* - Statistics from the 2017-18 season