Craig's List - McDavid, Eichel still neck and neck
As TSN Director of Scouting Craig Button writes, Connor McDavid and Jack Eichel find themselves in the same place this month as last month on Craig's List - in a dead heat at No. 1.
Craig Button, TSN Director of Scouting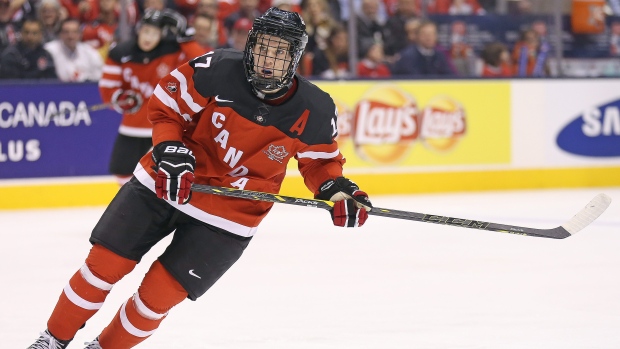 Connor McDavid and Jack Eichel find themselves in the same place this month as last month on Craig's List - in a dead heat at No. 1.
Surely, the World Junior Hockey Championship paved the way for a clear cut declaration. There were times early on in the tournament when I felt that way and that surely Eichel was No. 1. There were also times later in the tourney when McDavid demonstrated he was destined for the first spot on the list.
It's precisely for those reasons they remain deadlocked. Each showed their tremendous abilities and made a case for why they should be the first overall pick, yet nothing convinced me that one has the edge on the other.
Two great players come to mind when I think of these two young stars - Magic Johnson and Larry Bird, basketball Hall of Famers who were instrumental in leading their teams to championship stature. Each was great, but in very different ways and with different skill sets. While neither was more important or less important to their teams, their impact on the NBA was renowned. The managers of their respective teams may have found themselves in the most unique of situations, that being they could only trade one for the other. They wore sweater numbers 32 and 33 respectively and that may have been the only thing that separated them by one.
Two players who stood out at the World Junior Championship took a significant leap forward. Mikko Rantanen was Finland's most productive player and showed an ability to play a well-rounded game where he could have an impact in multiple ways. Lawson Crouse - Canada's youngest player - became a very important cog in their lineup as the tourney progressed. He demonstrated his ability to contribute with his skating, smarts, size and strength and was part of a very important and formidable line that helped Canada to gold.
London Knights winger Mitchell Marner, the leading scorer in the Ontario Hockey League, is an electrifying talent. Erie's Dylan Strome has also been atop the scoring race since the beginning of the season and have both shown they can lead their teams to success in the absence of more highly-acclaimed teammates. They've established themselves as the next best two players after McDavid and Eichel. Noah Hanifin is a very good prospect, the difference between him and Michigan blueliner Zach Werenski is razor thin. Along with Sweden's Oliver Kylington and Russian defenceman Ivan Provorov of the Brandon Wheat Kings, they form a quartet of blueliner who embody what NHL teams are looking for.
The New Year begins with the countdown to the draft and if there is anything I know for certain, we can expect players to step up their games and continue to show that this draft class could be very special, not just at the top but throughout.
Craig's List - January Ranking
RK
Player
Team
POS
HT
WT
G
A
P

1

Connor McDavid

Erie (OHL)

C

6'1

195

16

35

51

1

Jack Eichel

Boston U (NCAA)

C

6'2

195

8

19

27

3

Mitchell Marner

London (OHL)

RW

5'11

154

32

45

77

4

Dylan Strome

Erie (OHL)

C

6'3

187

27

44

71

5

Noah Hanifin

Boston C (NCAA)

D

6'2

201

2

6

8

6

Zach Werenski

Mich

igan (NCAA)

D

6'1

201

3

9

12

7

Oliver Kylington

AIK (Sweden 2)

D

6'0

180

3

3

6

8

Ivan Provorov

Brandon (WHL)

D

6'0

193

10

27

37

9

Nick Merkley

Kelowna (WHL)

C

5'11

188

13

48

61

10

Kyle Connor

Youngstown (USHL)

C

6'1

170

11

20

31

11

Mikko Rantanen

TPS (SM LIGA)

RW

6'4

211

2

9

11
12

Lawson Crouse

Kingston (OHL)

LW

6'4

211

12

4

16

13

Jansen Harkins

Prince George (WHL)

C

6'1

181

13

35

48

14

Jeremy Roy

Sherbrooke (QMJHL)

D

6'0

189

4

31

35

15

Brock Boeser

Waterloo (USHL)

RW

6'1

187

19

16

35

16

Anthony Beauvillier

Shawinigan (QMJHL)

LW

5'10

171

29

24

53

17

Pavel Zacha

Sarnia (OHL)

C

6'3

210

9

10

19

18

Mathew Brazal

Seattle (WHL)

C

6'0

178

7

11

18

19

Daniel Sprong

Charlottetown (QMJHL)

RW

6'1

189

22

23

45

20

Evgeni Svechnikov

Cape Breton (QMJHL)

RW

6'1

180

13

24

37

21

Colin White

USA NTDP (USHL)

C

6'0

183

10

12

22

22

Thomas Novak

Waterloo (USHL)

C

6'0

174

4

20

24

23

Nicolas Meloche

Baie Comeau

(QMJHL)

D

6'3

199

8

20

28

24

Brandon Carlo

Tri-City (WHL)

D

6'5

198

2

13

15

25

Thomas Chabot

Saint John (QMJHL)

D

6'1

181

7

17

24

26

Jakub Zboril

Saint John (QMJHL)

D

6'1

184

8

14

22

27

Jake Debrusk

Swift Current (WHL)

LW

6'0

171

20

20
40

28

Jeremy Bracco

USA NTDP (USHL)

RW

5'9

173

12

35
47

29

Filip Chlapik

Charlottetown (QMJHL)

C

6'0

194

17

26

43

30

Travis Konecny

Ottawa (OHL)

C

6'0

173

14

19

33

31

Timo Meier

Halifax (QMJHL)

RW

6'1

208

21

25

46

32

Nicolas Roy

Chicoutimi (QMJHL)

C

6'4

202

10

18

28

33

Guillaume Brisebois

Acadie (QMJHL)

D

6'2

170

3

13

16

34

Mitchell Vande Sompel

Oshawa (OHL)

D

5'10

182

6

34

40

35

Parker Wotherspoon

Tri-City (WHL)

D

6'0

171

8

14

22

36

Rasmus Andersson

Barrie (OHL)

D

6'0

210

8

29

37

37

Gustav Bouramman

Sault Ste. Marie (OHL)

D

5'11

184

5

20

25

38

Brendan Guhle

Prince Albert (WHL)
D

6'2

184

3

11

14

39

Roope Hintz

Ilves (SM LIGA)

C/LW

6'3

185

4

7

11

40

Jordan Greenway

USA NTDP (USHL)

LW

6'5

222

2

15

17

41

Jacob Larsson

Frolunda (Sweden J-20)

D

6'2

191

5

6

11

42

Jens Looke

Brynas (SHL)

RW

6'1

180

2

4

6

43

Adam Musil

Red Deer (WHL)

C/RW

6'3

206

9

16

25

44

Erik Foley

Cedar Rapids (USHL)

LW

6'0

185

15

13

28

45

Paul Bittner

Portland (WHL)

LW

6'4
206

15

13

28

46

Nikita Korostelev
Sarnia (OHL)

RW
6'1

195

16

20

36

47

Blake Speers

Sault Ste. Marie (OHL)

C

5'11

177

18

26

44

48

Yakov Trenin

Gatineau

(QMJHL)
C

6'2

192

11

25

36

49

Andrew Mangiapane

Barrie (OHL)

RW

5'10

170

22

37

59

50

Christian Fischer

USA NTDP (USHL)

RW

6'1

212

16

15

31

51

Vladislav Gavrikov

Loko Yaroslavl (MHL)

D

6'3

205

1

6

7

52

Noah Juulsen

Everett (WHL)

D

6'1

175

4

25

29

53

Vince Dunn

Niagara (OHL)

D

6'0

182

7

16

23

54

David Kase

Chomutov (Czech Jr.)

C

5'11

169

5

5

10

55

Sebastian Aho

Karpat (SM LIIGA

)

RW

5'11

172

2

3

5

56

Ethan Bear

Seattle (WHL)

D

6'0

202

9

13

22

57

Felix Sandstrom

Brynas Jr. (Sweden J20)

G

6'2

191

3.31

.896

0

58

Ryan Pilon

Brandon (WHL)

D

6'2

212

6

27

33

59

Ryan Gropp

Seattle (WHL)

LW

6'2

184

15

18

33

60

Adam Marsh

Saint John (QMJHL)

LW

6'0

160

18

14

32

61

Callum Booth

Quebec (QMJHL)

G

6'3

199

62

Mackenzie Blackwood

Barrie (OHL)

G

6'2

215

63

Nathan Noel

Saint John (QMJHL)

C

5'11

170

64

J.F. Karlsson

Omaha (USHL)

C/RW

6'1

192

65

Alexander Dergachyov

St. Petersburg (MHL)

RW

6'4

200

66

Glenn Gawdin

Swift Current (WHL)

C

6'1

188

67

Travis Dermott

Erie (OHL)

D

5'11

197

68

Dennis Yan

Shawinigan (QMJHL)

LW

6'1

180

69

Matthew Spencer

Peterborough (OHL)

D

6'2

200

70

Daniel Vladar

Kladno (Czech Jr.)

G

6'5

185

71

Ziyat

Paygin
Ak Bars Kazan (KHL)

D

6'5

209

72

Denis Guryanov

Togilatti 2 (MHL)

RW

6'3

183

73

Keegan Kolesar

Seattle (WHL)

RW

6'1

217

74

Michael Spacek

Pardubice

(Czech Jr.)
RW

5'11

187

75

Jonas Siegenthaler

GCK Zurich (Swiss 2)

D

6'3

220

76

Caleb Jones

USA NTDP (USHL)

D

6'0

194

77

Reid Gardiner

Prince Albert (WHL)

C/RW

5'11

187

78

Deven Sideroff

Kemloops (WHL)

RW

5'11

171

79

Lukas Jasek

Trinec Jr. (Czech Jr.)

RW

5'11

165

80

Dmitri Zhukenov

OMSK (MHL)

C

5'11

169

81

Aleksi Saarela

Assat Pori (Finland Jr.)

C

5'11

198

82

Graham Knott

Niagara (OHL)

LW

6'4

192

83

Brent Gates

Green Bay (USHL)

C

6'2

196

84

Spencer Smallman

Saint John (QMJHL)

RW

6'1

184

85

Gabriel Carlsson

Linkoping (Sweden J20)

D

6'4

183

86

Brendan Warren

USA NTDP (USHL)

LW

6'0

191

87

Samuel Dove-McFalls

Saint John (QMJHL)

C/LW

6'2

207

88

Yegor

Rykov
St. Petersbrug (WHL)
D

6'1

216

89

Kyle Capobianco

Sudbury (OHL)

D

6'1

178

90

Brien Diffley

Boston U (HE- NCAA)

D

6'1

176

91

Denis Godla

Slovakia U18 (Extra)

G

5'11

176

92

Zachary Senyshyn

Sault Ste. Marie (OHL)

RW

6'1

192

93

AJ Greer

Boston U (HE- NCAA)

LW

6'3

204

94

Denis Malgin

Zurich (Suisse)

C

5'8

163

95

Julius Nattinen

JYP (Finland Jr.)

C

6'2

191

96

Mathieu Joseph

Saint John (QMJHL)

LW

6'1

166

97

Kameron Kelly

Charlottetown (QMJHL)

RW

6'0

180

98

Tory Dello

Tri-City (USHL)

D

6'0

187

99

Christian Jaros

Lulea Jr. (Swe J20 Elite)

D

6'3

20

1

100

Dmitri Yudon

St. Petersburg (KHL)

D

6'2

185