Crosby gets point No. 999; Pens rout Canucks
Evgeni Malkin scored and picked up an assist in his return from a lower-body injury, Sidney Crosby got his 999th career point with an assist and the Pittsburgh Penguins rolled by the Vancouver Canucks 4-0 on Tuesday night.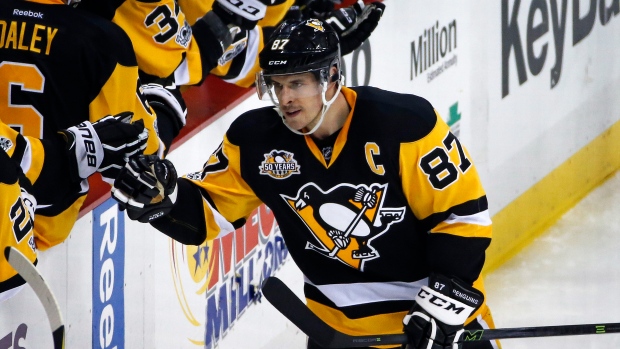 PITTSBURGH — The quality Mike Sullivan appreciates the most in Evgeni Malkin is the one that separates the Pittsburgh Penguins star from just about everyone else who happens to do what Malkin does for a living.
"He's such a threat when he's on the ice," Sullivan said. "He's one of the elite players in the league that has the ability to change the outcome."
And do it with style. Malkin celebrated his return from a lower-body injury with his 23rd goal of the season then added a beautiful feed that set up Phil Kessel's third-period goal, helping the Penguins roll by the Vancouver Canucks 4-0 on Tuesday night.
Sidney Crosby earned the 999th point of his career with an assist on Jake Guentzel's goal and Matt Cullen added his ninth of the season for Pittsburgh. Matt Murray stopped 29 shots for his third shutout of the season, and the Penguins remained unbeaten in regulation since the All-Star break (5-0-2).
Malkin missed seven games while rehabbing an injury from a victory over St. Louis in Jan. 24. He appeared ready to return last Saturday night in Arizona before Sullivan made Malkin a late scratch just to be sure.
Given another couple of days to rest, Malkin picked up right where he left off before getting hurt. He gave Pittsburgh the lead 5:51 into the second when he stood on the far post, stopped a pass from Olli Maatta with his right skate and tapped it into the net.
"I tried to score with my stick because sometimes (if it's) off your skates, the coach makes a challenge," Malkin said. "I know the puck was coming."
Vancouver's defence couldn't say the same when Malkin and Kessel broke in on Ryan Miller late in the third. Racing down the right wing, Malkin dangled the puck on his stick and waited while defenceman Luca Sbisa slid harmlessly out of the way before slipping it Kessel, who buried it into the open net to make it 3-0 with just over six minutes to go.
"The first time we went 2-on-1, I tried to pass to him and he tried to pass it back and it didn't work," Malkin said. "Now I passed to him and he shoot. It's more fun."
Miller made 38 saves while under siege for most of the night, particularly in the third as Pittsburgh pulled away.
"We knew what game we had to play," Miller said. "You saw what happened when we got away from it in the third. We started stretching things out and leaving good ice. It didn't turn out so well."
Despite a series of injuries, the defending Stanley Cup champions have managed to keep pace in the supremely tight Metropolitan Division, where the Penguins, Columbus and the New York Rangers are separated by all of two points as they try to keep first-place Washington in striking distance.
Murray was spectacular at times. He snagged Jack Skille's wrist shot on a breakaway out of midair late in the second and stoned Skille again when he skated in all alone early in the third.
By then, the Penguins were firmly in control after Crosby set up Guentzel's sixth of the season. The Penguins captain came in having gone scoreless in consecutive games for the first time in nearly a year.
The drought was on its way to stretching to three games heading into the third, but Crosby nudged closer to becoming the 86th NHL player with 1,000 points when he completed a give-and-go by feeding a streaking Guentzel down the slot 2:27 into the third.
"It's pretty easy when you're playing with the best player," said Guentzel, a rookie who has six goals in 18 games.
NOTES: Guentzel is the 110th teammate to factor in a scoring play for Crosby. ... Penguins D Trevor Daley's secondary assist on Malkin's goal was the 200th of his career. ... The Canucks went 0 for 1 on the power play. The Penguins were 0 for 2 with the man advantage. ... Vancouver scratched Cs Brandon Sutter and Bo Horvat and D Philip Larsen. ... Pittsburgh scratched D Chad Ruhwedel and C Eric Fehr. ... Pittsburgh is 62-0-0 when leading after two periods during Sullivan's tenure.
UP NEXT
Canucks: Travel to St. Louis on Thursday. Vancouver beat the Blues 2-1 in the first meeting of the season on Oct. 18.
Penguins: Welcome Winnipeg on Thursday.