Team Canada opens WCH training camp
Sidney Crosby centred Brad Marchand and Patrice Bergeron as Canada offered a first glimpse at potential line combinations for the World Cup of Hockey on Monday afternoon.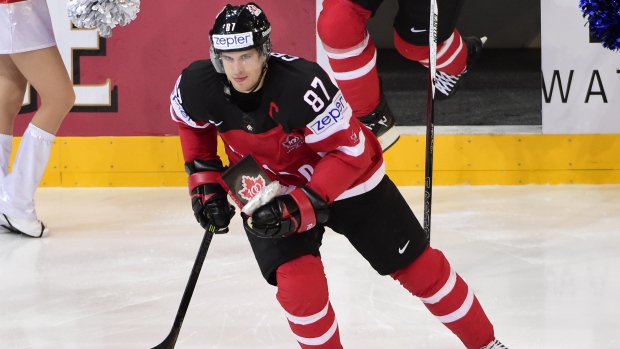 OTTAWA — Tyler Seguin didn't know what to expect from Mike Babcock's line combinations at the start of World Cup of Hockey training camp on Monday.
Absent Jamie Benn, his usual running mate in Dallas who pulled out with an injury, Seguin wondered if he'd have to slide over from his usual spot at centre and line up on the wing.
"Honestly, I had no idea, not a clue," Seguin said.
The 24-year-old ended up at right wing alongside Jonathan Toews and Logan Couture, one of four intriguing combos for Canada.
Sidney Crosby was paired with Brad Marchand and Patrice Bergeron, who often finds his way to Crosby's side at international tournaments. Steven Stamkos and John Tavares, two former No. 1 overall picks, were centred by Ryan Getzlaf while 37-year-old Joe Thornton lined up with Matt Duchene and Claude Giroux.
The first edition on defence saw Marc-Edouard Vlasic step into a void left by Duncan Keith (right knee injury), manning the left side alongside Shea Weber. Vlasic's partner at the 2014 Olympics, Drew Doughty, was paired with his Los Angeles Kings teammate Jake Muzzin. Alex Pietrangelo, meanwhile, shifted from right defence to left on a pair with Brent Burns.
Babcock said he gathered prospective lineups from each member of Canada's management team as well as the four other coaches. He snapped a picture of those lineups for memories before proceeding with his own designs.
"What I like to do is I like to gather all the information," Babcock said. "In the end someone's got to decide."
The combinations will inevitably change, perhaps even before the group plays its first exhibition game against the United States on Friday.
Seguin, who missed out on a spot with the 2014 Sochi squad, said he watched that tournament and saw how often things shuffled around. He wondered whether he might find himself paired at some point with Bergeron and Marchand, his former linemates with the Boston Bruins.
Tavares said the first batch of line combos offered "intrigue" to players for different reasons from eager fans and media. They were helpful, he said, in deciphering roles. Players could get a sense of the role they might play — leaning offence or defence — by the players they play alongside.
Tavares added that the players, all stars for their respective NHL teams, were willing to accept roles, "no matter how big, how small, to achieve the ultimate goal and that's to win the tournament."
"Everyone's looking forward to see who they get to play with," he said. "There's so many great players, really whoever you play with it's a pleasure and great opportunity. I think you try to develop some chemistry early, develop some camaraderie, talk to one another, communicate and try to go from there."
Communication will be helpful given the short window for finding chemistry and connection.
Canada has only a handful of practices and three exhibition games to tinker with combinations before starting play against the Czech Republic on Sept. 17.
Seguin talked strategy post-practice with Thornton and defenceman Brent Burns, his potential power-play mates. He said he was curious to see where he might fit alongside the Sharks tandem.
Seguin and the San Jose duo were joined on a second power-play unit by Giroux and Duchene. Canada's top unit sported the awesome combination of Crosby, Stamkos, Tavares, Getzlaf and Doughty.
"The biggest thing for these things to work out and why Canada is successful is because I think everyone comes in with an open mind," Seguin said. "We set our egos at the door and we figure out what works. And whatever works the quickest that's what we need."