Cubs' Zobrist calls for electronic strike zone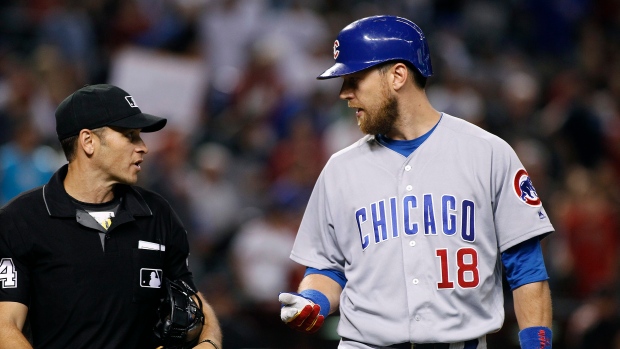 Chicago Cubs veteran Ben Zobrist called for Major League Baseball to implement an electronic strike zone following a loss to the Arizona Diamondbacks Saturday.
A 2-2 breaking ball from Diamondbacks reliever David Hernandez appeared low but it was called a strike by home plate umpire Mark Wegner, ending the game and giving Arizona a 6-2 victory. After the game, Zobrist sounded off.
"If we want to change something like that, we're going to have an electronic strike zone because human beings are going to make mistakes," Zobrist told reporters after the game.
It's an unfortunate situation, and now that we have the technology, we should probably get it right."
Cubs manager Joe Maddon chimed in, saying he thought the pitch was low as well.
"I really know Mark knows he messed it up," Maddon said. "I don't think anyone feels worse than he does right now. It was a ball, obviously. I'm not going to sit here and rail on him. I think he's a very good umpire."
The MLB evaluates umpires on how often they correctly identify balls or strikes using a program called PITCHF/x, installed in every MLB stadium.