Curling having a US moment in wake of Shuster's Olympic gold
John Shuster's Olympic gold medal spawned a registration rush for Las Vegas Curling, whose slogan is "Where Saints and Sinners Curl Like Winners."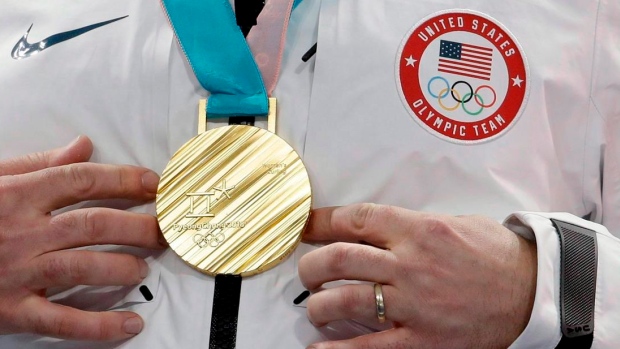 LAS VEGAS — John Shuster's Olympic gold medal spawned a registration rush for Las Vegas Curling, whose slogan is "Where Saints and Sinners Curl Like Winners."
The beginner's league is sold out for the first time and learn-to-curl sessions in February and March were full, according to instructor Brad Whitlock.
Shuster won the first Olympic gold medal in curling for the United States on Feb. 24 in Pyeongchang, South Korea.
Curling's profile rises in Olympic years, but Shuster's victory created a spike in interest in the U.S. that's been felt even in the sunbelt.
"With Shuster's team winning, the spike is just a little higher this time and it seems to be lasting a little bit longer this time," Whitlock said.
"It's not really ramping down quite yet and I think that's Shuster for sure. It just seems to have changed the whole landscape. Now curling is real in the United States."
Las Vegas Curling gets ice at a local hockey arena every Sunday night from 10 p.m. to midnight. They pebble the ice and install hacks.
Whitlock says founder Nick Kitinski makes the 860-kilometre round trip every week from Los Angeles to organize and teach.
The goal, as it is for many fledgling curling organizations across the southern U.S., is to have a building dedicated to curlers instead of using hockey arenas.
That requires paying members, of which Las Vegas Curling has about 50.
"A lot of times we don't retain people after the big spike," Whitlock said. "Now I'm not so sure it's going to go away because of Shuster."
Shuster is doing his part to extend the impact of his victory, from appearing on Jimmy Fallon's late night television show to throwing out the first pitch at Minnesota Twins game in his home state.
While his team from Duluth, Minn., isn't competing at the men's world curling championship at the Orleans Arena, they participated in the opening ceremonies to promote the event.
"When were walking around New York City, we couldn't walk down the street without someone knowing who we were, seriously," Shuster said. "We're little guys in a big city and we could not walk a block without someone recognizing us, wanting a picture, saying congratulations.
"Americans love sport and now they're starting to understand our game, especially with how much coverage we've got. There's more than a curiosity now."
USA Curling is also doing its best to parlay Shuster's moment into accelerated growth in the game.
"I say this lightly, but we're just trying not to screw things up," chief executive officer Rick Patzke said. "We've been ready for 10 years in terms of 'this is going to happen some day and we need to do the best we can to harness it.'
"We're down to five states that we don't have established curling in yet. During the Olympics, I accepted membership for the first one in Mississippi in Olive Branch. That happened during the games.
"Atlanta had over a thousand people show up for their learn-to-curl. San Francisco is trying to build a dedicated club."
NBC is broadcasting or streaming 46 games of the men's world championship on its network and digital platforms.
"I don't know that they've specifically increased (coverage) here, but what it's really done is advance the conversation around what more can we do," Patzke said.
Las Vegas being a city that loves shiny things, Whitlock would love it if Shuster's gold medal drew the attention of the city's gambling houses to curling.
A building with five sheets of curling ice will cost about US$3 million, according to Las Vegas Curling's website.
"If it was with Boyd Gaming, if they wanted to do it or somebody downtown, that's a big development area for Las Vegas, we would be happy, ready and willing to provide the curling expertise," Whitlock said.
"We just need a building. That takes a bit of money. But there's a lot of money here. Mostly from people who have visited and lost it."
Note to readers: This is a corrected story. A previous version incorrectly stated that Nick Kitinski operated Hollywood Curling.