Curling's cruel pre-qualifier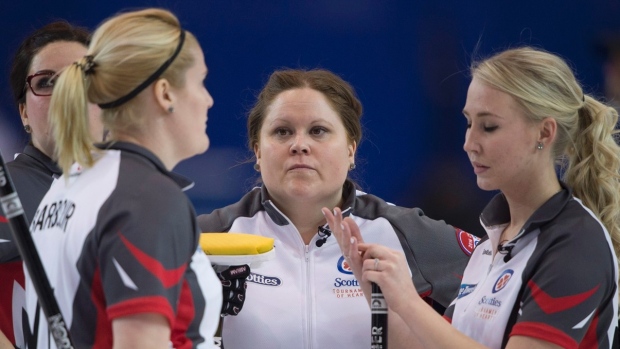 Getting to the Scotties Tournament of Hearts has never been easy but for the three teams from the northern territories, the journey borders on impossible – even when they have a free pass.
On Thursday, Kerry Galusha of the Northwest Territories, Sarah Koltun of the Yukon and Nunavut's Geneva Chislett will begin play at the Scotties Tournament of Hearts in St. Catharines, Ont. While some other teams have already played dozens of games to reach the Canadian championship, these three rinks will be playing their first contests. Despite that, no other rinks have travelled as far or faced such an uphill climb as these three.
Galusha, Koltun and Chislett faced no opposition in their territorial playdowns; they simply signed up and advanced to the Scotties. But they still have one more hurdle to get over: the pre-qualifying, a much- disliked relegation competition that will see these three rinks and New Brunswick's Melissa Adams vie for one final spot in the main field.
For the three rinks that don't make it, there's nothing but a ticket home. It's like being invited to a party but being asked to leave before it starts.
"I don't like it," stated Koltun, who played in the pre-qualifier in 2015. "I don't know why anybody would like it. You go through the high of [representing] your province or territory and then go through the extreme low of potentially being told you're not good enough to stay because of one or two games."
This is the third year and final year of the pre-qualifying competition. It was brought in by Curling Canada as part of program to be more inclusive to all member associations. Prior to its introduction, the northern associations would play down and send one territorial representative to the national championships.
Next year, a format change will see the field in the Scotties and the Tim Hortons Brier expand to 16 teams and play in two pools. All three territorial teams will be in the main field.
But this year, there's one last pre-qualifier. Just as in the last two, the teams from the three northern territories will be involved. That's not overly surprising simply because of the challenge rinks from the north have in trying to stay competitive. In most cases, there's only one or two clubs in the entire district and trying to come south to play in bonspiels and get experience is a huge financial commitment.
"We try to get about $15,000 in sponsorship," said Galusha, who has been to 11 Scotties, not including the last two in which she lost in the pre-qualifying. "That gets us to a couple of spiels and our territorial playdowns."
Her rink from Yellowknife saved $5,000 it had budgeted this year when it didn't have to play down to get to St. Catharines. But the trade-off came with a price.
"I was borderline embarrassed that we didn't have to play down to go," Galusha admitted. "We've always had competition. Last year we had to play seven games in our Territorial playdown. We had four teams, which is the same amount of teams as some other provinces.
"It saved us a lot of money but we really, really needed those games."
Getting proper competition is not easy. Chislett and Galusha play against anyone and everyone in their home clubs, battling men's teams (including her brother, Jamie Koe, will represent the Northwest Territories at the Brier for the 11th time this year), mixed teams and junior teams, but it's not quite the same as a rink from Alberta or Ontario that might have 100 competitive contests under its belt by the time it reaches the Scotties.
"We've been trying to play against some of the more competitive teams here, mostly men's teams," said Chislett. "We've been going out and trying to practise whenever possible but it's hard, really hard."
The members of Koltun's team are all attending school in British Columbia and have managed to sharpen their skills in leagues around the Vancouver area.
It's not just in women's play that the territorial entries are struggling. In last year's national junior, the men's team from Nunavut lost games by scores of 33-1, 23-1 and 18-1. If you combine the records of the entries at last year's men's and women's juniors, and this year's National Mixed, Yukon, Northwest Territories and Nunavut were a combined 6-48.
"I always want to win but sometimes you have to have realistic expectations," said Chislett. "You look at the other teams that are playing, the skill level is not comparable. Don't get me wrong – I play with a great bunch of ladies and we're all trying to do our best, but when we compare our team to other teams, even some that didn't make it to the Scotties this year, there's a big gap."
All the rinks have coaches and work via Skype to try and improve when and where they can. There's no lack of dedication or desire; all of them want to get into the main event. It's just tough to improve when you're not playing against the best. And all the work could be for nothing. The pre-qualifier is a harsh event that can't go away soon enough.
"It's just heartbreaking," Koltun stated. "You work your whole season, you are the declared champion, the representative for that area and then you get sent home? It's gut-wrenching, honestly."
"I'm not going to lie," added Galusha. "Our team feels very excluded from the whole competition. The pre-qualifying teams are not included in a lot of the things that go on at the Scotties that you would normally be included in. You feel very excluded – it's very tough."
In the first year of the pre-qualifying, Nunavut didn't send an entry, feeling that none of the teams were ready to handle such a competition. Last year, Chislett became the territories first representative at the national women's final and surprised many by winning her opening game before losing the next two and being eliminated.
She knows that it's a long shot for her squad to advance to the main draw and even if they somehow make it through, they will likely struggle against the likes of Chelsea Carey and Rachel Homan.
She sometimes wonders if the long, arduous trail is even worth it. It would be easy to simply stay home. But she takes a more unselfish view.
"There are some juniors coming up behind us and they're really eager and they want to get to the Scotties someday," she said. "So if we decide now that it's not worth it and don't go, that's not setting a good example for them. They want some day to be there; they're aspiring juniors. This year our fifth [player] is the skip from the junior team. That's our way of getting her the experience she's going to need one day."
For this year, the experience for three of the four teams in the pre-qualifying will be short. And if it is once again the teams from the Yukon, Northwest Territories and Nunavut rinks that miss out, it will be a tough journey home.
A year from now, however, they can plan on staying a little longer, curl a little more and enjoy the full party.