Team Richardson to be inducted into World Curling Hall of Fame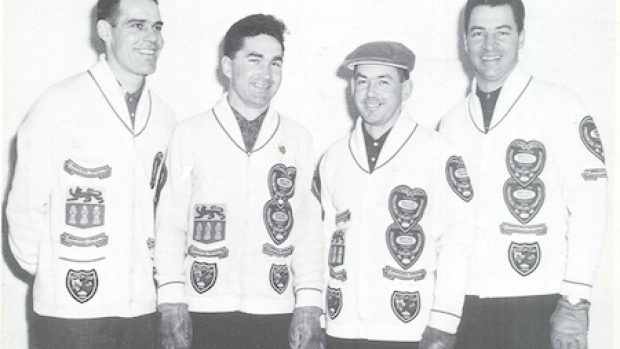 The World Curling Federation will induct Team Richardson of Regina into the World Curling Hall of Fame on Saturday, the first time a full curling team has been been honoured.
Team Richardson, made up of Ernie, brother Garnet and cousins Arnold and Wes Richardson, were curling's first world champions and won the Scotch Cup in 1959, 1960 and 1962.
"The World Curling Hall of Fame exists to recognize outstanding contribution to our sport, whether that be through on-ice success or off-ice endeavours," said World Curling Federation president Kate Caithness, who will formally induct Team Richardson. "We usually induct individuals under two categories — curlers and builders. However, on Saturday we are going to make curling history and for the first time ever induct an entire curling team.
"The submission we received for this team stated, 'A skip is only as good as his teammates.' It was that reason we felt one of curling's finest teams, who were the first world champions, should be recognized equally, from lead to skip."
The Regina-based rink also played a significant role in the growth of the Scotch Cup, from its beginnings between Canada and Scotland to the 56 Member Associations in the World Curling Federation that take part in various international competitions around the world today.
"Our years together as a team produced so many wonderful memories, and I know Sam and Wes would feel just the same as I do at this truly amazing honour," added Arnold Richardson. "Being part of the development of the World Curling Championship, and being able to do it with my family, was a thrilling experience, and we are grateful that the World Curling Hall of Fame has given us this recognition."
Ernie and Arnold will receive the World Curling Hall of Fame silver salver. In recent years, unfortunately, Garnet and Wes have passed away and will be inducted posthumously.