Cyborg discusses super fight with Holm, Rousey, potential opponents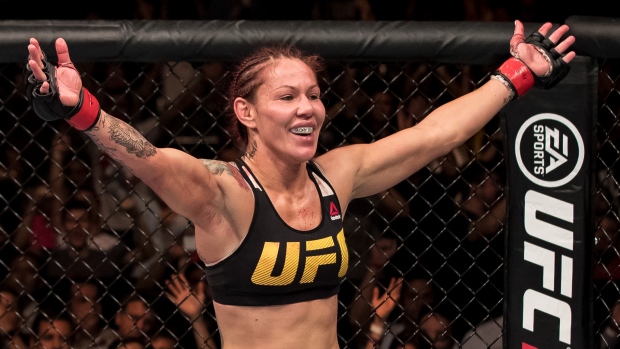 It has been a long road for Cris "Cyborg" Justino to become a UFC champion.
After accepting two fights at a 140 pound catchweight upon entering the UFC and posting videos of her horrendous weight cuts to get to that weight, the promotion opened a featherweight division to cater to their female star.
Although the division does not have many fighters who compete at 145 pounds, they are now able to raise the stakes for those who agree to fight the seemingly unstoppable Cyborg, who is 18-1-1 with her only loss taking place in her mixed martial arts debut in May of 2005. Since then, Cyborg has been one of the most feared fighters in all of MMA, with 16 of her 18 wins coming by way of knockout or technical knockout.
However, Holly Holm, her opponent at UFC 219 on December 30, is very familiar with stopping the unstoppable, as she is best known for defeating then-undefeated women's bantamweight champion Ronda Rousey.
Despite Holm being ranked 2nd in the women's bantamweight division, Cyborg is unfazed by the potential challenger.
"We were supposed to fight in Brazil at 140 lbs and I didn't see any other girls. She's fought at 145 in my division and I really don't like fighting girls who move up from 135 to 145, but because she'd already accepted that fight, I think it will be a great fight for the fans," said Cyborg.
Finding opponents for Cyborg has been tough. One potential matchup was against former UFC featherweight champion Germaine de Randamie, who has since vacated the belt after refusing to fight Cyborg, whom her manager said in a statement to MMA Junkie was "a known and proven cheater".
While Cyborg did test positive for performance enhancing drugs in 2011, her drug testing record with USADA in the UFC has been squeaky clean.
Cyborg still thinks that a fight with de Randamie could be on the horizon.
"I think this fight is still on the table, you know, I think soon, she'll get better and probably we can fight, I think so," Cyborg told TSN in a media scrum late last month in Detroit.
Cyborg was also asked about fellow Brazilian Amanda Nunes, who along with her is one of three females in the UFC's pound for pound rankings.
"Amanda and I defend the same flag, I've always said I would not like to fight her, but if I don't have the opportunity to fight other girls or she clears her division and I clear my division, this fight maybe can happen," said Cyborg. "Why not? I think she's considered the best and it would be an amazing fight for all of the fans."
Then there's Rousey, who's coach Edmund Tarverdyan told Ariel Helwani on The MMA Hour he felt would match up favourably against Cyborg.
"I think her coach is crazy, I think she needs to go back to training if she would like to fight and I think that she should do more fights," said Cyborg. "If she can be the Ronda Rousey that she was at the beginning of her career and then maybe we can make this fight. I don't want to fight someone who's already lost two times, why should I beat somebody while they're down."
Before any of these matchups come into fruition, she has a tall order ahead of her at UFC 219 at T-Mobile Arena in Las Vegas when she faces her most accomplished challenger to date in Holm.