Cyborg has high hopes for women's featherweight division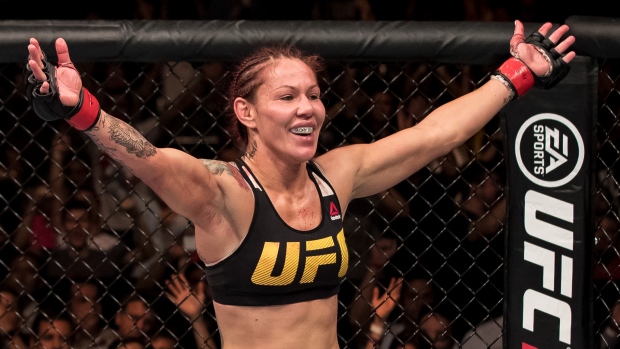 The UFC's rankings page contains a list of every division's top-15 fighters with one notable exception: women's featherweight.
There are no rankings in what some refer to as "The Cyborg Division" because the UFC doesn't have 15 legitimate 145-pound women on the roster. Much of that is attributed to so few fighters wanting to face champion Cristiane "Cyborg" Justino, one of the most feared mixed martial artists on the planet.
Cyborg has only one loss on her record, which was her debut in May of 2005. She has been undefeated since then with a 19-1-1 record.
While there have not been rankings since the division was born more than a year ago, Cyborg insists she is optimistic about the division's future.
"I think we don't have so many girls yet because this division is really new and I think that the 145-pound division is going to be the biggest division for women's MMA, because a lot of girls cut a lot of weight and now with the commission, you have to be closer to weight," Cyborg told The TSN MMA Show.
Cyborg points to Yana Kunitskaya, her opponent in the main event of this weekend's UFC 222 card in Las Vegas, as an example of more women migrating from the women's bantamweight division (135 pounds) to featherweight.
"With Yana, the commission told her she's a big girl. She's supposed to fight at 145, so she's going to be a real 145," Cyborg said. "I think little by little, they're going to grow this division, like the men's division. The men's division started to grow and grow and grow and like the 135- pound girls, I think this is going to be a big division soon."
To many UFC fans, Kunitskaya is a relative unknown. She was most recently the bantamweight champion of the all-women's fight organization Invicta Fighting Championships.
Kunitskaya called out Cyborg in a tweet on Jan. 25 and after Max Holloway was forced to withdraw from the UFC 222 main event with an ankle injury, she was booked against Cyborg in a replacement main event.
Cyborg was a bit surprised to get the call, but jumped at the opportunity
"The UFC contacted my manager because one of the fighters had an injury and could not fight and they called me and asked if I'd like to fight. I said that I needed to check my weight, train first and see how I'm feeling. I checked my weight, I did my training and I felt great," said Cyborg.
"It surprised me, but I think it would be good to fix some issues with my relationship with the UFC and I feel great. I did this for the team and I think that this is going to be an amazing fight for all of my fans. I think Cyborg Nation is really happy, too and they're going to be here in Las Vegas, I think it's a big opportunity."
The fight was also a surprise to fans as it appeared that the UFC was building towards a champion-versus-champion fight between Cyborg and UFC women's bantamweight champion Amanda Nunes, who planned on moving up to the featherweight division.
With Cyborg and Kunitskaya booked, and Nunes reportedly defending her title against Raquel Pennington at UFC 224 in Brazil, the superfight will have to wait. Both fighters have alluded to wanting to schedule the bout in July should they both still be champions.
"Any fight that the UFC would like to make and the fans want to see, I'd like to fight. This is my job and in the beginning I said I didn't want to fight a Brazilian," Cyborg said in regards to a potential fight with Nunes. "But she called me out and wants to fight me and now she has to fight and defend the belt. If she wants, maybe then we can fight."
While Cyborg has been a draw for the UFC, this fight against Kunitskaya appears to be pretty lopsided. Cyborg is currently the biggest betting favourite in UFC history.
The preliminary card for UFC 222 airs at 8 pm ET on TSN5 and the main card is available on pay-per-view