Dadanov leads Panthers to sixth straight win over Flyers
Evgenii Dadonov scored twice, Roberto Luongo made 39 saves and the Florida Panthers beat the Philadelphia Flyers 4-1 on Sunday for their season-best sixth straight victory — all at home.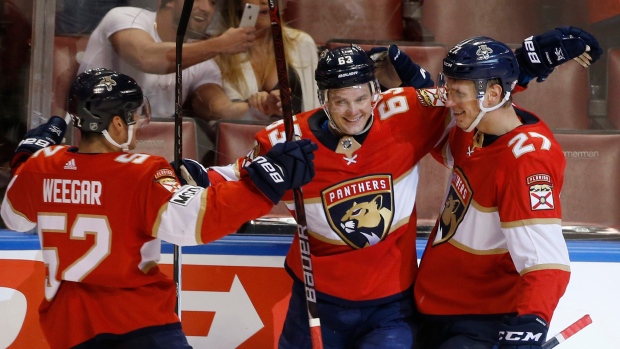 SUNRISE, Fla. — The Florida Panthers are making a playoff push with improved offence and solid goaltending.
Evgenii Dadonov scored twice, Roberto Luongo made 39 saves and the Panthers beat the Philadelphia Flyers 4-1 on Sunday for their season-best sixth straight victory — all at home.
"We're obviously playing our best hockey of the year at the right time," Luongo said. "We know we still have a lot of work to do; there's no taking things lightly the rest of the way. We have to make sure we keep pushing the way we have."
Luongo is 6-1 since returning Feb. 17 after missing 27 games with a groin injury.
"When Lou's in there he's just a calming effect," Panthers coach Bob Boughner said. "He's been solid ever since he's come back. He's playing some of the best hockey I've seen in a long time and it's helping us."
Aleksander Barkov scored his 25th goal of the season and had an assist, and Jonathan Huberdeau added a goal. The Panthers are in the final Eastern Conference playoff position with 18 games left to play.
Dadonov and Huberdeau broke the 20-goal scoring mark for the season, joining Barkov and Vincent Trocheck.
"We've been winning games, getting points and chasing a playoff spot, but we still have a lot of games to go," Barkov said. "Of course, when we're winning games we are happy and we're happy right now."
Travis Konecny scored for the Flyers, and Petr Mrazek made 22 saves in his sixth straight start. Philadelphia has lost three straight after winning six in a row.
"I didn't like my game today," Mrazek said. "I know we didn't score the first two periods but the game could have been 1-0 or 2-0 and we would have had a chance. I have to support these guys better."
The Panthers made it 3-0 with 1:54 left in the second on Dadonov's second goal. Dadonov took a pass from Barkov near the blue line, took it into the slot and shot it over Mrazek's glove.
The Panthers employed the stretch pass on three of their goals.
"It wasn't our best defensive coverage, that's for sure," Flyers defenceman Radko Gudas said. "They played with the stretch passes. We could have done a way better job."
Huberdeau backhanded the puck through Mrazek's pads at 2:47 of the third.
Konecny poked in a rebound with 3:21 left in the third to finish the scoring.
Dadonov has nine goals in his last 10 games, including his first career hat trick Feb. 24 against Pittsburgh and leads the Panthers with five multi-goal games.
"He plays hard and always first on pucks and takes hits to make plays," Boughner said. "Him and Barkov have some great chemistry right now. He's increased the skill level of this team."
Barkov gave the Panthers a 1-0 lead 2:41 in on a power-play goal. Barkov took a pass from Keith Yandle near the blue line, skated in and backhanded the puck past Mrazek. Barkov has a four-game goals streak. Luongo had the secondary assist.
Dadonov put the Panthers ahead 2-0 on his first goal when he fired a shot from the left circle on a pass from Nick Bjugstad and beat Mrazek on the glove side with 5:11 left in the first. Bjugstad has 11 assists in his last 15 games.
Notes: Luongo's assist on Barkov's first period goal was his 22nd career point. ... Barkov has 21 points (10 goals, 11 assists) in his past 15 games. ... Flyers D Johnny Oduya left the game in the second period with an unspecified injury.The Flyers played their second game in less than 24 hours, losing 7-6 in a shootout at Tampa Bay on Saturday.
UP NEXT:
Flyers: Host Pittsburgh on Wednesday night.
Panthers: At Tampa Bay on Tuesday night.