Dahlin headlines Swedish Olympic team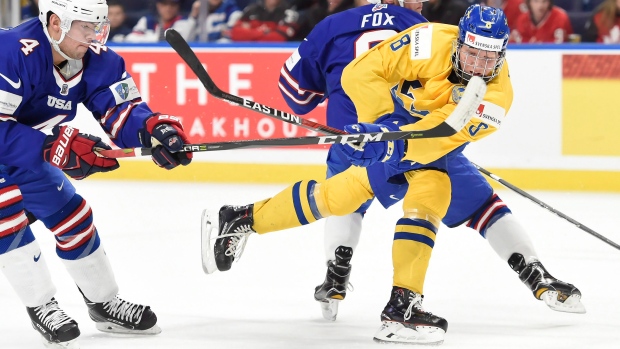 Projected first overall pick Rasmus Dahlin is fresh off an impressive silver medal performance at the World Juniors in Buffalo earlier this month and will get another chance to represent his country in February.
The 17-year-old defenceman was named to the Swedish Olympic team on Tuesday along with former NHLers including goalie Jhonas Enroth, defencemen Staffan Kronwall and Erik Gustafsson as well as forwards Joakim Lindström, Joel Lundqvist, Viktor Stålberg, Oscar Möller, Anton Lander and Linus Omark.
Dahlin posted six assists and a plus-7 rating over seven games at the World Juniors, eventually losing to Team Canada in the gold medal game. He has five goals and six assists over 28 games with Frolunda HC in 2017-18, his second season in the Swedish Elite League.
TSN Director of Scouting Craig Button has Dahlin No. 1 on the January version of his Craig's List prospect ranking.
"He is a franchise-defining defenceman with an unprecedented ability to control the game in all areas," explained Button. "The last blueliner I saw with that capability at this age was Victor Hedman."
Swedish Roster:
Goalies
Jhonas Enroth, Viktor Fasth, Magnus Hellberg
Defencemen
Staffan Kronwall, Mikael Wikstrand, Patrik Hersley, Johan Fransson, Simon Bertilsson, Rasmus Dahlin, Erik Gustafsson and Jonas Ahnelöv.
Forwards
Joakim Lindström, Fredrik Pettersson, Pär Lindholm, Dennis Everberg, Joel Lundqvist, Alexander Bergström, Viktor Stålberg, Dick Axelsson, Oscar Möller, Carl Klingberg, Anton Lander, Linus Omark.