Craig's List: Dahlin cemented top status at World Juniors
The Frolunda defenceman remains the best of the 2018 draft class after an impressive showing at the World Juniors, TSN Director of Scouting Craig Button writes.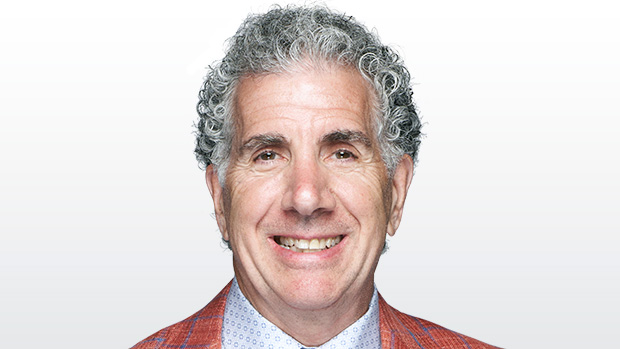 Fresh off an impressive performance at the World Junior Hockey Championship, Frolunda defenceman Rasmus Dahlin remains atop the prospect pile in the January edition of Craig's List ahead of the 2018 NHL Draft.
Dahlin won't have a challenger to his status as the No. 1 overall pick in the 2018 NHL draft. Last season we saw Nico Hischier use the World Juniors as a springboard to being the top selection at the entry draft. Dahlin, who had six assists and a plus-7 rating in seven games to help Sweden win silver in Buffalo, will do the same.
He is a franchise-defining defenceman with an unprecedented ability to control the game in all areas. The last blueliner I saw with that capability at this age was Victor Hedman. Dahlin joins another first- overall pick in the NHL draft, Gord Kluzak (1982), as the only 17-year-olds to be selected as the best defenceman at the World Juniors.
Dahlin remains one spot ahead of fellow Swedish blueliner Adam Boqvist, who plays for Brynas IF, in my rankings. Boqvist's resemblance to Ottawa Senators captain Erik Karlsson is marked. The high skill, brilliant creativity and daring that allow Karlsson to command a game and capture the attention of his audience are present in Boqvist's game.
Three wingers round out the top five. Boston University left wing Brady Tkachuk, who had three goals and six assists in seven games to help Team USA win bronze in Buffalo, moves up one spot from our November rankings to sit at No. 3.
Tkachuk manages to put himself in the thick of every significant play. While there is much talk about his intangibles, his intelligence, savvy puck skills, physical presence and ability to make others better are all qualities NHL teams covet.
He flips spots with Barrie Colts right wing Andrei Svechnikov, who had five assists in five games for Russia at the World Juniors. Svechnikov missed as significant portion of the first half of the OHL season with a hand injury, but still has 15 goals and eight assists in 18 games with the Colts this season.
Svechnikov has a game that reminds me of Marian Hossa. He's an excellent scorer and a strong playmaker. He's also smart, quick to recognize opportunity and is comfortable playing in tight areas and in traffic.
Halifax Mooseheads right wing Filip Zadina, who had seven goals in seven games for the Czech Republic in Buffalo, remains at No. 5. Zadina sits second in the QMJHL scoring race, with 48 points (25 goals, 23 assists) in 33 games.
Zadina is a determined and hungry scorer. He has the ability to score in multiple ways between the dots and from the top of the circles in the offensive zone. He possesses an excellent release that makes it very hard for goalies to get a read on his shot.
Sault Ste. Marie Greyhounds centre Barrett Hayton jumps three spots to No. 6 as the highest-rated Canadian in my rankings. The Peterborough, Ont., native has 39 points (16 goals, 23 assists in 39 games) for a squad that just had a 23-game win streak snapped last week.
Hayton can play and contribute in all situations. He reminds me of Boston Bruins star Patrice Bergeron in the sense of being complete, strong and able to produce whatever play is necessary to win. Like Bergeron, there's not a lot of flash to his game, but winning teams will always value players with Hayton's skills.
A trio of American players occupies the next three spots - defenceman Quinn Hughes from the University of Michigan at No. 7, USA Hockey National Team Development Program defenceman Bode Wilde at No. 8 and USA NTDP centre Oliver Wahlstrom at No. 9.
Evan Bouchard, a right-shot defenceman with the OHL's London Knights, makes a significant jump up the rankings from No. 20 in November to No. 10. Bouchard has excellent sense and feel for the game, complimented by a poise that makes you think his heart rate is 40 beats per minute.
A great passer, Bouchard has the ability to push the level of his game higher when required and makes the tough plays look easy. Hall of Fame defenceman Larry Murphy played a similar style, and while not always appreciated, he was a key contributor to four Stanley Cups.
Editor's Note: On Tuesday, we corrected an errant omission - we should have included Guelph Storm centre Cam Hillis at No. 47 and he's now there, making it a 76-player list.
Craig's List - January 2018 Ranking
| RK | Player | Team | POS | HT | WT | GP | G | P |
| --- | --- | --- | --- | --- | --- | --- | --- | --- |
| 1 | Rasmus Dahlin | Frolunda (SHL) | D | 6'2 | 181 | 26 | 5 | 11 |
| 2 | Adam Boqvist | Brynäs (SWE J20) | D | 5'10 ¾ | 168 | 17 | 11 | 18 |
| 3 | Brady Tkachuk | Boston U (NCAA) | LW | 6'2 | 194 | 20 | 4 | 14 |
| 4 | Andrei Svechnikov | Barrie (OHL) | RW | 6'1 ½ | 188 | 18 | 15 | 23 |
| 5 | Filip Zadina | Halifax (QMJHL) | RW | 6'0 | 198 | 33 | 25 | 48 |
| 6 | Barrett Hayton | S.S. Marie (OHL) | C | 6'1 | 186 | 39 | 16 | 39 |
| 7 | Quinn Hughes | Michigan (NCAA) | D | 5'9 | 167 | 17 | 1 | 11 |
| 8 | Bode Wilde | USA NTDP (USHL) | D | 6'2 ½ | 197 | 29 | 5 | 17 |
| 9 | Oliver Wahlstrom | USA NTDP (USHL) | C | 6'0 ¾ | 195 | 29 | 19 | 34 |
| 10 | Evan Bouchard | London (OHL) | D | 6'1 ½ | 190 | 40 | 15 | 49 |
| 11 | Noah Dobson | Acadie-Bathurst (QMJHL) | D | 6'2 ½ | 178 | 41 | 7 | 39 |
| 12 | Ryan Merkley | Guelph (OHL) | D | 5'11 | 170 | 39 | 10 | 45 |
| 13 | Jacob Olofsson | Timra (SWE-Als) | C | 6'2 | 185 | 28 | 5 | 12 |
| 14 | Rasmus Kupari | Kärpät (SM Liiga) | C | 6'1 ¼ | 183 | 19 | 3 | 4 |
| 15 | Joel Farabee | USA NTDP (USHL) | LW | 5'11 | 152 | 29 | 13 | 29 |
| 16 | Isac Lundestrom | Luleå (SHL) | C/LW | 5'11 ¼ | 178 | 24 | 3 | 10 |
| 17 | Rasmus Sandin | S.S. Marie (OHL) | D | 5'10 ¾ | 183 | 27 | 4 | 24 |
| 18 | Jack McBain | Toronto (OJHL) | C | 6'3 ¼ | 196 | 37 | 15 | 42 |
| 19 | Grigori Denisenko | Yaroslavl (MHL) | LW | 5'11 | 163 | 21 | 3 | 12 |
| 20 | Ty Smith | Spokane (WHL) | D | 5'10 ¼ | 176 | 40 | 6 | 42 |
| 21 | Jared McIsaac | Halifax (QMJHL) | D | 6'1 | 195 | 39 | 5 | 24 |
| 22 | Filip Hallander | Timra (SWE-Als) | C/LW | 6'0 | 178 | 31 | 8 | 19 |
| 23 | Akil Thomas | Niagara (OHL) | RW | 5'11 | 169 | 38 | 11 | 44 |
| 24 | Serron Noel | Oshawa (OHL) | RW | 6'4 | 200 | 35 | 16 | 31 |
| 25 | Joe Veleno | Drummondville (QMJHL) | C | 6'1 | 195 | 37 | 6 | 36 |
| 26 | Jesperi Kotkaniemi | Ässät (SM Liiga) | C | 6'1 ½ | 188 | 39 | 7 | 18 |
| 27 | Mattias Samuelsson | USA NTDP (USHL) | D | 6'3 ¼ | 209 | 27 | 5 | 13 |
| 28 | Benoît-Olivier Groulx | Halifax (QMJHL) | C | 6'0 ¾ | 192 | 41 | 18 | 34 |
| 29 | Albin Eriksson | Skellefteå (SWE J20) | LW | 6'4 ¼ | 207 | 24 | 13 | 26 |
| 30 | Adam Ginning | Linköping (SHL) | D | 6'2 ¾ | 196 | 19 | 0 | 0 |
| 31 | Jett Woo | Moose Jaw (WHL) | D | 5'11 ¾ | 205 | 25 | 7 | 20 |
| 32 | Jacob Bernard-Docker | Okotoks (AJHL) | D | 6'0 | 181 | 43 | 13 | 30 |
| 33 | Calen Addison | Lethbridge (WHL) | D | 5'9 ¾ | 179 | 39 | 7 | 44 |
| 34 | Axel Andersson | Djurgarden (SWE J20) | D | 5'11 ¾ | 178 | 25 | 3 | 22 |
| 35 | Ryan McLeod | Mississuaga (OHL) | C/LW | 6'2 | 190 | 40 | 11 | 42 |
| 36 | David Gustafsson | HV 71 (SHL) | C | 5'11 ½ | 196 | 28 | 2 | 3 |
| 37 | Gabriel Fortier | Baie Comeau (QMJHL) | LW | 5'9 | 164 | 38 | 16 | 34 |
| 38 | Jonatan Berggren | Skellefteå (SWE J20) | LW | 5'10 | 181 | 26 | 13 | 34 |
| 39 | Allan McShane | Oshawa (OHL) | C | 5'10 ½ | 190 | 40 | 10 | 35 |
| 40 | Jonathon Tychonick | Penticton (BCHL) | D | 5'11 ¼ | 166 | 29 | 5 | 24 |
| 41 | Alexander Khovanov | Moncton (QMJHL) | C | 5'11 | 187 | 7 | 1 | 4 |
| 42 | Blake McLaughlin | Chicago (USHL) | LW | 5'11 | 156 | 22 | 11 | 25 |
| 43 | Sean Durzi | Owen Sound (OHL) | D | 5'11 ½ | 195 | 35 | 15 | 47 |
| 44 | Curtis Hall | Youngstown (USHL) | C | 6'2 | 194 | 23 | 11 | 19 |
| 45 | Nicolas Beaudin | Drummondville (QMJHL) | D | 5'10 ½ | 175 | 41 | 8 | 36 |
| 46 | Alexander Alexeyev | Red Deer (WHL) | D | 6'3 ½ | 184 | 32 | 4 | 24 |
| 47 | Cameron Hillis | Guelph (OHL) | C | 5'9 ½ | 168 | 39 | 14 | 35 |
| 48 | Filip Johansson | Leksands (SWE J20) | D | 6'0 ½ | 174 | 25 | 4 | 6 |
| 49 | Giovanni Vallati | Kitchener (OHL) | D | 6'1 | 176 | 38 | 3 | 16 |
| 50 | K'Andre Miller | USA NTDP (USHL) | D | 6'3 ½ | 194 | 29 | 5 | 14 |
| 51 | Dmitri Zavgorodny | Rimouski (QMJHL) | LW | 5'9 | 161 | 35 | 14 | 26 |
| 52 | Kody Clark | Ottawa (OHL) | RW | 6'0 ¾ | 172 | 34 | 14 | 29 |
| 53 | Tyler Madden | Tri-City (WHL) | C/RW | 5'10 | 152 | 23 | 10 | 18 |
| 54 | Xavier Bernard | Drummondville (QMJHL) | D | 6'2 ½ | 208 | 39 | 10 | 22 |
| 55 | Martin Kaut | Pardubice (CZE Extra) | RW | 6'1 ½ | 176 | 24 | 3 | 6 |
| 56 | Tyler Weiss | USA NTDP (USHL) | C/LW | 5'10 ¼ | 143 | 29 | 5 | 13 |
| 57 | Oskar Back | Färjestads (SWE J20) | C | 6'2 ¼ | 192 | 23 | 4 | 17 |
| 58 | Kevin Bahl | Ottawa (OHL) | D | 6'5 ¾ | 225 | 39 | 1 | 1 |
| 59 | Carter Robertson | Ottawa (OHL) | D | 6'2 | 178 | 28 | 1 | 6 |
| 60 | Martin Fehervary | Oskarshamn (SWE-Als) | D | 6'1 | 190 | 24 | 0 | 4 |
| 61 | Adam Samuelsson | USA NTDP (USHL) | D | 6'5 ¾ | 240 | 29 | 4 | 15 |
| 62 | Declan Chisholm | Peterborough (OHL) | D | 6'0 ¼ | 183 | 29 | 2 | 14 |
| 63 | Jesse Ylonen | Espoo (FIN) | RW | 5'11 ¾ | 160 | 29 | 10 | 18 |
| 64 | Lukáš Dostal | Brno (Cze Jr) | G | 6'0 ¾ | 158 | 15 | 2.57 | .913 |
| 65 | Olivier Rodrigue | Drummondville (QMJHL) | G | 6'0 ¼ | 155 | 34 | 2.74 | .896 |
| 66 | Nico Gross | Oshawa (OHL) | D | 5'11 ¾ | 183 | 31 | 4 | 9 |
| 67 | Kryštof Hrabik | B.n Jizerou (CZE WSM2) | LW | 6'3 | 209 | 19 | 2 | 8 |
| 68 | Vladislav Kotkov | Chicoutimi (QMJHL) | LW | 6'4 ¼ | 202 | 35 | 11 | 31 |
| 69 | Sampo Ranta | Sioux City (UHSL) | RW | 6'0 ¾ | 192 | 26 | 9 | 15 |
| 70 | Jakub Lauko | Chomutov (CZE Extra) | LW | 6'0 | 169 | 28 | 2 | 5 |
| 71 | Lukas Wernblom | Modo (SHL) | LW | 5'9 | 154 | 14 | 4 | 10 |
| 72 | Alexis Gravel | Halifax (QMJHL) | G | 6'2 ½ | 226 | 21 | 3.04 | .902 |
| 73 | Alec Regula | London (OHL) | D | 6'3 | 201 | 40 | 4 | 11 |
| 74 | Jay O'Brien | Thayer (USHS) | C | 6'0 | 175 | N/A | N/A | N/A |
| 75 | Philipp Kurashev | Quebec (QMJHL) | RW | 5'11 ½ | 181 | 36 | 10 | 37 |
| 76 | Anderson MacDonald | Moncton (QMJHL) | LW | 6'1 ½ | 205 | 34 | 18 | 31 |