Newly signed Dawodu interested in short-notice fight with Lamas
With Jose Aldo stepping in to face Max Holloway in the main event of UFC 218, Calgary's Hakeem Dawodu is willing to fill the vacancy left by Aldo on the December 16 UFC Fight Night card in Winnipeg and take on Ricardo Lamas in a featherweight clash.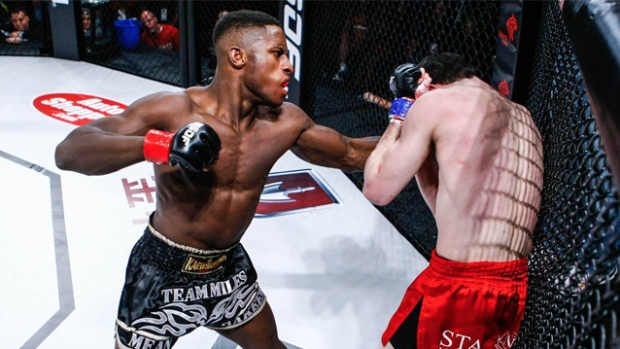 Undefeated featherweight prospect, Calgary's Hakeem Dawodu (7-0-1), recently announced in an interview with Fightful's James Lynch that he had signed a four-fight deal with the UFC. The former Professional Fighters League (previously known as World Series of Fighting) featherweight contender joined The TSN MMA Show and discussed his signing.
"It feels good, it feels like it's been a long time coming and I'm just very excited to represent and put (Calgary) back on the map," said Dawodu.
With former featherweight champion Jose Aldo stepping in for an injured Frankie Edgar to face current champion Max Holloway at UFC 218, an opening exists on the UFC Fight Night card in Winnipeg on Dec. 16 against third-ranked Ricardo Lamas.
Despite just signing with the organization and being young in his career, Dawodu is not shying away from any challenges.
"Of course! I'd be willing to fight Ricardo Lamas. No problem, if they want to put me on (the card), then put me on," said a confident Dawodu. "That's a big fight. That would put me in the top-10 after my first fight and I'd be in the scene already. I have no problem if I'd have to put that guy away."
Although the UFC told him to be ready for a fight in January or February, Dawodu is open to fighting sooner.
"They can call my manager and make it happen," said Dawodu. "I've been training for a year straight, so I'm always willing to take a fight on short notice, I'm always in great shape, I always stay close to weight."
Dawodu said that he plans on announcing his first UFC fight within the next week and he doesn't seem concerned regardless of who his first challenge is.
"Everybody's an easy target, when I'm one hundred percent trained and ready, everybody's an easy target. I'm a hard match for anybody and anybody on the roster that's going to be facing me is going to be dealing with big problems and big power and get put away," said Dawodu. "Don't blink, I bring a lot of power, I bring a lot of pressure and I get the job done."
Having fought only once in 2017, Dawodu is certainly relishing the opportunity to put his stamp on the UFC featherweight division.
"I'm just excited to be in the UFC and wherever they want to put me, I'm going to represent and get my name out there," said Dawodu.
Dawodu plans on training at the renowned Team Jackson-Winkeljohn camp in Albuquerque, New Mexico, that has been home to former champions like Jon Jones and Holly Holm in hopes of finding some high-calibre sparring partners.